Staff Directory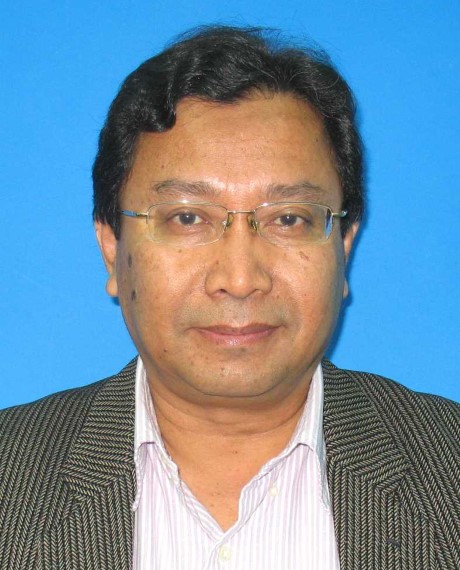 Academic Qualification
M.Sc - Masters Degree, Ranselear Polytechnic Institute, New York
B.Sc - Bachelor Degree, Northern Illinois University, USA
Jamaludin Bin Ibrahim (Mr.)
Senior Academic Fellow
IIUM Gombak Campus
KULLIYYAH OF INFORMATION AND COMMUNICATION TECHNOLOGY
---
jamaludinibrahim@iium.edu.my
5639
Expert Profile
Jamaludin Ibrahim obtained his BSc from Northern Illinois University, Dekalb, Illinois in 1978 and completed his MSc from Rensselaer Polytechnic Institute, Troy, New York in 1980. He returned to Malaysia in December 1980 and took up the position of lecturer at University Technology Malaysia, Kuala Lumpur. He became the first Head, Department of Computer Science, and then Head of Postgraduate Studies at Institut Sains Komputer (ISK-UTM), Deputy Director of ISK, Director of ISK and eventually the founding Dean of the Faculty of Computer Science & Information Systems. He was also promoted to become Associate Professor. He successfully grew the faculty to have yearly intake of 1000 computer students. He was awarded with the research fellowships on Machine Translation at Fujitsu Research, Tokyo, Japan (1989) and High Performance Computing at Cray Research Eagan-Minnesota, USA (1993). For his outstanding contribution to UTM, he was conferred the Excellent Service Award.
In 1995, he went for an industrial attachment at EDI Malaysia and Time Telekom to acquire hands-on industry experience for nine months. He became the Acting GM for Time Quantum SB, a Time Telekom subsidiary company start-up - managing, architecting, development, and deployment of Time Telekom's RM500 million Operations Support Services infrastructure. After the industrial attachment he joined the diversified DRB-HICOM Group and was responsible for ICT outsourcing services and privatization until 2000. Subsequently, he was offered to be part of another conglomerate MRCB as GM of Broadband Infrastructure and then as CEO of the MegaTV (a cable TV company under the TV3 Group). He continued to serve as Head of MRCB Multimedia Division managing a number of companies in the division until 2003. He was successful in turning around the RM90 million MSC Flagship HRMIS project under MRCB Multimedia Consortium SB. Jamaludin then moved on to become an entrepreneur and was involved in a number of ICT start-ups (local and international) as a shareholder, advisor and mentor. In 2008, he was appointed as an Adjunct Professor at Kulliyyah of ICT-IIUM.
Presently Jamaludin is a Senior Academic Fellow at the Department of Information Systems, KICT-IIUM. He taught postgraduate courses on Cybersecurity Policy & Strategy, Project Management, Business Continuity-Disaster Recovery, Physical Protective Security, Intrusion Detection System and undergraduate courses on Technopreneurship, Management Information System and Introduction to Information Security.
Area of Specialisation
Economics, Business And Management ~ Economics, Business And Management ~ Finance ~ Risk Management - Risk Management
Teaching Responsibilities
| | |
| --- | --- |
| TECHNOPRENEURSHIP | 2023/2024 |
Research Projects
Completed
| | |
| --- | --- |
| 2009 - 2014 | DEVELOPMENT OF DEMENTIA BRAIN (DBRAIN) MULTI-AGENTS USING GENE, PROTEIN AND DRUG PLATFORMS ON BIO-GRID WITH NEW SERVICE OREINTED ARCHITECTURE (SOA) FOR DIAGNOSTIC, THERAPEUTICS AND TREATMENT OF AGING AND ACTIVE PEOPLE |
On-Going
| | |
| --- | --- |
| 2016 - Present | Cybersecurity Capability Maturity Model based on Maqasid al Shari?ah (MS-C2M2) |
| 2008 - Present | Intelligent Cyberspace Security |
Award & Recognition
| | | |
| --- | --- | --- |
| 06 Oct, 2019 | Visiting Adjunct Professor - Fez University, Fez Morocco | International |
Publications
Article
| | |
| --- | --- |
| 2021 | Freemium multi-sided platform business model: mosque kitchen as a source of free food, employment and empowerment of B40s food-preneurs. Journal of Information Systems and Digital Technologies, 3 (2) pp. 1-10 |
| 2020 | Redesign business model options for "University of the Future" and staying relevant in the fourth industrial revolution age. Journal of Information Systems and Digital Technologies (JISDT), 2 (1) pp. 47-59 |
| 2019 | The case study of Emergency Response Plan (ERP) implementation during the Malaysia Airlines (MAS) flight MH370 disappearance. Malaysian Journal of Computing, 4 (2) pp. 270-277 |
| 2018 | Redesigning the University of the Future (UotF) through humanizing education and industry revolution 4.0. International Journal of Interdisciplinary Research and Innovations,, 6 (4 (October-December)) pp. 464-472 |
| 2017 | Cyberterrorism definition patterns and mitigation strategies: A literature review. International Journal of Science and Research (IJSR), 6 (1) pp. 180-186 |
| 2016 | Big data and its impact on IT consultancy. International Journal of Computer Science and Information Technology Research, 4 (2 (April-June)) pp. 211-216 |
| 2016 | Critical infrastructure protection of ICT in Muslim world. International Journal of Science and Research (IJSR), 5 (12) pp. 325-329 |
| 2016 | Cyber risk management for wireless communication in organization. International Journal of Scientific and Research Publications, Volume 6 (Issue 1) pp. 403-407 |
| 2016 | How IT can enhance professional practice with regards to smart-phones and social networks?. International Journal of Management and Commerce Innovations, Vol. 4 (Issue 1) pp. 211-214 |
| 2016 | Information security for professional counseling in organization. International Journal of Management and Commerce Innovations, 4 (1 (April-September)) pp. 167-173 |
| 2016 | Issues and security measures of mobile banking apps. International Journal of Scientific and Research Publications, 6 (1) pp. 36-41 |
| 2015 | Cloud computing: cloud adoption in professional practice . International Journal of Science and Research (IJSR), 4 (5) pp. 1532-1536 |
| 2015 | Comparison of Business Model Canvas (BMC) among the three consulting companies . International Journal of Computer Science and Information Technology Research, 3 (2) pp. 462-471 |
| 2015 | Disaster preparedness in universities . International Journal of Computer Trends and Technology (IJCTT), 19 (1) pp. 1-4 |
| 2015 | How much privacy we still have on social network? . International Journal of Scientific and Research Publications, 5 (1) pp. 1-5 |
| 2015 | Information security aligned to enterprise management. Middle East Journal of Business, 10 (1) pp. 62-66 |
| 2015 | Mobile security and privacy in smartphone technology. International Journal of Computer Science and Information Technology Research, 3 (4) pp. 345-350 |
| 2015 | Potential use of data mining techniques in information technology consulting operations . International Journal of Scientific and Research Publications, 5 (5) pp. 1-4 |
| 2015 | Prevalence of mobile usage among university students: a case study of International Islamic University Malaysia. International Journal of Scientific and Research Publications, 5 (12) pp. 655-659 |
| 2015 | Survey on mobile and wireless security awareness: user perspectives. International Journal of Science and Research (IJSR), 4 (1) pp. 1287-1292 |
| 2015 | The knowledge management strategies used as a tool within and through strategic consulting firms to increase the organisational performance . International Journal of Scientific and Research Publications, 5 (2) pp. 1-5 |
| 2015 | The role of IT consulting practice: a successful enterprise mobility solution . International Journal of Management and Commerce Innovations , 3 (1) pp. 197-203 |
| 2014 | An overview on cyber security awareness in Muslim countries. International Journal of Information and Communication Technology Research, 4 (1) pp. 21-24 |
| 2014 | Business intelligence as a knowledge management tool in providing financial consultancy services. American Journal of Information Systems, 2 (2) pp. 26-32 |
| 2014 | Employing information security awareness to minimize over-exposure of average Internet user on social networks. International Journal of Scientific and Research Publications, 4 (1) pp. 1-6 |
| 2014 | Impact of NSA-PRISM to National Information Security Strategy & Policy. International Journal of Information and Communication Technology Research, 4 (1) pp. 25-31 |
| 2014 | Information security in ICT from an Islamic perspective. International Journal of Science and Research (IJSR), 13 (12) pp. 773-778 |
| 2014 | Persuasive technology contributions toward enhance information security awareness in an organization. International Journal of Computer Trends and Technology (IJCTT), 10 (4) pp. 180-186 |
| 2014 | Positive impact of smartphone application: whatsapp & facebook for online business . International Journal of Scientific and Research Publications, 4 (12) pp. 1-4 |
| 2014 | Risk management at universities: illegal residents in hostels & fire cases . International Journal of Computer Trends and Technology (IJCTT), 7 (1) pp. 15-20 |
| 2013 | A study: cryptology techniques and methodologies. International Journal of Science and Research (IJSR), 2 (12) pp. 352-357 |
| 2013 | Combinatoric Drag–Pattern-Graphical-Password (DPGP). Journal of Emerging Trends in Computing and Information Sciences, 4 (12) pp. 939-943 |
| 2013 | Exploring persuasive technology to enhance delivery of professional services. International Journal of Humanities and Social Science, 3 (12) pp. 223-228 |
| 2013 | IT security consultancy in Malaysia: hindrances and impacts. Middle East Journal of Business, 8 (3) pp. 17-22 |
| 2013 | Knowledge management strategies as a competitive advantage for delivering professional e-government services. Journal of Education and Vocational Research, 4 (5) pp. 134-138 |
| 2013 | Steganography: a review of information security research and development in Muslim world. American Journal of Engineering Research (AJER), 2 (11) pp. 122-128 |
| 2012 | An investigation into privacy and security in online social networking sites among IIUM students. World of Computer Science and Information Technology Journal (WCSIT), 2 (2) pp. 57-61 |
| 2012 | Ethical communication in IT project from an Islamic perspective. World of Computer Science and Information Technology Journal, 2 (4) pp. 142-146 |
| 2012 | Impact of parallel projects management . International Journal of Humanities and Social Science, 2 (23) pp. 88-91 |
| 2012 | Improving information security in e-banking by using biometric fingerprint : a case of major bank in Malaysia. International Journal of Computer Science and Information Security (IJCSIS), 10 (3) pp. 1-6 |
| 2011 | Awareness of social engineering among IIUM students. World of Computer Science and Information Technology Journal (WCSIT), 1 (9) pp. 409-413 |
| 2011 | Using biometric techniques to secure online student assessment: Comparative study. International Journal of Computer Science and Information Security, () pp. |
Conference or Workshop Item
| | |
| --- | --- |
| 2021 | Business model shifts: masjid kitchens as soup kitchens, jobs employment and empowering asnaf entrepreneurs, and income generation for the masjid. In: International Conference on Information Technology for the Muslim World (ICT4M 2021), |
| 2021 | Cooperative behavior (ta'awun) between mosques and civic organizations in empowering asnafpreneurs through IIUM m-kitchen® project. In: 2nd Kedah International Zakat Conference 2021 (KEIZAC 2021), |
| 2021 | Value Proposition Design: Multi-sided Platform Business Model. In: 3rd National Symposium on Human-Computer Interaction, |
| 2021 | Value Proposition Design: Multi-sided Platform Business Model. In: 3rd National Symposium on Human-Computer Interaction, |
| 2018 | A conceptual digital transformation design for International Islamic University Malaysia to 'University of the Future'. In: International Conference on Information and Communication Technology for the Muslim World 2018 (ICT4M), |
| 2018 | Cyber security maturity model and Maqasid al-Shari'ah. In: 2018 International Conference on Information and Communication Technology for the Muslim World (ICT4M), |
| 2017 | Designing business models options for "University of the Future". In: 4th International Colloquium on Information Science and Technology (CiSt'16), |
| 2016 | Persuasive technology for improving information security awareness and behavior: literature review. In: 2016 6th International Conference on Information and Communication Technology for The Muslim World (ICT4M 2016), |
| 2015 | A cybersecurity capability maturity model based on Maqasid Shari'ah(MS-C2M2). In: International Conference on Maqasid Al-Shari'ah in Public Policy and Governance, |
| 2015 | Alternative business models for soup kitchen. In: 6th International Conference on Management, Finance & Entrepreneurship (ICMFE-2015), |
| 2014 | eHalal4All program - promoting a halal rural products and services globally by harnessing the Network-of-Mosques(NoM) capabilities. In: International Halal Conference 2014 (INHAC 2014) , |
| 2014 | eSoulKitchen program - enhancing societal wellbeing and wealth creation for Orang Asli community at Pos Selim, Perak. In: 2014 The 5th International Conference on Information & Communication Technology for the Muslim World (ICT4M 2014), |
| 2013 | Critical information security challenges: an appraisal. In: The 4th International Conference on Information & Communication Technology for the Muslim World (ICT4M), |
| 2013 | Development of Al-Mu'awwidhah computing for personal data protection against abnormal attacks. In: The 4th International Conference on Information & Communication Technology for the Muslim World (ICT4M), |
| 2013 | Mitigating privacy issues on Facebook by implementing information security awareness with Islamic perspectives. In: The 4th International Conference on Information & Communication Technology for the Muslim World (ICT4M), |
| 2013 | Risk Management in Parallel Projects: Analysis & Best Practices and Implications to Generic DBrain (gDBrain) Research Project. In: The 4th International Conference on Information & Communication Technology for the Muslim World (ICT4M), |
Book
| | |
| --- | --- |
| 2023 | mKitchen™ towards Masyarakat Madani. mKitchen KICT IIUM, ISBN: 9789672656999 |
| 2023 | Rumah Makan mKitchen for Free Food Distribution. mKitchen, KICT IIUM, ISBN: 978-967-26569-8-2 |
| 2022 | Batch 3 IIUM mkitchen students. mKitchen, ISBN: 978-967-26569-6- |
| 2022 | Budi Ramadan mKitchen IIUM students. mKitchen KICT, ISBN: 978-967-26569-4-4 |
| 2022 | MKitchen IIUM students integrate food with budi sejahtera. mKitchen Kulliyyah of Information and Communication Technology (KICT), ISBN: 978-967-26569-3-7 |
| 2022 | MKitchen training and development. Mkitchen, KICT IIUM Gombak, ISBN: 978-967-26569-2-0 |
| 2022 | Readings on Sejahtera MKitchen Entrepreneurship. mKitchen KICT IIUM, ISBN: 978-967-26569-5-1 |
| 2022 | مطبخ المسجد: مشروع ريادي تعاوني. Al Manar Resources, ISBN: 978-629-97700-2-2 |
| 2021 | A journey of ta'awun (cooperative behaviour) in edu-action at IIUM Mkitchen® and Masjid al-Syakirin Gombak (MASG). Meso Publishing, ISBN: 9789671981412 |
| 2021 | Budi Mkitchen for flood victims. mKitchen, ISBN: 978-967-26569-1-3 |
| 2021 | Budiman Mahallah kitchen. mKitchen, ISBN: 9789672656906 |
| 2021 | Inaugural edu-action journey with cooperative behavior (Ta'awun) of mKitchen® students in free food for the needy. Meso Publishing, ISBN: 978-967-19814-4-3 |
| 2021 | Mkitchen® UIAM penggerak asnaf sejahtera lestari. Meso Publishing, ISBN: 978-967-19814-2-9 |
Book Section
| | |
| --- | --- |
| 2021 | Redesign business model of masjid kitchens as soup kitchens, providing jobs employment and nurturing of asnaf as entrepreneurs, and income generation for the masjid. In: Pusat Islam UTM, ISBN: , pp. 100-111 |
| 2019 | Effects of anti-money laundering and anti-terrorism financing law on innovation of mobile payment systems in Malaysia. In: Emerald Publishing Limited, ISBN: 978-1-78973-546-8, pp. 117-128 |
| 2016 | eHalal4All Program—Promoting Halal rural products and services globally by harnessing the Network-of-Mosques (NoM) capabilities . In: Springer Singapore, ISBN: 978-981-10-1450-5, pp. 335-346 |
| 2016 | eHalal4All Program—Promoting Halal rural products and services globally by harnessing the Network-of-Mosques (NoM) capabilities . In: Springer Singapore, ISBN: 978-981-10-1450-5, pp. 335-346 |
| 2011 | Enterprise security policy : challenges and issues for Malaysian universities. In: IIUM Press, ISBN: 9789674180034, pp. 77-92 |
Monograph