Staff Directory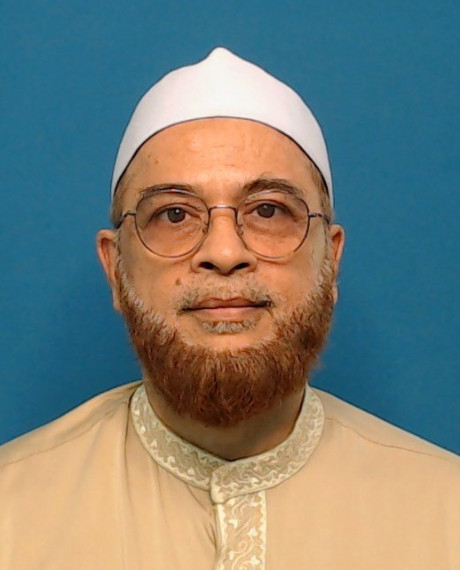 Academic Qualification
PhD in Islamic Revealed Knowledge and Heritage (Usul Al-Din and Comparartive Religion) - Doctor of Philosophy, International Islamic University Malaysia
Master Degree in Islamic Revealed Knowledge and Heritage - Masters Degree, International Islamic University Malaysia
Maulana Akbar Shah @ U Tun Aung (Assoc. Prof. Dr.)
Associate Professor
IIUM Gombak Campus
ABDULHAMID ABUSULAYMAN KULLIYYAH OF ISLAMIC REVEALED KNOWLEDGE AND HUMAN SCIENCES
---
maularna@iium.edu.my
5747
Expert Profile
Dr. Maulana Akbar Shah @ U Tun Aung, a national of Myanmar received his BSc. in Chemistry from Rangoon Arts and Science University in 1982, B.A. in Islamic Studies from Jamia Darul Uloom, Rangoon, 1998 and M.A. in Usuluddin and Comparative Religion form the Department of Islamic Revealed Knowledge and Human Science, IIUM in 2010 and obtained his Ph. D from the same Kulliyyah of IIUM in 2013. He was a lecturer at Jamia Darul Uloom, Rangoon (1998 - 2004) and served as the Secretary General of the organization of Jamiatul Ulama al Islam, Myanmar (2002 – 2007). 
He has written 19 books relevant to Basic Islamic Education and Islamic Contemporary Issues.
He was also a United Nations Professional Staff with World Food Programme where he was engaged in the offices of UN in different posts such as Logistics Officer (1989 to 1992) UNHCR-WFP Repatriation Programme in Afghanistan, Repatriation Officer in Pakistan (1993-1994) Inter UN Agencies Programme, Administrative officer (P.2) WFP, Rome and Liaison & Repatriation Officer (1997-1998) WFP/UNDP, Myanmar.
 
He has been teaching Islamic courses at the Department of IRKHS, CFS for the last five years and recently, he was promoted to Assistant Professor at the Department of Fundamental and Inter-Disciplinary Studies, FIDS, IRKHS, IIUM. 
Apart from the above responsibilities, he volunteers as, Advisor for Global Community Club IIUM, Advisor for Islamic-World.net, Da'wah Programme for Muslims in South East Asia and Advisor for Myanmar Muslim Community Schools in KL, Malaysia. He is now the president of the Myanmar Muslims Intellectual Forum, Malaysia. He leads the organization, Jamiyatul Ulama Islam Myanmar in Malaysia. Assisting the Myanmar community in Malaysia, helps law and order of Myanmar community living in Malaysia through providing Islamic education, Shariah law and Discipline. 
He published several articles in International Scopus, Index Journals providing helpful information regarding parenting management, youth progamme, volunteerism, propagation of Islamic messages, Islamic social and contemporary Issues including lesbianism, homosexual, bisexual, transgender, abortion, surrogacy, euthanasia (ending the life of a patient who's recovery is impossible). And also he is currently the head of research of the Department of fundamental and Interdisciplinary studies, IRKHS, IIUM Malaysia.
Area of Specialisation
Humanities ~ Humanities ~ Historical and Civilisation Studies ~ Other Historical and Civilisation Studies n.e.c. - Organizations and community services
Social Science ~ Social Science ~ Social Work ~ Volunteerism - Educational Support
Humanities ~ Humanities ~ Philosophy ~ Islamisation of Knowledge - Community Service
Social Science ~ Social Science ~ Syariah Law ~ Administration of Islamic Law - Al Quran & Sunna
Teaching Responsibilities
| | |
| --- | --- |
| BASIC PHILOSOPHY AND ISLAMIC WORLDVIEW | 2023/2024 |
| ETHICS AND FIQH OF CONTEMPORARY ISSUES | 2023/2024 |
Research Projects
Completed
| | |
| --- | --- |
| 2020 - 2022 | A Professional Guide to Skills in Family Management |
| 2017 - 2020 | Revisiting Ideas of Bediuzzaman Said Nursi pertaining to the Muslim Youth (Hayrat Foundation, Turkey) |
| 2017 - 2020 | Da'wah, Propagation of Islamic Message in Contemporary 21st Century |
| 2017 - 2022 | Amanah (Trust) in Islam, Its Dimensions and Implications |
| 2016 - 2019 | Rights of Detainees and Prisoners in Islam |
| 2016 - 2018 | Peaceful Coexistence Between Muslims and Buddhist in Myanmar; Looking into Singapore as the Role-Model |
| 2016 - 2019 | Modern Application of Bai'Murabahah, Bai'Mu'ajjal And Bai'al-Sarf in the Light of Maqasid Shariah |
On-Going
| | |
| --- | --- |
| 2022 - Present | Key Factors for Development of Youth |
Award & Recognition
| | | |
| --- | --- | --- |
| 21 Jan, 2022 | Golden Award for Active Researcher 2021 - Internal University Scholarship, IIUM | University |
Publications
Article
| | |
| --- | --- |
| 2023 | Exclusive interview with Prof. Dato' Dr. Koutoubou Moustapha Sano, Secretary General of International Islamic Fiqh Academy, OIC, Saudi Arabia, (PhD., AIKOL 1996). Reach, 1/2023 (1) pp. 1-66 |
| 2022 | Spiritual development in family management. Al Hikmah International Journal of Islamic Studies and Human Sciences, 5 (4) pp. 89-107 |
| 2021 | Creating sustainable development at Kampung Tengah, Gombak. Creating sustainable development at Kampung Tengah, Gombak, 16 October 2021 () pp. |
| 2021 | دور الدبلوماسية الثقافية العمانية في تعزيز الهوية العربية الإسلامية. = The role of Omani cultural diplomacy in promoting Arab-Islamic identity.. Tawasol Magazine, 31 () pp. 1-36 |
| 2020 | Developing future leaders, responsibilities of parents and the society. Times Mirror : English Section, () pp. 174-188 |
| 2020 | Interpretation of youth from the thinking of Badiuzzaman said Nursi. Journal of Islam in Asia, 17 (4) pp. 220-239 |
| 2019 | Transformation of Myanmar Muslim community: Singapore as a role-model. Journal of Muslims Minority Affairs-Transformation of Myanmar Muslim Community: Singapore as a Role-Model, 39 () pp. 1-20 |
| 2019 | Violations of basic rights of prisoners in conventional and Islamic law: theory and practice. Intellectual Discourse, 27 (2) pp. 455-474 |
| 2018 | Brief on waqf, its substitution (Istibdāl), and selected resolutions of Islāmic Fiqh Academy India: a maqāṣid al-sharī'ah perspective. Intellectual Discourse, 26 (Special Issue) pp. 1093-1108 |
| 2018 | Creative methodologies of da'wah through different phases of a human's life = Metodologi dakwah secara kreatif mengikut fasa kehidupan manusia. Journal of Islam in Asia, 15 (1) pp. 271-293 |
| 2018 | Genocide of Rohingya Muslims: a classical model of ethnic cleansing. Al-Shajarah: Journal of The International Institute of Islamic Thought and Civilization (ISTAC), () pp. 215-235 |
| 2018 | Islam in China seas: Islam and Muslims in Myanmar. Journal of Islam in Asia, () pp. 1-16 |
| 2018 | Philanthropy (tabarru'at) in Islam and its four shari'ah objectives. World Journal of Islamic History and Civilization, 8 (2) pp. 49-56 |
| 2018 | Waqf, its substitution (istibdal), and selected resolutions of Islamic Fiqh Academy India : a maqasid al-shari'ah perspective. Intellectual Discourse, 26 (Special Issue) pp. 1093-1108 |
| 2017 | Agree to disagree: towards a peaceful co-existence amongst multi-religious community = Setuju untuk tidak bersetuju: kearah kehidupan aman bersama dikalangan masyarakat berbilang agama. Journal of Islam in Asia, 14 (1) pp. 248-267 |
| 2017 | Creative methodology of da'wah through different phases of human's life. Journal of Islam in Asia, () pp. 1-17 |
| 2017 | Da'wah, propagation of Islamic message through marshalling constructive bahavours and positive attidutes. Journal Of Education and Social Science, 6 (1) pp. 58-64 |
| 2017 | Euthanasia from Islamic perspective: ending life of a patient who's recovery is absolutely impossible. International Medical journal Malaysia (IMJM), () pp. 1-17 |
| 2016 | Islamic da'wah through a creative ideological approach. Journal of Education and Social Science, 4 (1) pp. 194-202 |
| 2015 | Internet usage from Islamic perspective: a preliminary survey with first year medical students, Kuantan Campus, Pahang 2015. International Journal on Recent and Innovation Trends in Computing and Communication, 5 (2) pp. 207-213 |
Conference or Workshop Item
| | |
| --- | --- |
| 2023 | A Threat of Polarization: Race, Religion, and Reform. In: INVITATION TO INTERNATIONAL CONFERENCE: ISLAMIC CIVILIZATION: FOSTERING THE PHILOSOPHY OF CO-EXISTENCE IN THE 21TH CENTURY, |
| 2023 | The concept of ethics and fiqh. In: 1st International Conference of Social Sciences Research (ICSSR 2023), |
| 2023 | Towards establishing an Integrated Educational System in Madarasas of Myanmar. In: Symposium on Education & Economic Development Plan for the Young Myanmar Muslims (2023), |
| 2023 | What is economy, the Islamic Economy and Muamalat. In: The International Conference on Islamic Thought (PEMIKIR 3), |
| 2022 | Empowering women: developing social status of women refugees living in Malaysia. In: International Conference: Empowering Women: Developing Social Status of Women Refugees living in Malaysia., |
| 2022 | Observation of ethical values promoting Human Psychology from the panorama of Revelation and Tradition of the Prophet Muhammad (saw). In: SAP 2021, |
| 2021 | A philosophical approach to spiritual development in family management. In: SAP 2021:, |
| 2020 | Embracing diversity in Islam. In: Darul Arqam, Convert Association of Singapore Online Sharing Session, |
| 2019 | Colours of humanity. In: Series of Public Talks, |
| 2019 | Empowering youth: developing spiritual and intellectual enhancement in youth. In: International Conference on Religion, Governance and Sustainable Development (ICRGD 2019), |
| 2019 | Ethics, fiqh and contemporary issues. In: Intensive Integration of Knowledge Retreat for Southern Thailand Post Graduate Students, |
| 2018 | Islam in China Seas:Islam and Muslims in Myammar. In: International Conference on Islam in the China Seas, |
| 2018 | Talks on comparative study on Muslim community in Myanmar. In: Talks on comparative study on Muslim community in Myanmar, |
| 2018 | Waqf, its substitution ( istibdal) and maqasid al-shariah. In: International Conference On History and Governance of AWQAF (ICHGA), |
| 2017 | Da'wah, propagation of Islamic message through marshalling constructive bahaviours and positive attitudes. In: Kuala Lumpur International Islamic Studies and Civilisations Conference (KLIISC 2017), |
| 2017 | Factors behind the rise of Islamic civilization: in the light of Badiuzzaman said Nursi's thought. In: The International Conference on Bediuzzaman Said Nursi's Thought on Wasatiyyah and Exemplary Society, |
| 2017 | The impact of early Muslim thoughts on the renaissance movement in the west. In: The International Conference on Interdisciplinary Quranic Studies, |
| 2017 | The world most oppressed community, Rohingya. In: International Conference on Forced Migration and Refugee Studies: Issues and Shifting Paradigms (ICMR 2017), |
| 2016 | A study of culture of Muslims in Myanmar: collection of cultural resources for national identity. In: 3rd International Conference on Language, Innovation, Culture and Education (ICLICE 2016), |
| 2016 | Internet usage from Islamic perspective: a preliminary survey with first year medical students, Kuantan Campus, Pahang 2015. In: 2nd World Congress on Integration Islamicisation: Focus On Medical & Health Care Sciences 2016 (2WCII-2016), |
| 2016 | Islamic da'wah through a creative ideological approach. In: Kuala Lumpur International Islamic Studies and Civilisations (KLiISC) 2016, |
| 2016 | Medical profession and practices of intentionally ending a life from Islamic perspective. In: 2nd World Congress on Integration and Islamicisation: Focus on Medical and Healthcare Science (2WCII 2016), |
| 2015 | Agree to disagree: in the context of on going global religious conflicts. In: Myanmar Muslim Association Malaysia Educational Programme 2014, |
| 2015 | Are Rohingya citizens of Myanmar?. In: Rohingya: Whose Responsibility to Protect?, |
| 2015 | Why we are not satisfied: in the context of declining factors of ummah. In: Seminar Wahyu Asas Tamadun IV Peringkat Antarabangsa (SWAT 2015), |
Book
Book Section
| | |
| --- | --- |
| 2021 | Islam, state, security and peaceful co-existence in Myanmar. In: Francis & Taylor Informa UK Limited Trading, Routledge, ISBN: ISBN 9780367712792, pp. |
| 2017 | Euthanasia, abortion, in vitro fertilization, LGBT. In: International Institute of Islamic Civilisation and Malay World (ISTAC), International Islamic University Malaysia (IIUM), ISBN: 978-967-14480-9-0, pp. 236-281 |
| 2017 | The factors for the rise of the Islamic civilization. In: International Institute of Islamic Thought East and South East Asia & International Islamic University Malaysia, ISBN: 978-976-15622-6-0, pp. 219-254 |