Staff Directory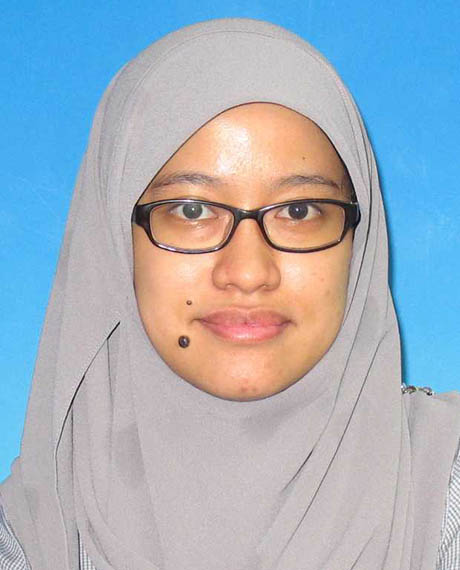 Academic Qualification
Ph.D in Psychology - Doctor of Philosophy, International Islamic University Malaysia
Master of Human Sciences (Psychology) - Masters Degree, International Islamic University Malaysia
Bachelor of Human Sciences (Psychology) - Bachelor Degree, International Islamic University Malaysia
Maisarah Binti Mohd. Taib (Dr.)
Assistant Professor
IIUM Gombak Campus
ABDULHAMID ABUSULAYMAN KULLIYYAH OF ISLAMIC REVEALED KNOWLEDGE AND HUMAN SCIENCES
---
themaisarah@iium.edu.my
5163
Expert Profile
Maisarah Mohd. Taib is a Lecturer at the Department of Psychology, Kulliyyah of Islamic Revealed Knowledge and Human Sciences (KIRKHS), International Islamic University Malaysia (IIUM). She first joined the university as a Matriculation Teacher at the Centre for Foundation Studies (CFS), IIUM in 2010 and in 2015 she joined the Department of Psychology, IIUM as a Lecturer.
Her research area concerns with the evaluative standards of the personnel selection procedures ranging from issues related to psychometric properties i.e. the reliability, validity and utility of personnel selection methods to the non-psychometric properties, namely, job candidate perception and recruiter acceptance of methods used in recruitment and personnel selection process. She has researched the use of technology-mediated employment interview in recruitment and selection, and she plans to expand her research to other types of selection methods like personality test and computer adaptive testing. She also has a research interest in the area of scholarship of teaching and learning in psychology.
Maisarah's doctoral research explores Malay personality traits using a lexical method. The aim of her doctoral degree is to produce a locally-developed work-based personality test that can be used by organisations in Malaysia for human resource and organisational functions.

Area of Specialisation
Humanities ~ Humanities ~ Linguistics and Literature ~ Applied Linguistics - Industrial/ Organisational Psychology
Teaching Responsibilities
| | |
| --- | --- |
| ADVANCED STATISTICS AND RESEARCH METHODS | 2019/2020 |
| BASIC COMMUNICATION | 2012/2013 2011/2012 |
| BASIC PSYCHOLOGY | 2013/2014 2012/2013 2011/2012 2010/2011 |
| BASIC RESEARCH METHODS & REPORT WRITING | 2014/2015 2013/2014 2012/2013 2011/2012 2010/2011 |
| FINAL YEAR PROJECT | 2021/2022 2020/2021 2019/2020 |
| HISTORY AND PHILOSOPHY OF PSYCHOLOGY | 2015/2016 |
| INDUSTRIAL AND ORGANIZATIONAL PSYCHOLOGY | 2020/2021 2019/2020 |
| INDUSTRIAL TRAINING | 2021/2022 2020/2021 2019/2020 |
| INTERNSHIP IN INDUSTRIAL AND ORGANISATIONAL PSYCHOLOGY I | 2021/2022 |
| INTERNSHIP IN INDUSTRIAL AND ORGANISATIONAL PSYCHOLOGY II | 2022/2023 |
| INTRODUCTION TO PSYCHOLOGY | 2016/2017 2015/2016 |
| IOP: ISLAMIC, CROSS-CULTURAL AND MALAYSIAN LEGAL PERSPECTIVE | 2020/2021 |
| PSYCHOLOGICAL ASSESSMENT | 2022/2023 |
| PSYCHOLOGY OF HUMAN RELATIONS | 2015/2016 |
| RESEARCH METHODOLOGY | 2022/2023 2021/2022 2020/2021 2019/2020 |
| RESEARCH PAPER I | 2020/2021 |
| RESEARCH PAPER II | 2020/2021 |
| RESEARCH PROJECT I | 2021/2022 |
| RESEARCH PROJECT II | 2022/2023 |
| SEMINAR IN RESEARCH, ETHICAL AND PROFESSIONAL ISSUES IN PSYCHOLOGY | 2021/2022 2020/2021 |
| UNDERGRADUATE PRACTICUM | 2015/2016 |
Research Projects
Completed
| | |
| --- | --- |
| 2021 - 2022 | RESTORING SOUL IN THE STUDY OF SELF IN PSYCHOLOGY: AN APPLIED MAQASID APPROACH TO EDUCATIONAL POLICIES |
| 2016 - 2018 | Effect of Employment Interview Structure on Applicants' Reactions |
| 2010 - 2011 | Applicants' Reaction to Interview Structure/Self Monitoring as Moderator |
On-Going
| | |
| --- | --- |
| 2021 - Present | Industrial, Work and Organizational Psychology: An Islamic Perspective |
Publications
Conference or Workshop Item
Book Section
Monograph