Staff Directory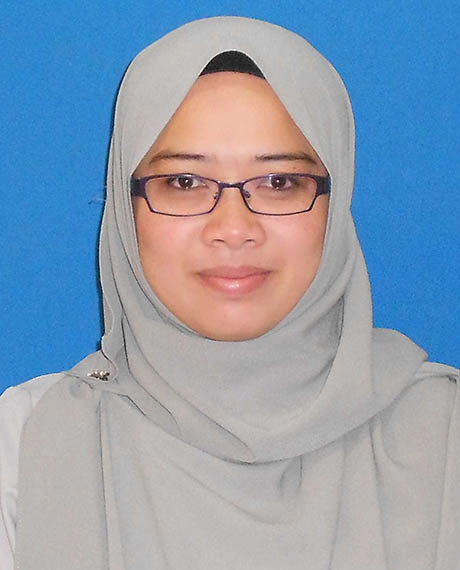 Academic Qualification
Doctor of Philosophy in Pharmacy - Doctor of Philosophy, University of Queensland
MASTER OF PUBLIC HEALTH - Masters Degree, University of New South Wales
Bachelor of Pharmacy (Honours) - Bachelor Degree, International Islamic University Malaysia
Nor Hidayah Binti Mohd Taufek (Dr.)
Assistant Professor
IIUM Kuantan Campus
KULLIYYAH OF PHARMACY
---
hidayahtaufek@iium.edu.my
3116
Expert Profile
Nor Hidayah Mohd Taufek obtained her BPharm (Hon) from IIUM (2008). Upon completion of her provisional registered pharmacist (PRP) training at Hospital Putrajaya (2009), she worked as a fully registered pharmacist (FRP) at Klinik Kesihatan Bandar 32 Bera, Pahang (2010).
Later Nor Hidayah joined IIUM as an assistant lecturer before pursuing master degree in Public Health at University of New South Wales Australia, focusing on addiction medicine. Upon completion of her MPH (2012), she took up the position as a lecturer at IIUM before pursuing her PhD at the University of Queensland, Australia in 2013. She returned to Malaysia in January 2017 following the completion of her PhD. The title of her PhD thesis was 'Essential Trace Element Analysis of Human Breast Milk'. Her PhD research involved analytical approach towards identification of suboptimal level of essential trace elements in human breast milk, and its association with risk of deficiency in premature and term infants. She completed a course on Fellowship in Addiction Science from University Malaya Centre for Addiction Sciences in 2018. 
 Currently, she works as a senior lecturer at the Department of Pharmacy Practice, Kulliyyah of Pharmacy, IIUM focusing on pharmacy practice, addiction science and pharmacy education. She is actively involved with the National Anti-Drug Agency Kuantan District for programmes involving substance use disorders since 2017 and being appointed as a member of local drug rehabilitation committee.
Area of Specialisation
Medical And Health ~ Medical And Health Sciences ~ Clinical Medicine ~ Neonatology - PhD Neonatology (Paediatric Nutrition)
Professional Membership
2018 - 2018: Member of Profesional Body / Association: (Treasurer), Drug Rehabilitation Committee, National Anti-Drug Agency Kuantan District
Teaching Responsibilities
| | |
| --- | --- |
| ANTICANCER CHEMOTHERAPY | 2021/2022 |
| BASIC AND CLINICAL PHARMACOKINETICS | 2021/2022 |
| BODY SYSTEM & THERAPEUTICS I : CARDIOVASCULAR & HAEMATOLOGY | 2021/2022 2020/2021 |
| BODY SYSTEM & THERAPEUTICS II : RESPIRATORY & URINARY SYSTEM | 2020/2021 |
| BODY SYSTEM & THERAPEUTICS III: MSK SYSTEM & SENSORY ORGANS | 2021/2022 |
| BODY SYSTEM & THERAPEUTICS IV: GIT & HEPATOBILIARY SYSTEMS | 2021/2022 |
| BODY SYSTEM & THERAPEUTICS VI : CENTRAL NERVOUS SYSTEM | 2021/2022 |
| Clinical Nutrition | 2010/2011 |
| CLINICAL PHARMACOKINETICS | 2021/2022 2020/2021 2017/2018 |
| CLINICAL PHARMACY 1 | 2010/2011 |
| COMMUNITY PHARMACY POSTING | 2021/2022 2020/2021 2019/2020 2018/2019 |
| COMMUNITY PHARMACY PRACTICE | 2021/2022 2019/2020 2018/2019 2017/2018 |
| COMMUNITY POSTING | 2017/2018 |
| DRUG ABUSE | 2021/2022 2020/2021 2019/2020 2018/2019 2017/2018 2016/2017 |
| FUNDAMENTALS OF PHARMACY PRACTICE | 2021/2022 2020/2021 2019/2020 |
| HOSPITAL PHARMACY PRACTICE | 2021/2022 |
| HOSPITAL ATTACHMENT | 2019/2020 |
| HOSPITAL PHARMACY ATTACHMENT | 2021/2022 |
| HOSPITAL PHARMACY PRACTICE | 2020/2021 2019/2020 2018/2019 2017/2018 2012/2013 |
| INNOVATIONS IN PHARMACY PRACTICE | 2021/2022 2020/2021 2019/2020 2018/2019 2017/2018 |
| INTRODUCTION TO PHARMACY PRACTICE | 2018/2019 |
| ISLAMIC INPUT IN PHARMACY | 2018/2019 |
| PHARMACOTHERAPEUTICS ATTACHMENT | 2021/2022 2020/2021 2019/2020 2018/2019 |
| PHARMACOTHERAPEUTICS I | 2010/2011 |
| Pharmacy Practice III | 2010/2011 |
| Pharmacy Practice IV | 2012/2013 2010/2011 |
| PROBLEM BASED LEARNING I | 2010/2011 |
| Problem-based Learning II | 2012/2013 |
| PT I : CVS, HAEMATOLOGY & RESPIRATORY DISORDERS | 2020/2021 2019/2020 2018/2019 2017/2018 |
| PT II : GIT, HEPATOBILIARY, GUT & MSK | 2020/2021 2019/2020 2017/2018 2016/2017 2012/2013 |
| PT III : ENDOCRINE, CNS, PSYCHIATRY & OTHER DISEASES | 2020/2021 2017/2018 |
| PT IV : INTERN MED, PSYCH, PAED, SURGERY AND O&G DISORDERS | 2017/2018 2016/2017 |
| RESEARCH IN PHARMACY (BIOSTATISTICS & PHARMACOEPIDEMIOLOGY) | 2017/2018 |
| RESEARCH IN PHARMACY (BIOSTATISTIC & PHARMACOEPIDEMIOLOGY) | 2020/2021 2018/2019 |
| RESEARCH PROJECT 1 | 2020/2021 2019/2020 2018/2019 |
Research Projects
Completed
| | |
| --- | --- |
| 2017 - 2019 | Patient level of Tramadol Utilization: Prevalence, Patterns and Clinical Outcomes |
On-Going
| | |
| --- | --- |
| 2021 - Present | Transferring Knowledge on Quality Use of Medicines to Staff of Pertubuhan Komited Malaysia (KOMITED) in Pahang: Towards Improving Health Literacy during COVID-19 Pandemic. |
| 2021 - Present | The Impact of Pharmacist-Led Intervention on Knowledge and Practice of Medication Storage and Disposal Centre SASMEC @IIUM |
| 2021 - Present | Substance Use Disorders and Behavioural Addiction: An Integrated Approach |
| 2020 - Present | Effects of trace elements concentration in human breast milk on infant development |
| 2019 - Present | Effectiveness of microbial chitosan thin films from carbon substrate of palm oil mill effluent for potential application as novel tactile sensor in healthcare monitoring. |
| 2018 - Present | Pattern analyzer on concomitant use of opioid and benzodiazepine in patients with chronic non-cancer pain: The rising of opioid overdose death |
| - | Improving the Quality Use of the Prescribed Pharmacotherapy for Patients with Chronic Diseases: A Multifaceted Approach |
Publications
Article
| | |
| --- | --- |
| 2022 | Preventing oversight on medical Cannabis legislation in Malaysia: analysis of risks, benefits and regulation requirements.. Journal of the Malaysian Parliament, 2 () pp. 248-273 |
| 2022 | Reflective practice of experiential learning visit to drug rehabilitation centres improved pharmacy curriculum prospects and services in promoting community engagement. Journal of Pharmacy, 2 (2) pp. 36-44 |
| 2022 | Types and costs of medications returned by outpatients at a Malaysian teachinghHospital: a one-year cross-sectional study. Journal of Pharmacy, 2 (2) pp. 141-148 |
| 2022 | Validity of claims database compared with the electronic medical record of private health clinics in Malaysia: a pilot study. Journal of Pharmacy, 2 (1) pp. 31-35 |
| 2021 | COVID-19 vaccination attitudes, perceptions, and side effect experiences in Malaysia: do age, gender, and vaccine type matter?. Vaccines, 9 (10) pp. |
| 2021 | Experiential education as a strategy to preserve Maqasid Al-Shariah by identifying and addressing stigmatic views held by pharmacy students of patients with substance use disorders. Journal of Pharmacy, 1 (1) pp. 1-7 |
| 2021 | Reflections of pharmacy students on experiential education in providing health services to people with history of substance use disorders in Malaysia. Journal of Pharmacy, 1 (2) pp. 63-69 |
| 2020 | Drug utilization and drug pricing in the private primary healthcare system in Malaysia: an employer price control mechanism. Frontiers in Public Health, 8 () pp. |
| 2020 | The prevalence of prescribing medications associated with geriatric syndromes among discharged elderly patients. Journal of Pharmacy & Bioallied Sciences, 12 (6) pp. 747-751 |
| 2019 | Differential patterns of adherence to opioid therapy in opioid naïve and opioid existing patients with different age groups. Frontiers in Pharmacology, 10 () pp. 1-9 |
| 2019 | Sex differences in high opioid dose escalation among Malaysian patients with long term opioid therapy. Journal of Pain Research, () pp. 1-21 |
| 2016 | The effect of pasteurization on trace elements in donor breast milk. Journal of Perinatology, 36 (10) pp. 897-900 |
| 2016 | The simultaneous analysis of eight essential trace elements in human milk by ICP-MS. Food Analytical Methods, 9 (7) pp. 2068-2075 |
Conference or Workshop Item
| | |
| --- | --- |
| 2021 | Development of phenomenon-based learning components through community services learning (SULAM) course addressing substance use disorders: experiences before and during COVID-19 pandemic.. In: 1st National Conference on SULAM 2021, |
| 2021 | Perkongsian pengalaman dan usaha kolaborasi JKPD dalam membantu proses pemulihan klien AADK di Kuantan, Pahang. In: SIMPOSIUM JKPD DAN HARI KEPULIHAN AADK PERINGKAT KEBANGSAAN 2021, |
| 2020 | Private Primary Care Health Clinics in Malaysia and Uncontrolled Drug Pricing: Employer Health Insurance for Sustainable Reimbursement Drug Policy. In: Virtual ISPOR Asia Pacific 2020, |
| 2020 | Private primary care health clinics in Malaysia and uncontrolled drug pricing: Employer health insurance for sustainable reimbursement drug policy. In: Virtual ISPOR Asia Pacific 2020, |
| 2019 | Investigating self-medication practice among pregnant women in Kuantan, Pahang. In: International Conference on Pharmaceutical Research and Pharmacy Practice cum 14th IIUM-MPS Pharmacy Scientific Conference (ICPRP 2019), |
| 2019 | Investigating the use and knowledge of analgesics among IIUM Undergraduate Pharmacy students.. In: International Conference on Pharmaceutical Research and Pharmacy Practice cum 14th IIUM-MPS Pharmacy Scientific Conference (ICPRP 2019), |
| 2019 | Investigating the use of dietary supplements among undergraduate pharmacy students. In: International Conference on Pharmaceutical Research and Pharmacy Practice cum 14th IIUM-MPS Pharmacy Scientific Conference (ICPRP 2019), |
| 2019 | Prescription-level of tramadol utilisation at a tertiary hospital setting in Malaysia: changing trends over a 7-year follow-up period. In: International Conference on Pharmaceutical Research and Pharmacy Practice cum 14th IIUM-MPS Pharmacy Scientific Conference (ICPRP 2019), |