Staff Directory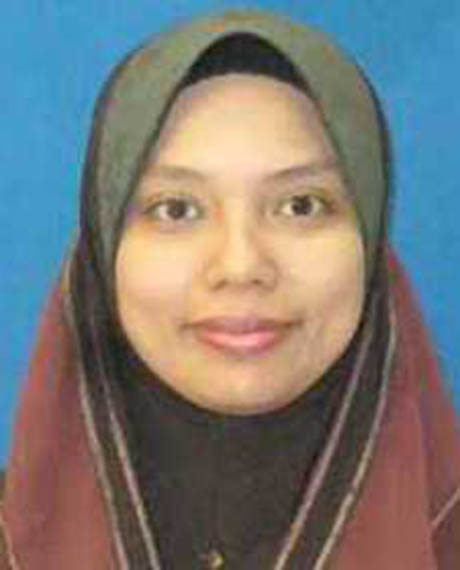 Academic Qualification
Master of Medicine (Family Medicine) - Masters Degree (Clinical Specialist), Universiti Sains Malaysia (USM)
Bachelor of Medicine and Bachelor of Surgery - Bachelor Degree, University of Sheffield
Azwanis Binti Abdul Hadi (Dr.)
Assistant Professor
IIUM Kuantan Campus
KULLIYYAH OF MEDICINE
---
Expert Profile
Azwanis Abdul Hadi earned her medical degree from the University of Sheffield, United Kingdom. Upon graduation, she worked with the National Health Service (NHS) UK as Foundation Doctor and Senior House Officer in various clinical specialties. She returned to Malaysia and went on to study at the Universiti Sains Malaysia (USM) where she received her Masters in Medicine (Family Medicine) in 2015. She then began her service with IIUM as a Family Medicine Specialist and Clinical lecturer. She has a special interest in Child and Adolescent Health, specifically on Screen Addiction among young children for which she received the FRGS Racer grant in 2019. Among her research output in this field are the Screen media Dependency Scale (SDS) for pre-school children and the Screen media Dependency Screening and Referral Algorithm. In 2021, She received her Occupational Health Doctor (OHD) certification from NIOSH.
Area of Specialisation
Medical And Health ~ Medical And Health Sciences ~ Complementary/Alternative Medicine ~ Other Complementary/Alternative Medicine n.e.c.
Teaching Responsibilities
| | |
| --- | --- |
| ACCIDENT AND EMERGENCY POSTING | 2023/2024 |
| DERMATOLOGY POSTING | 2023/2024 |
| FAMILY MEDICINE II | 2023/2024 |
| INSTITUTIONAL PRIMARY CARE POSTING | 2023/2024 |
Research Projects
Completed
| | |
| --- | --- |
| 2019 - 2022 | Identification of Mobile Gadget addiction among young children: formulation of a new screening algorithm |
| 2017 - 2021 | A STUDY ON DIABETIC FOOT AT RISK AND ITS ASSOCIATED FACTORS AMONG TYPE 2 DIABETES MELLITUS PATIENTS ATTENDING PRIMARY HEALTH CLINICS IN KUANTAN. |
On-Going
| | |
| --- | --- |
| 2023 - Present | Pneumococcal Carriage and Serotype Distribution in Children with Otitis Media in Malaysia |
| 2023 - Present | Empowering Kindergarten Teachers and Parents in Kuantan to Address Screen-media Dependency: A Comprehensive Interventional Approach to Reduce Excessive Screen Time Among Children |
| 2020 - Present | Profiling a structured system of foot protection service in managing diabetic foot problem in primary care. |
Publications
Article
| | |
| --- | --- |
| 2023 | Madelung's disease: a case report in an Asian patient. Asian Journal of Medicine and Health Sciences, 6 (1) pp. 153-159 |
| 2023 | Prevalence of internet addiction among medical and non-medical students of International Islamic University Malaysia (IIUM), Kuantan. IIUM Journal of Orofacial and Health Sciences, 4 (1) pp. 16-25 |
| 2023 | Screen media dependency and its associated factors among preschool children in Kuala Lumpur. Malaysian Journal of Medicine and Health Sciences, 19 (3) pp. 204-214 |
| 2022 | A child with unique skin pattern: a case report of Tinea imbricata. Medical Journal Malaysia, 77 (1) pp. 113-115 |
| 2022 | Case report: a rare initial presentation of gastrointestinal symptoms in systemic Lupus Erythematosus. IIUM Journal of Orofacial and Health Sciences, 3 (Supplement 1) pp. 64-64 |
| 2022 | Development and validation of a new gadget addiction scale (Screen Dependency Scale) among pre-school children in Malaysia. International Journal of Environmental Research and Public Health, 19 (24) pp. 1-15 |
| 2022 | Effects of listening to Quran recitation and nature sounds on preoperative anxiety among patients undergoing surgery. Pakistan Journal of Psychological Research, 37 (2) pp. 295-310 |
| 2022 | Isolated gastrointestinal symptoms as initial presentation in systemic lupus erythematosus and its differential diagnosis. Malaysian Journal of Medicine and Health Sciences (MJMHS), 18 (5) pp. 218-221 |
| 2022 | Itchy rash in pregnancy. Journal of Clinical and Health Sciences, 7 (1) pp. 73-74 |
| 2022 | Prevalence of internet addiction among medical and non-medical students of International Islamic University (IIUM), Kuantan. IIUM Journal of Orofacial and Health Sciences, 3 (1) pp. 54-54 |
| 2022 | Right sided infective endocarditis masquerading as pulmonary tuberculosis: a case report. IIUM Journal of Orofacial and Health Sciences, 3 (1) pp. 58-58 |
| 2022 | Right-sided infective endocarditis masquerading as pulmonary tuberculosis : a case report. Malaysian Journal of Medical Research, 6 (1) pp. 14-18 |
| 2022 | Screen media dependency among pre-school children in Kuala Lumpur and its associated factors. Journal of Behavioral Addictions, 11 (1) pp. 300-301 |
| 2022 | Screen media dependency and its associated factors among pre-school children in Kuala Lumpur. Journal of Behavioral Addictions, 11 (1 (Suppl)) pp. 300-301 |
| 2022 | Tools to assess screen-related dependency in children: a narrative review of validated questionnaires. Malaysian Journal of Medicine and Health Sciences, 18 (3) pp. 174-178 |
| 2021 | Exploring women's perceptions and experiences of menopause among East Coast Malaysian women. Malaysian Family Physician, 16 (1) pp. 84-92 |
| 2021 | HIV: commonly asked questions. The Malaysian Medical Gazette, 9 December 2021 () pp. |
| 2021 | HIV: the basics. The Malaysia Medical Gazette, 12 January 2021 () pp. |
| 2021 | Level of self esteem among medical students in International Islamic University Malaysia Kuantan (IIUM) and its association with religiosity. International Journal of Human and Health Sciences (IJHHS), (Supplementary Issue) pp. S27-S27 |
| 2021 | Level of self-esteem among Muslim medical students and its association with religiosity. The Malaysian Journal of Islamic Sciences, 33 (2) pp. 17-35 |
| 2021 | Madelung's disease: a case report in an Asian patient. IIUM Journal of Orofacial and Health Sciences, 3 (Supplement 1) pp. 65-65 |
| 2021 | Parental awareness over their children's internet usage: a review. International Journal for Studies on Children, Women, Elderly And Disabled, 12 () pp. 30-35 |
| 2021 | Successful pregnancy outcome in Eisenmenger Syndrome in pregnancy: a case report. Journal of Family Medicine Forecast, 4 (1) pp. 1-2 |
| 2020 | A survey on medication adherence and knowledge on hyperlipidaemia among hyperlipidaemia patients attending the IIUM Family Health Clinic, Kuantan. International Journal of Allied Health Sciences, 4 (2) pp. 1223-1235 |
| 2020 | Diabetic foot care practice and its associated factors among type 2 diabetes mellitus patients attending primary health clinics in Kuantan, Malaysia: a cross sectional study. International Medical Journal Malaysia, 19 (2) pp. 13-19 |
| 2020 | Kenali gejala darah beku. The Malaysian Medical Gazette, () pp. |
| 2020 | Prevalence and associated factors of diabetic foot at risk among type 2 diabetes mellitus patients attending primary health clinics in Kuantan. IIUM Medical Journal Malaysia, 19 (3) pp. 11-19 |
| 2020 | Quality of life of hypertensive patients visiting the Family Health Clinic, IIUM Kuantan. World Journal of Pharmaceutical Research, 9 (5) pp. 63-74 |
| 2020 | Smartphone addiction and its relationship with psychological health among Clinical Years Medical Students of International Islamic University Malaysia (IIUM), Kuantan. IIUM Medical Journal Malaysia, 18 (2 Supplementary Issue No 2) pp. 10-10 |
| 2019 | A review of the diabetic foot in Malaysian perspective. World Journal of Pharmaceutical and Medical Research, 5 (9) pp. 40-43 |
| 2019 | Comparing the effects of qur'an recitation and nature sounds on preoperative anxiety and physiological parameters among patients undergoing surgery at a teaching hospital. International Journal Of Allied Health Sciences, 3 (3 Special Issue) pp. 842-842 |
| 2019 | Depression, anxiety and stress among HIV patients in East Coast Malaysia. International Journal of Current Research, 11 (3) pp. 2167-2170 |
| 2019 | Menopausal experience among postmenopausal women In Kuantan, Pahang - a qualitative study. Malaysian Family Physician, 14 (Supplement 2) pp. 14-14 |
| 2019 | Prevalance and associated factors of diabetic foot at risk among type 2 diabetes mellitus patients attending primary health clinics in Kuantan. Malaysian Family Physician, 14 (Supplement 2) pp. 16-16 |
| 2019 | Smartphone addiction and its relationship with physiological health among students of a medical school in East Coast Malaysia. Asian Journal of Pharmaceutical and Clinical Research, 12 (8) pp. 257-260 |
| 2018 | Prevalence of depression amongst caregivers of stroke patients attending Hospital Universiti Sains Malaysia. International Medical Journal of Malaysia, 17 (Special Issue No 2) pp. 195-200 |
| 2018 | The man with sweaty palm and soles. Malaysian Family Physician, 13 (1) pp. 52-54 |
| 2016 | A study on burden among caregivers of stroke patients. IIUM Medical Journal Malaysia (IMJM), 15 (Supplement Issue) pp. 79-79 |
Conference or Workshop Item
| | |
| --- | --- |
| 2022 | Translation and validation of the Malay version of exercise dependence scale 21 (EDS21-M). In: Virtual Medical Research Symposium 2022, |
| 2021 | A rare initial presentation: gastrointestinal symptoms in systemic lupus erythematosus and its differential diagnosis. In: IIUM Research Day 2021, |
| 2021 | Development and validation of screen dependency scale (SDS) among pre-school children. In: 23rd Family Medicine Scientific Conference 2021, |
| 2021 | Development and validation of the Screen Dependency Scale (SDS) among pre-school children. In: 23RD FAMILY MEDICINE SCIENTIFIC CONFERENCE, |
| 2021 | Prevalence of internet addiction among medical and non-medical students of international Islamic university Malaysia. In: IIUM Research Day 2021, |
| 2021 | Right-sided infective endocarditis masquerading as pulmonary tuberculosis: a case report. In: IIUM Research Day 2021: An International Online Event for Life Sciences, |
| 2021 | Sociodemographic profile of preschool children with screen media dependency in urban area. In: Medical Research Symposium 2021, |
| 2020 | Level of self esteem among medical students in International Islamic University Malaysia (IIUM) and its association with religiosity. In: Islamic Medical Association of Malaysia Imam Symposium 2020, |
| 2019 | Menopausal experience among postmenopausal women in Kuantan, Pahang - A qualitative study. In: 7 Asia Pacific Primary Care Research Conference, |
| 2019 | Menopausal experience among postmenopausal women in Kuantan,Pahang—a qualitative study. In: 7th Asia Pacific Primary Care Research Conference, |
| 2019 | Prevalance and associated factors of diabetic foot at risk among type 2 diabetes mellitus patients attending primary health clinics in Kuantan. In: 7th Asia Pacific Primary Care Research Conference, |
| 2019 | Smartphone addiction and its relationship with psychological health among Clinical Years Medical Students of International Islamic University Malaysia (IIUM), Kuantan. In: Medical Research Symposium 2019, |
| 2017 | Prevalence of depression and anxiety and stress among HIV patients in Kuantan. In: 1st International Community Health Conference (ICHC 2017), |
| 2016 | A study on depression among caregivers of stroke patients. In: 2nd World Congress on Integration and Islamicisation: Focus on Medical and Healthcare Science (2WCII 2016), |
Book
Book Section
| | |
| --- | --- |
| 2022 | Communication skills in primary care. In: IIUM Press, ISBN: , pp. 34-62 |
| 2022 | Communication skills in primary care. In: IIUM Press, ISBN: , pp. 34-62 |
| 2022 | Consultation in primary care. In: IIUM Press, International Islamic University Malaysia, ISBN: 978-967-491-186-7, pp. 1-187 |
| 2022 | Consultation in primary care. In: IIUM Press, International Islamic University Malaysia, ISBN: 978-967-491-186-7, pp. 1-187 |
| 2022 | The challenges of Frontliners during Pandemic Covid-19. In: University Malaysia Pahang, ISBN: , pp. 173-188 |
| 2021 | Impak Covid-19 terhadap kesihatan mental rakyat Malaysia. In: Universiti Malaysia Pahang, ISBN: 9789672831099, pp. 19-34 |