Staff Directory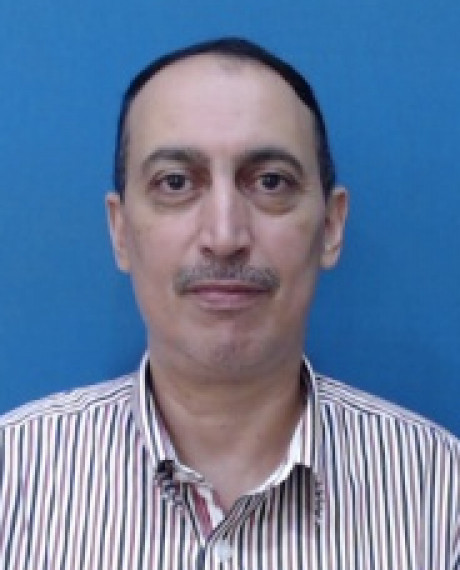 Academic Qualification
Fellowship of Psychiatry - Masters Degree (Clinical Specialist), Iraqi Board for Medical Specialization
M.B.Ch.B - Bachelor Degree, Baghdad University, Iraq
Ali Sabri Radeef Al-Ani (Dr.)
Assistant Professor
IIUM Kuantan Campus
KULLIYYAH OF MEDICINE
---
dralisabri@iium.edu.my
4636
Expert Profile
Dr. Ali was awarded the bachelor degree in Medicine and Surgery (M.B.Ch.B) from the College of Medicine, Baghdad University in 1997. After finishing his internship, he pursued his postgraduate studies in the field of psychiatry and was awarded the degree of fellowship of the Iraqi Board for Medical Specializations in Psychiatry in 2005 and the qualification to be a specialist in Psychiatry. He then worked as a specialist psychiatrist in the Ministry of Health, Iraq.
Currently, Dr. Ali is working at the Department of Psychiatry, Kulliyyah of Medicine, International Islamic University Malaysia since 2011 as an assistant professor and a specialist psychiatrist at Department of Psychiatry, IIUM Medical Centre and Department of Psychiatry, Hospital Tengku Ampuan Afzan, Kuantan.
In addition to his teaching duties, he is interested in conducting research in the field of liaison psychiatry, mood disorders and psychiatric epidemiological studies where he has already conducted studies and published many articles in these areas. He presented his studies at national and international conferences. He was awarded a gold medal at the IIUM Research Invention and innovation Exhibition (IRIIE) for his research.
Area of Specialisation
Medical And Health ~ Medical And Health Sciences ~ Clinical Medicine ~ Psychiatry - General psychiatry
Professional Membership
2017 - 2020: Member of Profesional Body / Association: (member), European Psychiatric Association
Teaching Responsibilities
| | |
| --- | --- |
| BASIC MEDICAL SCIENCES AND BASIC PSYCHIATRY | 2021/2022 2020/2021 2019/2020 |
| CONSULTATION PSYCHIATRY | 2021/2022 2020/2021 |
| ELECTIVE POSTING | 2021/2022 2019/2020 |
| INTRODUCTION TO PSYCHIATRY | 2022/2023 2021/2022 2020/2021 |
| INTRODUCTION TO PUBLIC HEALTH | 2018/2019 |
| NORMAL RESPONSE & PROCESS TO DISEASED STATE | 2017/2018 |
| PSYCHIATRY | 2022/2023 2021/2022 |
| PSYCHIATRY AND PALLIATIVE MEDICINE | 2020/2021 2019/2020 2018/2019 2017/2018 2016/2017 2015/2016 2014/2015 2013/2014 2012/2013 2011/2012 2010/2011 |
| STRUCTURE & FUNCTION IN NORMAL & DISEASED STATES & BEHAVIOURAL SCIENCE | 2019/2020 |
| SUBSPECIALISED ROTATION POSTING I | 2021/2022 2020/2021 2019/2020 |
| SUBSPECIALISED ROTATION POSTING II | 2021/2022 2020/2021 |
| THE ENDOCRINE, REPRODUCTIVE AND URINARY SYSTEMS | 2021/2022 |
| THE ENDOCRINE, REPRODUCTIVE URINARY SYSTEMS | 2019/2020 2018/2019 2017/2018 2016/2017 |
| THE LOCOMOTOR AND NERVOUS SYSTEMS | 2019/2020 2018/2019 2016/2017 |
Research Projects
Completed
| | |
| --- | --- |
| 2018 - 2022 | Histological and immunohistochemical mechanisms of Eurycoma longifolia jack induced wound healing |
| 2017 - 2020 | Psychiatric morbidity, religiosity and illness perception among attendees of Darussyifa Islamic faith healing center |
| 2016 - 2019 | Prevalence of internet addiction and its effect on psychological well-being among undergraduate students |
| 2016 - 2019 | Effects of Eurycoma longifolia jack (Tongkat Ali) root extract against oral pathogens: to promote general oral health |
| 2015 - 2019 | Assessment of emotional disturbances in different modes of delivery of pregnant women |
| 2015 - 2018 | Oral Health Status of Smokers and E-Cigarettes Users: A Longitudinal Study |
| 2014 - 2017 | The Effect Of Emotional Disturbances On Oral Health In Diabetic Patients |
| 2011 - 2012 | Study of Prevalence of Psychiatric Illness among Diabetic Patients in Hospital Tengku Ampuan Afzan, Pahang, Malaysia |
| 2011 - | RU 2011 - Study of Prevalence and Etiological Factors in Relation with Recurrent Admissions of Patients in Psychiatric Department at Hospital Tengku Ampuan Afzan, Kuantan, Pahang, Malaysia |
| 2011 - 2014 | RU 2011 - Comparative Study on the Psychological Distress, Emotional Disturbances and the Source of Stressors between Medical and Non-Medical Undergraduate Students in Malaysia |
On-Going
| | |
| --- | --- |
| 2020 - Present | Assessment of psychological wellbeing and its relation to disordered eating , stressors, and coping mechanisms during COVID 19 pandemic among undergraduate students in Malaysia |
Award & Recognition
| | | |
| --- | --- | --- |
| 28 Mar, 2022 | Gold medal in the 11th Dental student's scientific conference 2022 - Kulliyyah of Dentistry | KCDIO |
| 25 Oct, 2021 | Merit award ( sustainable development Goals International Innovation Awards.) - Malaysia Technology Exop 2021 | National |
| 19 Feb, 2013 | Gold Medal - IIUM | University |
Publications
Article
| | |
| --- | --- |
| 2022 | Assessment of psychological distress and coping strategies among dental undergraduate students in a Malaysian university during COVID-19 Pandemic. Siriraj Medical Journal, 74 (6) pp. 350-356 |
| 2022 | Cross sectional study: family relationships and self- esteem and its association with mental well-being among medical students in a Malaysian university. Mediterranean Journal of Clinical Psychology, 10 (2) pp. 1-17 |
| 2022 | Perceived social support among university students in Malaysia during Covid-19 pandemic. Journal of International Dental and Medical Research, 15 (3) pp. 1242-1247 |
| 2021 | Internet addiction and its association with emotional disturbances among nursing students in Malaysia. British Journal of Medical & Health Sciences, 3 (7) pp. 1110-1114 |
| 2021 | Pathological internet use among Science students in Malaysia. British Journal of Medical & Health Sciences, 3 (8) pp. 1124-1130 |
| 2020 | Association of low perceived social support with emotional disturbances among undergraduate students of faculty of nursing in Malaysia. East African Scholars Journal of Psychology and Behavioural Sciences, 2 (5) pp. 50-54 |
| 2020 | Depression, anxiety and stress among pharmacy students in Malaysia. Journal of International Dental and Medical Research, 13 (2) pp. 628-632 |
| 2020 | Internet addiction among pharmacy undergraduate students in Malaysia. IIUM Journal of Orofacial and Health Sciences, 1 (2) pp. 78-83 |
| 2019 | Assessment of peripartum psychological disturbances in relation to modes of delivery. Makara Journal of Health research, 23 (1) pp. 1-6 |
| 2019 | Assessment of psychological distress among nursing undergraduate students in Malaysia. SSRG International Journal of Medical Science (SSRG-IJMS), 6 (10) pp. 1-4 |
| 2019 | Family values and psychological distress among adolescents. Is there any association? a comparison study in Malaysia. Mediterranean Journal of Clinical Phychology, 7 (1) pp. 1-16 |
| 2019 | Internet addiction among dental students in Malaysia. Journal of International Dental and Medical Research, 12 (4) pp. 1452-1456 |
| 2019 | Low self esteem and its relation with psychological distress among dental students. European Journal of Medical and Health Sciences, 1 (1) pp. 1-4 |
| 2019 | The correlation of maternal childbirth experience satisfaction with postnatal depression, anxiety and stress scoring. International Journal of Innovative Research in Medical Science (IJIRMS), 4 (7) pp. 435-440 |
| 2018 | Prevalence of Internet addiction and its association with depression, anxiety and stress among medical students in Malaysia. Mediterranean Journal of Clinical Psychology, 6 (3) pp. 1-17 |
| 2018 | Stressors and their association with symptoms of depression, anxiety and stress in dental students. Makara Journal of Health Research, 22 (2) pp. 58-62 |
| 2018 | Translation and validation study of the Chen Internet Addiction Scale (CIAS)among Malaysian college students. Journal of International Dental and Medical Research, 11 (1) pp. 32-37 |
| 2018 | Translation and validation study of the Malaysian version of the childbirth experience questionnaire - CEQ. Journal of International Dental and Medical Research, 11 (1) pp. 357-361 |
| 2017 | Assessment of depression, anxiety and stress symptoms among patients with periodontal disease. Journal of International Dental and Medical Research, 10 (2) pp. 260-264 |
| 2017 | Assessment of ilness perception of diabetic patients with periodontitis. Journal of International Dental and Medical Research, 10 (1) pp. 100-107 |
| 2017 | Assessment of llness perception of diabetic patients with periodontitis. Journal of International Dental and Medical Research, 10 (1) pp. 100-107 |
| 2017 | Assessment of social support, expressed emotion and compliance to treatment among hospital admitted schizophrenic patients in Malaysia. Journal of International Dental and Medical Research, 10 (1) pp. 179-185 |
| 2017 | Changes in leptin in relation to increased testosterone levels associated with Eurycoma Longifolia Jack (Tongkat Ali) root extract consumption in male rats. Journal of Young Pharmacists, 9 (1) pp. 40-42 |
| 2017 | Depression, anxiety and stress among diabetic and non-diabetic patients with periodontitis. Journal of International Dental and Medical Research, 10 (2) pp. 248-252 |
| 2017 | Psychological distress and sources of stressors amongst medical and science undergraduate students in Malaysia. Makara Journal of Health Research, 21 (2) pp. 61-67 |
| 2017 | The cholesterol lowering effects of Eurycoma longifolia Jack (Tongkat Ali) root extract in male rats. Makara Journal of Health Research, 21 (1) pp. 25-29 |
| 2016 | Depression, anxiety and stress with possible sources of stressors among undergraduate medical students in Malaysia. Brunei International Medical Journal (BIMJ), 12 (1) pp. 18-25 |
| 2016 | Norms for eating disorder examination questionnaire (EDE-Q) among secondary school students in Kuala Lumpur, Malaysia.. international Medical Journal Malaysia, 15 (2) pp. 57-61 |
| 2015 | Assessment of documentation of DSM - IV - TR criteria a for diagnosis of schizophrenia in psychiatric unit, tertiary hospital, Malaysia. Clinica Terapeutica, 166 (2) pp. 87-90 |
| 2014 | Emotional disturbances among adult diabetic patients attending diabetic clinic in a Malaysian General Hospital. International Journal of Medical Research & Health Sciences, 3 (4) pp. 880-885 |
| 2014 | Psychological distress among medical undergraduate students in Malaysia. European Psychiatry, 29 (supp1) pp. 1 |
| 2014 | Source of stressors and emotional disturbances among undergraduate science students in Malaysia. International Journal of Medical Research & Health Sciences, 3 (2) pp. 401-410 |
| 2013 | Study of socio-demographic factors among re-admitted psychiatric patients in relation to their diagnoses in Malaysia. International Journal for Innovation Education and Research, 1 (3) pp. 114-120 |
Conference or Workshop Item
| | |
| --- | --- |
| 2022 | Assessment of academic related stressors and their association with psychological distress among kulliyyah of dentistry students during covid-19 pandemic. In: The 11th Dental Student Scientific Conference, |
| 2022 | Comparing stressful factors among dental students pre and during COVID-19 pandemic. In: International Conference on Post Covid Healthcare, Medical Research and Education, |
| 2020 | Suicide risk assessment. In: World Mental Health Day 2020 : Workshop on Suicide Prevention in IIUM Facilities, |
| 2019 | Depression, anxiety and stress in relation to modes of delivery. In: International Congress of the Obstetrical and Gynaecological Society of Malaysia, |
| 2019 | Mental health condition of IIUM students (from research findings). In: Mental Health Programme for Fellows, Principals and Residential Development and Welfare's Staff, |
| 2019 | Problematic internet use among nursing students. In: 5th International Conference on Public Health 2019, |
| 2019 | Psychological well-being among nursing students. In: 5th Medical Research Symposium, |
| 2018 | Psychological well-being among dental undergraduate students in Malaysia. In: 13th International Conference on Child and Adolescent Psychopathology (CCAP2018)., |
| 2017 | Assessment of illness perception of diabetic patients with periodontitis. In: 6th IIUM Dental Students' Scientific Conference 2017, |
| 2017 | Prevalence of depression, anxiety and stress among patients attending periodontal clinic. In: 19th Johor Mental Health Convention, |
| 2016 | Sources of stressors and emotional disturbances among undergraduate medical students in Malaysia. In: 1st Johor International Psychiatry meeting and 18th Johor mental health Convention, |
| 2016 | Translation and cultural adaptation of the childbirth experience questionnaire. In: 12th Asia Pasific Congress in Maternal Fetal Medicine 2016, |
| 2015 | Changes in leptin and testosterone hormones associated with Eurycoma Longifolia jack (Tongkat ali) root extract consumption in male rats. In: International Conference on Natural Products 2015, |
| 2015 | Depression, anxiety and stress among undergraduate science students in Malaysia. In: 17th Johor Mental Health Conference, |
| 2014 | Depression, anxiety, and stress among adult Diabetic patients attending diabetic clinic at Hospital Tengku Ampuan Afzan, Pahang state, Malaysia. In: 18th Malaysian Conference on Psychological Medicine, |
| 2014 | Prevalence of psychological distress and source of stressors among undergraduate science students in Malaysia. In: IIUM Research, Innovation & Invention Exhibition (IRIIE 2014), |
| 2014 | Psychological distress among medical undergraduate students in Malaysia. In: 22nd European Congress of Psychiatry (EPA 2014), |
| 2014 | Study of prevalence and etiological factors in relation with recurrent admissions of patients in psychiatric department at Hospital Tengku Ampuan Afzan, Kuantan, Pahang, Malaysia. In: International Research, Invention and Innovation Exhibition 2014 (IRIIE2014), |
| 2013 | Emotional disturbances among diabetic patients in Malaysia . In: IIUM Research, Invention and Innovation Exhibition 2013, |
| 2013 | Prevalence and etiological factors in relation with recurrent admissions of psychiatric patients at HTAA, Kuantan, Malaysia. In: World Psychiatric Association International Congress, |
| 2013 | Study of prevalence and etiological factors in relation with recurrent admissions of patients in Psychiatric department at Hospital Tengku Ampuan Afzan, Kuantan,Pahang, Malaysia. In: World Psychiatric Association International Congress 2013, |
| 2011 | Depression among female patients in medical wards . In: 16th Malaysian Conference on Psychological Medicine , |
Book