Staff Directory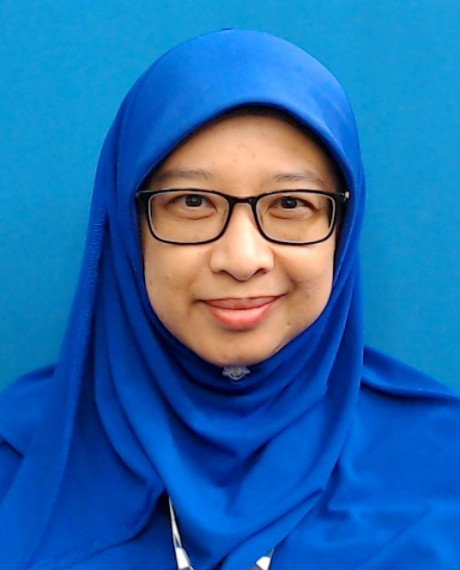 Academic Qualification
Business Administration - Masters Degree, Malaysian Institute of Management
Engineering (Electrical Engineering) - Bachelor Degree, Polytechnic University, Brooklyn, NY
Noor Azian Bt. Mohamad Ali (Madam)
Academic Fellow
IIUM Gombak Campus
KULLIYYAH OF INFORMATION AND COMMUNICATION TECHNOLOGY
---
noorazian@iium.edu.my
5615
Expert Profile
Noor Azian Mohamad Ali is an academic in the Department of Information Systems, Kulliyyah of Information and Communication Technology, International Islamic University Malaysia (IIUM), and project consultant in IIUM Advanced Technologies Sdn. Bhd.
Her teaching experience is in Project Management in IT, Business Data Communication and System Analysis and Design for undergraduates and Mobile Communication for post graduates. Her publications are mostly related to mobile communication and networks. She has self- published a few books on IT project management to support her teaching. She also teaches Leadership and Management skills classes for IIUM undergraduates.
Prior to joining the academic world, she was a system engineer, head of unit, internal quality auditor, team leader, process engineer, quality management practitioner, technical leader and project manager involved in various technical areas. She has handled IT projects, system planning and operational support, specializing in telecommunication IT infrastructure and billing projects.
She started her technical career as a system engineer at Celcom Bhd. in 1995. Within two years, she became the team lead for the Product Support Section and was actively involved in Quality Management projects. She had also spear-headed technical evaluations for networked-based customer systems from 1997 to 2005.
Next, she continued working through the ranks from system engineer to consultant to associate principle in Development Division in DiGi Telecommunications Sdn. Bhd. from 2005 until 2012. Here, she played various roles from being a technical expert for a few telecommunication services systems to a technical lead for mega projects on telecommunication network infrastructure and billing systems.
She also holds professional certifications on ITIL v.3, Certified Professional Requirement Engineer, Green Belt Six Sigma and TRIZ Level 1. She is currently pursuing Post Graduate Diploma in Integrated Knowledge in IIUM.
Area of Specialisation
ICT ~ Information, Computer And Communications Technology (ICT) ~ ICT Policy and Social Impact ~ Telecommuting and Teleworking - Telecommunication Services - Value Added Service System Planning and Management
Economics, Business And Management ~ Economics, Business And Management ~ Management ~ Management Information System
Professional Membership
2017 - 2018: Member of Profesional Body / Association: (ordinary member), Persatuan Capaian Maklumat dan Pengurusan Pengetahuan (PECAMP)
Teaching Responsibilities
| | |
| --- | --- |
| DATA COMMUNICATION IN BUSINESS | 2012/2013 |
| DIGITALPRENEURSHIP FINANCE | 2022/2023 |
| E-COMMERCE | 2022/2023 2021/2022 |
| FAMILY MANAGEMENT & PARENTING | 2019/2020 2018/2019 2017/2018 2016/2017 2015/2016 |
| FINAL YEAR PROJECT 1 | 2019/2020 |
| FINAL YEAR PROJECT I | 2021/2022 2017/2018 2016/2017 2015/2016 2014/2015 2013/2014 2012/2013 |
| FINAL YEAR PROJECT II | 2021/2022 2019/2020 2017/2018 2016/2017 2015/2016 2014/2015 2013/2014 2012/2013 |
| INDUSTRIAL ATTACHMENT | 2017/2018 2016/2017 2015/2016 2014/2015 2013/2014 2012/2013 |
| LEADERSHIP AND MANAGEMENT | 2014/2015 |
| MANAGEMENT INFORMATION SYSTEM | 2017/2018 |
| MOBILE COMMUNICATION | 2014/2015 |
| PROJECT MANAGEMENT IN IT | 2022/2023 2021/2022 2020/2021 |
| PROJECT MANAGEMENT IN IT | 2020/2021 2019/2020 2018/2019 2017/2018 2016/2017 2015/2016 2013/2014 2012/2013 |
| SUSTAINABLE DEVELOPMENT: ISSUES, POLICIES AND PRACTICES | 2020/2021 |
| SUSTAINABLE DEVELOPMENT: ISSUES, PRINCIPLES AND PRACTICES | 2022/2023 |
| SYSTEMS ANALYSIS AND DESIGN | 2014/2015 |
| TECHNOPRENEURSHIP | 2019/2020 2018/2019 2017/2018 |
| USRAH IN ACTION 1 | 2022/2023 2021/2022 |
| USRAH IN ACTION 2 | 2022/2023 |
Research Projects
Completed
| | |
| --- | --- |
| 2014 - 2017 | Knowledge Management Readiness Index: A Holistic Approach Across Multiple Industries |
On-Going
Award & Recognition
| | | |
| --- | --- | --- |
| 22 Apr, 2018 | Silver Award - International Festival Innovation on Green Technology 2018 - University Malaysia Pahang | National |
| 27 Jan, 2014 | Huawei National ICT Talents Seeds Cultivation (TSC) Award - Huawei Technologies (Malaysia) Sdn Bhd | National |
| 23 May, 2013 | TRIZ Level 1 Practitioner - Malaysia TRIZ Innovation Association | National |
Publications
Article
| | |
| --- | --- |
| 2021 | Freemium multi-sided platform business model: mosque kitchen as a source of free food, employment and empowerment of B40s food-preneurs. Journal of Information Systems and Digital Technologies, 3 (2) pp. 1-10 |
| 2018 | Antecedents of knowledge management practices: Case of Malaysian practitioners. Bulletin of Electrical Engineering and Informatics, 7 (1) pp. 125-133 |
| 2017 | A holistic approach to measure organizational readiness for knowledge management. Advanced Science Letters, 23 (4) pp. 2829-2832 |
| 2015 | 4G coverage in Malaysia. International Journal of Science and Research (IJSR), 4 (1) pp. 1817-1823 |
| 2015 | Innovation of touch projector technology and its purpose. International Journal of Scientific & Engineering Research, 6 (1) pp. 131-134 |
| 2015 | Issues in location based marketing: a review of literature. International Journal of Scientific and Research Publications, 5 (1) pp. 1-4 |
| 2015 | Space Debris Low Earth Orbit (LEO). International Journal of Science and Research (IJSR), 4 (1) pp. 1591-1594 |
| 2015 | Survey on mobile and wireless security awareness: user perspectives. International Journal of Science and Research (IJSR), 4 (1) pp. 1287-1292 |
| 2015 | The suitability of native application for university e-learning compared to web-based application. International Journal of Science and Research (IJSR), 4 (1) pp. 2045-2049 |
| 2014 | The most favourable mobile messaging apps among IIUM students. International Journal of Science and Research (IJSR), 3 (12) pp. 2497-2502 |
| 2014 | Wireless sensor networks: an overview from an optimization perspective. International Journal of Science and Research (IJSR), 3 (12) pp. 2556-2562 |
Conference or Workshop Item
Book
| | |
| --- | --- |
| 2023 | mKitchen™ towards Masyarakat Madani. mKitchen KICT IIUM, ISBN: 9789672656999 |
| 2023 | Rumah Makan mKitchen for Free Food Distribution. mKitchen, KICT IIUM, ISBN: 978-967-26569-8-2 |
| 2022 | Batch 3 IIUM mkitchen students. mKitchen, ISBN: 978-967-26569-6- |
| 2022 | Budi Ramadan mKitchen IIUM students. mKitchen KICT, ISBN: 978-967-26569-4-4 |
| 2022 | Empowered batch 3 IIUM mkitchen students. mKitchen, ISBN: 978-967-26569-7-5 |
| 2022 | MKitchen IIUM students integrate food with budi sejahtera. mKitchen Kulliyyah of Information and Communication Technology (KICT), ISBN: 978-967-26569-3-7 |
| 2022 | MKitchen training and development. Mkitchen, KICT IIUM Gombak, ISBN: 978-967-26569-2-0 |
| 2022 | Readings on Sejahtera MKitchen Entrepreneurship. mKitchen KICT IIUM, ISBN: 978-967-26569-5-1 |
| 2022 | مطبخ المسجد: مشروع ريادي تعاوني. Al Manar Resources, ISBN: 978-629-97700-2-2 |
| 2021 | A journey of ta'awun (cooperative behaviour) in edu-action at IIUM Mkitchen® and Masjid al-Syakirin Gombak (MASG). Meso Publishing, ISBN: 9789671981412 |
| 2021 | Budi Mkitchen for flood victims. mKitchen, ISBN: 978-967-26569-1-3 |
| 2021 | Budiman Mahallah kitchen. mKitchen, ISBN: 9789672656906 |
| 2021 | Inaugural edu-action journey with cooperative behavior (Ta'awun) of mKitchen® students in free food for the needy. Meso Publishing, ISBN: 978-967-19814-4-3 |
| 2021 | Mkitchen® UIAM penggerak asnaf sejahtera lestari. Meso Publishing, ISBN: 978-967-19814-2-9 |
Book Section