Staff Directory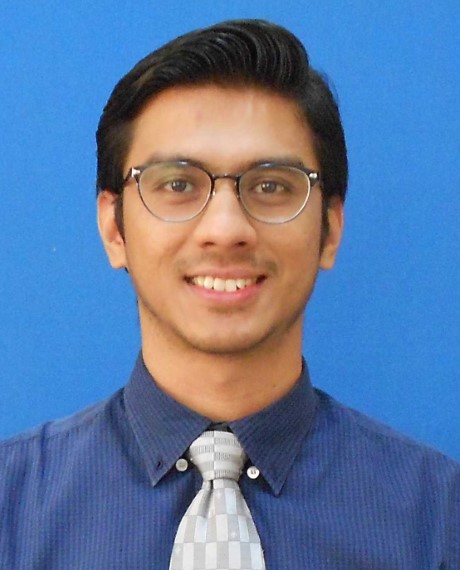 Academic Qualification
Master of Psychiatry - Masters Degree (Clinical Specialist), Hospital Universiti Kebangsaan Malaysia
Bachelor of Medicine and Bachelor of Surgery - Bachelor Degree, International Islamic University Malaysia
Ahmad Nabil Bin Md. Rosli (Dr.)
Assistant Professor
IIUM Kuantan Campus
KULLIYYAH OF MEDICINE
---
ahmadnabil@iium.edu.my
4642
Expert Profile
Dr Ahmad Nabil Md Rosli is an assistant professor of psychiatry at the Kulliyyah of Medicine (IIUM) with special interest in religion, spirituality, culture and mental health. 
His clinical experience includes previous works at the Hospital Canselor Tuanku Mukhriz (2013-2017) and Hospital Tengku Ampuan Afzan, Kuantan. 
His interest in writing and research is evident from his various scientific publications, locally and internationally. His recent contribution is a chapter in a book recently published by Universiti Islam Malaysia; Medical Wisdom and Ar-Ruqyah Ash-Shar'iyyah (2018). Apart from his academic commitment, he has been involved in some psychosocial work e.g. flood in Pahang under the Malaysian Integrated Medical Professional Association (2014-15) and  pioneering Mental Health and Psychosocial Support to Cox's Bazar, Bangladesh under the IMAM Response and Relief Team (2018). He is also a treasurer of Persatuan Terapi Psikospiritual Malaysia (2018-2020).
Area of Specialisation
Medical And Health ~ Medical And Health Sciences ~ Clinical Medicine ~ Psychiatry
Social Science ~ Social Science ~ Psychology ~ Islamic Psychology - Spirituality and Mental Health
Professional Membership
2017 - 2019: Member of Profesional Body / Association: (Bendahari Agung), Persatuan Terapi Psikospiritual Malaysia
Teaching Responsibilities
| | |
| --- | --- |
| BASIC MEDICAL SCIENCES AND BASIC PSYCHIATRY | 2019/2020 2020/2021 |
| CONSULTATION PSYCHIATRY | 2020/2021 |
| ELECTIVE POSTING | 2019/2020 |
| INTRODUCTION TO PSYCHIATRY | 2020/2021 |
| NORMAL RESPONSE & PROCESS TO DISEASED STATE | 2017/2018 |
| PSYCHIATRY AND PALLIATIVE MEDICINE | 2019/2020 2020/2021 2018/2019 2017/2018 |
| SUBSPECIALISED ROTATION POSTING I | 2019/2020 2020/2021 |
| SUBSPECIALISED ROTATION POSTING II | 2020/2021 |
| THE ENDOCRINE, REPRODUCTIVE URINARY SYSTEMS | 2017/2018 |
Research Projects
Completed
| | |
| --- | --- |
| 2018 - 2019 | Prevalence of Suicide Risk and its Associated Factors among Male to Female (MTF) Transgenders in Kuantan Pahang |
| 2017 - 2020 | Psychiatric morbidity, religiosity and illness perception among attendees of Darussyifa Islamic faith healing center |
| 2017 - 2020 | A MIXED METHOD: DEPRESSION AND ASSOCIATED FACTORS AMONG TRANSGENDER MALE TO FEMALE IN KUANTAN, PAHANG |
On-Going
| | |
| --- | --- |
| 2021 - Present | An Islamic Psychospiritual-Acceptance and Commitment-based Prevention Program for At-Risk Young Adults in the COVID-19 Pandemic |
| 2021 - Present | The Relationship Between Stress, Fear of Covid-19, and Salivary Immunoglobulin A Level Among Staff Nurse at SASMEC : A Cross Sectional Study |
| 2021 - Present | Raising Mental Health Awareness among Women with Low-Socio-Economic Status in a Community in Kuantan, Pahang |
| 2021 - Present | Medical Pluralism Among Psychiatric Patient in SASMEC : A Mixed Method Study |
| 2021 - Present | MENTAL HEALTH PROGRAMME FOR SELANGOR 2021 |
| 2017 - Present | EXPLORING LITERACY ON DEPRESSION AMONG A SAMPLE OF MALAYSIAN SECONDARY SCHOOL ADOLESCENTS USING A VIGNETTE-BASED QUESTIONNAIRE |
Award & Recognition
| | | |
| --- | --- | --- |
| 22 Sep, 2020 | Bronze Medal - Virtual Innovation Competition Day 2020. - Universiti Teknologi MARA | National |
| 22 Sep, 2020 | Silver Award - MY RESPITE: MALAYSIAN RESOURCES FOR SPIRITUAL CARE TRAINING, in conjunction with Innovation in Teaching & Learning Competition - Universiti Teknologi MARA (UiTM) | National |
| 22 Mar, 2019 | Best Paper Award - Majelis Upaya Kesehatan Islam Seluruh Indonesia (MUKISI), Indonesia Islamic Medical Association (IIMA) | International |
Publications
Article
| | |
| --- | --- |
| 2020 | Jinn and mental Illness among Muslims -a commentary. IIUM Medical Journal Malaysia, 19 (1) pp. 125-128 |
| 2019 | Media sosial dan kesihatan mental remaja – Dr Ahmad Nabil Md Rosli. The Malaysian Medical Gazette, () pp. 1-3 |
| 2019 | Said Nursi's psycho-spiritual therapy for psychological reactions of patients with physical illnesses. IIUM Medical Journal Malaysia (IMJM), 18 (3) pp. 180-186 |
| 2019 | Scrupulosity and Islam: a perspective. Journal of Spirituality in Mental Health, () pp. |
| 2018 | Islamic integrated exposure response therapy for mental pollution subtype of contamination obsessive-compulsive disorder: a case report and literature review. Mental Health, Religion & Culture, () pp. 1-9 |
| 2017 | Allergic cutaneous and visceral angioedema secondary to clozapine: A case report. Medicine and Health, 12 (1) pp. 122-126 |
| 2017 | Religious-integrated therapy for religious obsessive-compulsive disorder in an adolescent: a case report and literature review. Mental Health, Religion & Culture, () pp. 1-7 |
| 2017 | Waswas: Jangan terbabas. The Malaysian Medical Gazette, () pp. 1-3 |
| 2016 | 'I can't pray' – The spiritual needs of Malaysian Muslim patients suffering from depression. The International Medical Journal of Malaysia, 15 (1) pp. 103-109 |
| 2015 | "I cant pray" - the spiritual needs of Malaysian Muslim patients suffering from depression. IIUM Medical Journal Malaysia, 14 (Supplement Issue) pp. 15-15 |
| 2015 | A case report of a patient involved in an alleged homicide–attempted suicide case - a theoretical discussion on the theory of homicide-suicide. Med & Health 2015, 10 (2) pp. 141-145 |
| 2015 | Aggression following benzodiazepine ingestion in a forensic psychiatric patient: a case report. ASEAN Journal of Psychiatry, 16 (2) pp. 1-4 |
| 2015 | Clinical overlap between progressive supranuclear palsy (PSP) and frontotemporal dementia (FTD) in an elderly patient with earlier depression and psychosis. European Geriatric Medicine, 6 (2) pp. 151-152 |
| 2015 | Comorbidity of obsessive-compulsive disorder and schizophrenia in an adolescent. Case Reports in Psychiatry, 2015 () pp. 1-3 |
| 2015 | The role of attention deficit hyperactive disorder in developing substance use disorder: a case report. Malaysian Journal of Phyciatry Ejournal, 24 (1) pp. 1-5 |
| 2014 | Clozapine re-challenge with lithium supplementation following clozapine-induced neutropenia. ASEAN Journal of Psychiatry, 15 (1) pp. 90-92 |
| 2014 | Managing 'schizophrenia in the midst of schizophrenia'- the role of assertive community treatment . Medicine & Health, 9 (2) pp. 139-142 |
Conference or Workshop Item
| | |
| --- | --- |
| 2020 | Factors related to depression among transgender male to female (mtf) in Kuantan, Pahang : a qualitative study. In: First Virtual International Conference On Equality, Religious Harmony & Peace 2020, |
| 2020 | Identifying spiritual needs in patients with anxiety and depressive disorder: empowering patients' psychospiritual potential. In: The 1 st Anxiety Grand Rounds Annual Meeting of Indonesian Psychiatric Association Section on Anxiety, |
| 2020 | My RESPITE: Malaysian resources for spiritual care training. In: Innovation in Teaching & Learning Competition 2020 (InTeLeC2020), |
| 2020 | Seni mendengar untuk sukarelawan kesihatan. In: Kursus Sehari untuk Sukarelawan Membantu Pesakit Paliatif., |
| 2020 | Spiritual care for depressed patients. In: The 14th Islamic Clinico-Pathological Conference (ICPC 14) 2020, |
| 2019 | Masalah kesihatan mental dalam sejarah tamadun Islam. In: IIUM Workshop on Islamisation & Integration of Human Knowledge, I-WIN 16 2019, |
| 2019 | Penyakit mental: Mitos dan realiti. In: Seminar Integrasi Aspek Psikospiritual Dalam Rawatan Psikiatri, |
| 2019 | Psikoterapi Islam dalam mengurus dan merawat penyakit mental. In: Seminar Integrasi Aspek Psikospiritual dalam Rawatan Psikiatri, |
| 2019 | The role of spirituality in the treatment of depression: a preliminary result of a qualitative study. In: International Islamic Healthcare Conference and Expo 2019, |
| 2019 | Therapeutic approach: prophetic etiquette. In: "The 23rd Malaysian Conference of Psychological Medicine (MCPM) The 1st International WPA Psychotherapy Conference WPA Regional Meeting Zone 16", |
| 2018 | Medical students' perceptions on spirituality and health, and its challenges. In: International Muslim Mental Health Conference 2018, |
| 2018 | Mental health and psychosocial support in humanitarian aid. In: 3rd USIM International Health Conference ( IHEC ) 2018, |
| 2018 | Quranic recitation for depression & anxiety: present literature and future. In: International Muslim Mental Health Conference 2018, |
| 2017 | Waswas dan kecelaruan obsesif kompulsif (Obsessive-Compulsive Disorder): tinjauan ringkas tentang kajian, pandangan dan rawatan psikiatri kontemporari dan pendekatan Ulama Islam silam. In: Muzakarah Pakar "Kesihatan Mental: Perspektif Islam Dan Neuropsikiatri, |
| 2015 | 'I can't pray' – The spiritual needs of Malaysian Muslim patients suffering from depression . In: Medical Research Symposium (MRS 2015) , |
| 2015 | The understanding of spirituality among Muslim patients with depression. In: The 17th Islamic Medical Association of Malaysia (IMAM) Annual Scientific Conference 2015 in conjunction with 25th IMAM Silver Jubilee, |
Book Section