Staff Directory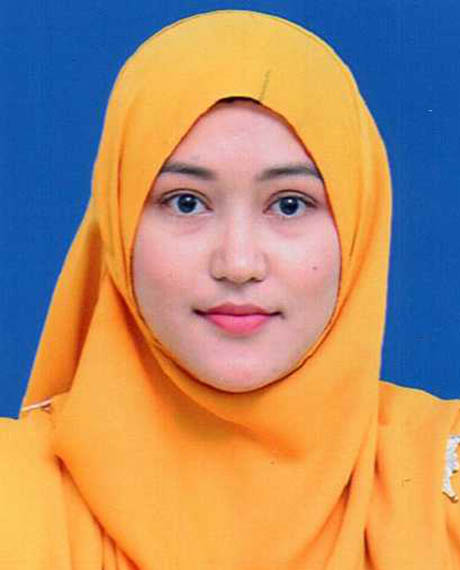 Academic Qualification
Doctor of Philosophy in Diabetes and Nutritional Sciences - Doctor of Philosophy, King's College London
Master of Biotechnology - Masters Degree, University of Queensland
Widya Binti Abdul Wahab (Dr.)
Assistant Professor
IIUM Kuantan Campus
KULLIYYAH OF SCIENCE
---
Expert Profile
Widya Abd Wahab obtained her first degree from IIUM in 2006 and following that, she joined IIUM to do research on plant cell culture of Jatropha (for biodiesel) and continued to be the demonstrator for the Fats & Oil and Food Toxicology Course.
She pursued her MSc in Biotechnology in Australia in 2008, and later her Ph.D in 2009 at King's College London, where she read Diabetes & Nutritional studies, particularly on coeliac disease.
In 2014, she was appointed as an Assistant Professor at the Department of Biotechnology, and assigned to teach Food Toxicology & Assessment.
Area of Specialisation
Biotechnology ~ Biotechnology ~ Food Biotechnology ~ Cell Culture Technology - Animal cell culture, production of monoclonal antibody and development of ELISA assay for toxic screening in food
Research Projects
Completed
| | |
| --- | --- |
| 2016 - 2020 | Investigation Of Insulin-like Protein Of Some Malaysia Medicinal Plants For Diabetes Mellitus Treatment |
| 2015 - 2019 | The Developemnt of Halal Collagen Nutraceuticals Tablet from Chicken Feet |
On-Going
| | |
| --- | --- |
| 2023 - Present | Environmental Impact Assessment for "Proposed Oil Palm Plantation Development on 8,094.43 Hectares (20,000 Acres) Land on Lot 16393 - Lot 16397 and Lot 16406 - Lot 16410 in Mukim Tembeling, District of Jerantut, Pahang Darul Makmur |
| 2022 - Present | 2nd Nusantara Ibadah Camp for LGBT Community |
| 2021 - Present | Goniothalamus umbrosus. A potential chemo-preventive and anti-carcinogenic agent for oral squamous cell carcinoma |
| 2020 - Present | Elucidating the potential of Plukenetia volubilis as an antihyperuricemic agent for improving gout. |
| 2020 - Present | The microbial growth inhibition using lemongrass extract as an endodontic irrigant. |
| 2020 - Present | Elucidating food bio-preservative properties of protein and oil extracted from locally planted Plukenetia volubilis (Sacha inchi) seeds. |
| 2015 - Present | Sponge-associated fungal diversity with functional analysis of halogenase and cellulase |
Publications
Article
Conference or Workshop Item
| | |
| --- | --- |
| 2021 | In vitro callus induction of Plukenetia Volubilis (Sacha Inchi), a PUFA-rich plant. In: International Conference on Bioscience and Biorefinery 2021, |
| 2021 | Optimisation of culture condition for Sacha Inchi (Plukenetia volubilis) Callus induction. In: International Conference on BioScience and Biorefinery, |
| 2017 | Extraction optimization and characterization of collagen from chicken (gallus gallus domesticus) feet. In: 5th International Conference on Chemical, Agricultural, Biological and Environmental Sciences (CAFES-17), |
| 2016 | Antibacterial activities of protein extracts from andrographis paniculata, tinospora crispa and centella asiatica. In: Medical Research Symposium & Pacific Partnership in conjunction with Kuantan Research Day 2016, |
| 2016 | Antibacterial antivities of protein extracts from Andrographis paniculata, Tinospora crispa and Centella asiatica. In: Medical Research Symposium and Pacific Partnership in conjuction with Kuantan Research Day, |
| 2016 | Antioxidant and antibacterial properties of different nypa fruticans fruit extracts. In: Health Sciences Symposium 2016 (HSS 2016), |
| 2016 | Extraction optimization and properties of collagen from chicken (Gallus gallus domesticus) feet. In: Medical Research Symposium (MRS) and Pacific Partnership in Conjunction with Kuantan Research Day 2016, |
| 2016 | Protein profilong of chicken breast muscle from different slaughter houses in relation to meat quality. In: Medical Research Symposium & Pacific Partnership in conjunction with Kuantan Research Day 2016, |
| 2016 | Quantification of total phenolic contents and their antioxidant scavenging capacity in selected herbs extract. In: Medical Research Symposium & Pacific Partnership in conjunction with Kuantan Research Day 2016, |
Book