Staff Directory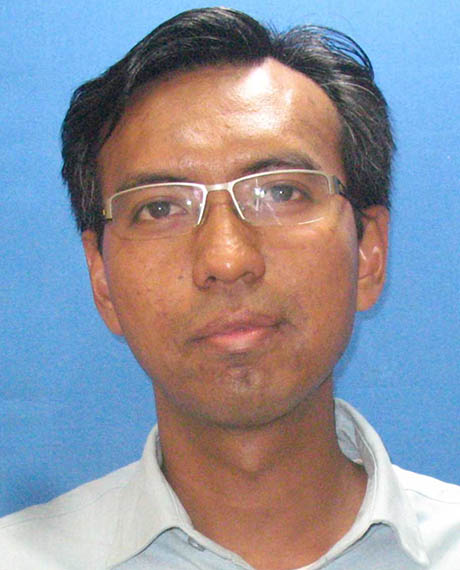 Academic Qualification
Environmental System and Process - Doctor of Philosophy, Universiti Putra Malaysia (UPM)
Master of Science (Environmental System and Process) - Masters Degree, Universiti Putra Malaysia (UPM)
Bachelor of Science (Environmental) - Bachelor Degree, Universiti Putra Malaysia (UPM)
Mohd Armi Bin Abu Samah (Assoc. Prof. Dr.)
Associate Professor
IIUM Kuantan Campus
KULLIYYAH OF SCIENCE

Other's position:
Deputy Director, Office of the Campus Director, Kuantan Campus
---
Expert Profile
Mohd Armi Abu Samah obtained his Dip (Forestry), B.Sc (Env), M.Sc and Ph.D from University Putra Malaysia (UPM) in Solid Waste Management. Before he joined IIUM Kuantan, he was a senior research officer at University Putra Malaysia.
He has been active in research activities at UiTM Shah Alam, and at UPM. In terms of publishing, he has contributed to books, magazines, proceedings and journals and has been invited reviewer of international and local journals. He has won several medals during research and innovation expo such Malaysia Technology Expo, International Exhibition of Innovative Higher Learning Research Initiatives, Research and Innovation Expo 2013, UTeMEX 2013 and Exhibition of Invention, Research & Innovation UPM. The latest award he won is a Silver medal on Expert System of Solid Waste Composition Malaysia (ES-Waste) at Invention, Innovation & Design Exposition (iidex) 2015 organised by UiTM Shah Alam.
Presently, Dr. Mohd Armi is an Assistant Professor at the Department of Biotechnology, Kulliyyah of Science, IIUM, Kuantan Campus.
Area of Specialisation
Natural Science ~ Environmental Sciences ~ Environment Management and Bioremediation ~ Solid Waste Management - Solid Waste Management, Environmental Studies and Law, Basic Environmental Safety
Teaching Responsibilities
| | |
| --- | --- |
| ENTREPRENEUR 1 | 2022/2023 2021/2022 2020/2021 2019/2020 2018/2019 |
| ENTREPRENEUR 2 | 2021/2022 2020/2021 2019/2020 |
| Environmental and Industrial Toxicology | 2022/2023 |
| ENVIRONMENTAL LAWS AND POLICIES | 2016/2017 2015/2016 |
| FINAL YEAR PROJECT I | 2021/2022 2020/2021 |
| FINAL YEAR PROJECT II | 2020/2021 |
| HEALTH RISK ASSESSMENT | 2018/2019 |
| INDUSTRIAL HYGIENE | 2021/2022 2020/2021 2019/2020 2018/2019 2017/2018 |
| INDUSTRIAL TOXICOLOGY | 2017/2018 |
| NATURAL RESOURCE MANAGEMENT IN BIOTECHNOLOGY | 2016/2017 |
| OCCUPATIONAL HEALTH | 2020/2021 |
| OCCUPATIONAL SAFETY | 2021/2022 2020/2021 2019/2020 2018/2019 2017/2018 |
| Occupational Safety and Health Management | 2023/2024 2022/2023 |
| OCCUPATIONAL, SAFETY AND HEALTH LEGISLATION AND MANAGEMENT | 2022/2023 2021/2022 2020/2021 2019/2020 2018/2019 2017/2018 2016/2017 |
| Occupational, Safety, Health Legislation & Management | 2023/2024 |
| OCEAN LAW AND POLICY | 2015/2016 |
| PROJECT SEMINAR | 2019/2020 |
| WASTE MANAGEMENT | 2021/2022 2020/2021 2019/2020 2018/2019 2017/2018 |
| WASTE MANAGEMENT AND USAGE | 2016/2017 2015/2016 |
Research Projects
Completed
| | |
| --- | --- |
| 2021 - 2022 | Empowerment of COVID-19 affected Green rose (Rosadiflora species) industry by transferring knowledge on the extraction and soap making to increase product quality and variety. |
| 2021 - 2023 | ITEMS WASTE PROJECT KG. BALOK KUANTAN |
| 2020 - 2022 | SMART ORGANIC BIO COMPOST (SOB) FOR SUSTAINABLE WASTE MANAGEMENT PRACTICE OF PERBADANAN KEMAJUAN PERTANIAN NEGERI PAHANG (PKPP) |
| 2020 - 2022 | Development of Bio Compost Char |
| 2018 - 2021 | DETERMINATION OF C:N RATIO ON IIUM FOOD WASTE FERTILIZER AND COMPARISON OF IT EFFECTS WITH SYNTHETIC FERTILIZER ON GROWTH PERFORMANCE OF WATER SPINACH (ipomoea aquatic) |
| 2018 - 2018 | Environmental Quality Report (EQR) |
| 2018 - 2019 | Pembentukan Dua Pelan Pengurusan (a) Pulau Babi Besar dan (b) Gugusan Kepulauan Lima dan Mertang, Johor |
| 2018 - 2022 | Preparation, characterization and physicochemical properties of graphene quantum dots - cellulose nanocrystals composites |
| 2018 - 2018 | Food Waste Compost Analysis |
| 2016 - 2019 | Accumulation of rare earth elements (REEs) in Pistia stratiotes (water lettuce) and Oreochromis niloticus (tilapia) in REEs industrial wastewater system. |
| 2016 - 2019 | An Assessment of Ambient Airbone Particulate Matter(PM) Emissions At Construction Site In Selangor and its application to AERMOD model |
| 2016 - 2017 | Enhancement of Pond Bottom Soil with Bottom Life forms to Minimise Effect of Climate Change on Marine Aquaculture Farm |
| 2016 - 2017 | Conservation of Malaysian horseshoe crabs-A step for sustainable fishery practice |
| 2016 - 2018 | Bacteria Identification From Food Waste Composting |
| 2015 - 2018 | Feeding Mechanism in Adult Tropical Horseshoe Crab |
| 2015 - 2017 | Bacterial-Assisted Composting (BAC) of Food Waste |
| 2015 - 2016 | Enhancing Mass Production of Marine Copepods as Live Feed Supply for the Marine Aquaculture in Malaysia |
On-Going
| | |
| --- | --- |
| 2023 - Present | Digital Entrepreneurship Programme for the Improvement of the Quality of Life among Asnaf in Tourism Activities in Perlis |
| 2022 - Present | Knowledge Transfer on Accounting Practices and Digital Entrepreneurship For Sustainable Economic Growth of Asnaf Microentrepreneurs in Perlis. |
| 2022 - Present | Pembangunan Pelan Pengurusan Alam Sekitar Negeri Pahang |
| 2021 - Present | KNOWLEDGE TRANSFER ON ACCOUNTING PRACTICES FOR SUSTAINABLE ECONOMIC GROWTH OF MICROENTREPRENEURS OF PUSAT KECEMERLANGAN PENDIDIKAN UMMAH (PACU) |
| 2021 - Present | IR 4.0 Smart Organic Composting (SOC) Programme for The Improvement of The Quality of Life B40 Families community in Tourism Activity at Perlis. |
| 2019 - Present | Analysis of Blackwater Treatment of the Green Toilet System in Auto-City, Penang |
| 2019 - Present | Prototype for Smart Green Composting Machine (SMART COMP) |
Publications
Article
| | |
| --- | --- |
| 2021 | A study on knowledge, attitude and practice of COVID-19 pandemic among the residents. International Journal of Health Sciences, 5 (2) pp. 177-188 |
| 2021 | Developing a collaborative model for environmental planning and management (epm) on indigenist's village in Indonesia and Malaysia. Turkish Online Journal of Qualitative Inquiry, 12 (5) pp. 2852-2877 |
| 2021 | Environmental awareness study on the geographical perspective of Kedah and Kelantan communities in Malaysia. Review of International Geographical Education, 11 (1) pp. 346-357 |
| 2021 | Grass waste derived cellulose nanocrystals as nanofiller in polyvinyl alcohol composite film for packaging application. Solid State Phenomena, 324 () pp. 151-158 |
| 2021 | Knowledge, attitude and practice (KAP) of noise exposure among workers at industrial area in Taman Sri Sulong. Turkish Online Journal of Qualitative Inquiry, 12 (5) pp. 1541-1551 |
| 2021 | Knowledge, Attitude and Practice (KAP) of waste management during COVID-19 among public in Kuala Muda, Kedah. Turkish Online Journal of Qualitative Inquiry, 12 (5) pp. 1552-1562 |
| 2021 | The effects of industrial development transformation: a geographical perspective study on Kerteh Community, Malaysia. Review of International Geographical Education, 11 (1) pp. 358-367 |
| 2021 | Two-Dimensional Infrared Correlation Spectroscopy, Conductor-like Screening Model for Real Solvents, and Density Functional Theory Study on the Adsorption Mechanism of Polyvinylpolypyrrolidone for Effective Phenol Removal in an Aqueous Medium. ACS Omega, () pp. A-N |
| 2020 | An assessment of knowledge, attitude and practice (KAP) towards recycling activity in Kuantan Pahang, Malaysia. International Journal of Mechanical and Production Engineering Research and Development (IJMPERD), 10 (3) pp. 4209-4216 |
| 2020 | Assessing of water quality and sedimentation problems in Lata Sungai Limau, Malaysia. Desalination and Water Treatment, 187 () pp. 1-10 |
| 2020 | Detecting using ERP data fraud the first digits formula of Benford's Law. Science International (Lahore), 32 (4) pp. 439-444 |
| 2020 | Determination of heavy metals concentration in food waste compost on root uptake of capsicum annuum L. International Journal of Advanced Science and Technology, 29 (9s) pp. 1612-1627 |
| 2020 | Development of GIS spatial models on critical place needed of Malaysia Sign Language (MSL) for Persons with Disabilities (PWDS) deaf in Terengganu, Malaysia. International Journal of Mechanical and Production Engineering Research and Development (IJMPERD), 10 (3) pp. 4999-5010 |
| 2020 | Effects of IIUM food waste compost and inorganic fertilizer on growth performance of Brassica juncea (mustard). International Journal of Advanced Science and Technology, 29 (9s) pp. 1600-1611 |
| 2020 | Environmental forensic study: tracing of pollution sources using environmetric technique in Balok and Tunggak Rivers near Gebeng industrial area, Kuantan, Pahang, Malaysia. Desalination and Water Treatment, 191 () pp. 118-125 |
| 2020 | Potential of field turbidity measurements for computation of total suspended solid in Tasik Kenyir, Terengganu, Malaysia. Desalination and Water Treatment, 187 () pp. 11-16 |
| 2020 | Quality air monitoring equipment: the review of air quality monitoring equipment. International Journal of Advanced Science and Technology, 29 (9s) pp. 1826-1835 |
| 2020 | The valorization of municipal grass waste for the extraction of cellulose nanocrystals. RSC Advances, 10 (69) pp. 42400-42407 |
| 2020 | The valorization of municipal grass waste for the extraction of cellulose nanocrystals. RSC Advances, 10 () pp. 42400-42407 |
| 2019 | A research on concentration and distribution of airborne particulate matter in Kuantan city. International Journal of Recent Technology and Engineering, 8 (2S3) pp. 288-292 |
| 2019 | A review of challenges facing clinical water management in the Malaysian context. International Journal of Recent Technology and Engineering, 8 (1C2) pp. 308-313 |
| 2019 | Adsorption study on the removal of copper ions from aqueos solution using sodium hydroxide-modified Carica papaya peels. MalaysianJournal of Analytical Sciences, 23 (6) pp. 926-937 |
| 2019 | Assessment of hydrological inspection using development low-cost boat application in University Sultan Zainal Abidin (UniSza) Lake, Terengganu, Malaysia. International Journal of Recent Technology and Engineering (IJRTE), 8 (2S3) pp. 205-212 |
| 2019 | Community perception and participation of urban farming activities. International Journal of Recent Technology and Engineering (IJRTE), 8 (1C2) pp. 341-345 |
| 2019 | Composition and generation of Municipal Solid Waste (MSW) in Malaysia: Balakong City case study. Herald NAMSCA, 2019 (1) pp. 152-158 |
| 2019 | Development of OSH risk assessment in IIUM orthopaedics research laboratory according to ISO/IEC 17025:2017 accreditation. International Journal of Recent Technology and Engineering (IJRTE), 8 (1C2) pp. 260-265 |
| 2019 | Development of OSH Risk Assessment in IIUM Orthopaedics Research Laboratory According to ISO/IEC 17025:2017 Accreditation.. International Journal of Recent Technology and Engineering (IJRTE), 8 (1C2) pp. 260-265 |
| 2019 | Evaluation of green solution potentials of unripe banana (musasapientum) peel biomass. Acta Scientifica Malaysia (ASM), 3 (1) pp. 9-16 |
| 2019 | Extraction and characterization of microfibrillated and nanofibrillated cellulose from office paper waste = Pengekstrakan dan pencirian mikrofibril dan nanofibril selulosa daripada sisa kertas pejabat. Malaysian Journal of Analytical Sciences, 23 (5) pp. 901-913 |
| 2019 | Food waste composting: natural fermentation method. International Journal of Recent Technology and Engineering (IJRTE), 8 (1C2) pp. 250-254 |
| 2019 | Heritage reclamation: focusing on Negeri Sembilan's Minangkabau cultural landscape. International Journal of Recent Technology and Engineering (IJRTE), 8 (1C2) pp. 381-386 |
| 2019 | Impact of Malaysia major flood to river geomorphology changes and total suspended solid using GIS technique. Desalination and Water Treatment, 149 () pp. 242-257 |
| 2019 | Municipal solid waste management : towards the realization of sustainable management in the context of Sri Lanka's Kandy municipal council. International Journal of Recent Technology and Engineering, 8 (1C2) pp. 266-269 |
| 2019 | Particulate matter (PM 2.5) at construction site: a review. International Journal of Recent Technology and Engineering (IJRTE), 8 (1C2) pp. 255-259 |
| 2019 | Preparation and characterization of Poly (lactic acid) (PLA)/Polyamide 6 (PA6)/ Graphene Nanoplatelet (GNP) blends bio-based nanocomposites. Materials Research Express, 6 (5) pp. 1-8 |
| 2019 | Study of relationship between water quality parameters, selective heavy metals and radioactive elements content in rivers at Gebeng, Kuantan, Pahang, Malaysia. Asian Journal of Chemistry, 31 (2) pp. 433-437 |
| 2018 | An overview of radioisotope study in water pollution. International Journal of Engineering & Technology, 7 (2.29) pp. 882-886 |
| 2018 | An overview of radioisotopes study in water pollution. International Journal of Engineering & Technology, 7 (2.29) pp. 882-886 |
| 2018 | CHNS analysis towards food waste in composting. Journal Clean WAS, 2 (1) pp. 6-10 |
| 2018 | Environmental management on natural river based on water quality deterioration in Terengganu River Basin, Terengganu,Malaysia. International Journal of Engineering & Technology, 7 (4.34) pp. 132-136 |
| 2018 | Mobile apps application to improve safety and health knowledge, attitude and practice among university students. Malaysian Journal of Medicine and Health Sciences, 14 () pp. 47-55 |
| 2018 | Mobile apps application to improve safety and health knowledge, attitude and practice among university students.. Malaysian Journal of Medicine and Health Sciences, 14 (SP1) pp. 47-55 |
| 2018 | The discovery of physical properties of food waste in composting process.. International Journal of Engineering & Technology, 7 (2.29) pp. 460-468 |
| 2017 | Environmetric study on air quality pattern for assessment in northern region of Peninsular Malaysia. Journal of Environmental Science and Technology, 10 (4) pp. 186-196 |
| 2017 | Heavy metals content and health risk assessment of the processed tobacco from Malaysian cigarettes. Indian Journal of Environmental Protection, 37 (9) pp. 742-753 |
| 2017 | Landslide susceptibility mapping: effect of spatial resolution towards the prediction of landslide prone area in a tropical catchment.. Chiang Mai Journal of Science, 44 (2) pp. 494-507 |
| 2017 | Study on accumulation of Fe, Pb, Zn, Ni and Cd in Nerita lineata and Thais bitubercularis from Tanjung Harapan and Teluk Kemang, Malaysia. Journal CleanWAS, 1 (1) pp. 6-16 |
| 2016 | An assessment of surface water quality and heavy metals involving the radioactive elements in Sungai Tunggak and Sungai Balok, Gebeng, Kuantan, Pahang: comparison between year 2014 and 2015. International Journal of Applied Chemistry, 12 (1) pp. 146-151 |
| 2016 | An assessment of surface water quality and heavy metals involving the rare earth elements in Sungai Tunggak and Sungai Balok, Gebeng, Kuantan, Pahang. Journal of Malaysian Critical Metals, 1 () pp. 11-23 |
| 2016 | An overview on rare earth management in Malaysia. Journal of Malaysian Critical Metals, 1 () pp. 24-29 |
| 2016 | Halal compliance decisions by food suppliers based on analytic hierarchy process. Advanced Science Letters, 22 (12) pp. 4509-4513 |
| 2016 | Improving composting process by controlling aeration time. International Journal of Applied Chemistry, 12 (1) pp. 130-135 |
| 2016 | Local community acceptance of the rare earth industry: the case of the Lynas Advanced Materials Plant (LAMP) in Malaysia. Environment, Development and Sustainability, 18 (3) pp. 739-762 |
| 2015 | Analysis of Municipal Solid Waste Generation and Composition at Administrative Building Cafe in Universiti Putra Malaysia: A Case Study . Polish Journal of Environmental Studies , 24 (5) pp. 1969-1982 |
| 2015 | Assessing the effectiveness of waste minimization methods in solid waste reduction at the source by manufacturing firms in Malaysia . Polish Journal Environmental Studies , 24 (5) pp. 2063-2071 |
| 2015 | Determination and comparison of solutions importance and approaches contribute to waste minimization among manufacturing firms in Shah Alam, Malaysia. Iranica Journal of Energy and Environment, 6 (3) pp. 232-242 |
| 2015 | Lynas Advance Material Plant (LAMP) Project: Examining factors influencing risk acceptance by the host community. Procedia Environmental Sciences, 30 () pp. 21-26 |
| 2015 | Public response to the rare earth industries in Malaysia. Procedia Environmental Sciences, 30 () pp. 62-67 |
| 2015 | Soil contamination from non-sanitary waste landfill in Langat Water Catchment Area, Malaysia. Journal of Scientific Research & Reports, 7 (6) pp. 480-493 |
| 2012 | A case study on public participation for the conservation of a tropical of a tropical urban river.. Polish Journal of Environmental Studies, 21 (4) pp. 821-829 |
| 2012 | An overview of the air pollution trend in Klang Valley, Malaysia. Open Environmental Sciences, 2012 (6) pp. 13-19 |
| 2012 | Assessment of municipal solid waste composition in Malaysia: management, practice, and challenges.. Polish Journal of Environmental Studies, 21 (3) pp. 539-547 |
| 2011 | Spatial water quality assessment of Langat River Basin (Malaysia) using environmetric techniques. Environmental Monitoring and Assessment, 173 (1-4) pp. 625-641 |
| 2010 | The development of an expert system for decision making in forest resources management.. Environment Asia. 3 (SPECIAL ISSUE), 3 () pp. 98-102 |
| 2008 | TSA: an expert system for solid waste transfer station.. Journal of Sustainable Development., 1 (3) pp. |
Conference or Workshop Item
| | |
| --- | --- |
| 2021 | Grass waste derived cellulose nanocrystals as nanofiller in polyvinyl alcohol composite film for packaging application. In: The 5th International Conference on Materials Engineering and Nano Sciences, |
| 2019 | Managing by zoning in the marine park islands in Mersing, Johor. In: Seminar Taman Laut Dan Pengurusan Sumber 4.0 Tahun 2019, |
| 2019 | Salasa adulis as a novel dual-functional food additive for antimicrobial and antioxidant properties: experimental and theoretical approach. In: The 32nd Symposium of Malaysia Analytical Sciences : Simposium KImia Analisis Malaysia (SKAM 32), |
| 2018 | Determination of two different aeration time on food waste composting. In: Second International Conference on the Future of ASEAN (ICoFA) 2017, |
| 2018 | Extraction and characterization of microfibrillated and nanofibrillated cellulose from office paper waste. In: International Conference of Analytical Sciences (SKAM31), |
| 2016 | Risk & prevention: building characteristics and occupancy implications on Indoor Air Quality (IAQ) in selected day care nursery and primary school in Pahang. In: Seminar Penyelidikan Tahunan IDR Ketiga 2016 Dan Pangkor Dialogue Expos� Tahun 2016, |
| 2016 | Study on design in an appropriate system to enhance composting process methods. In: International Conference on Environment and Occupational Health 2016, |
| 2016 | Study on solid waste generation and composition at balakong city, selangor. In: IDR Annual Research Seminar, |
| 2015 | An assessment of surface water quality and heavy metals involving the rare earth elements in Sungai Tunggak and Sungai Balok, Gebeng, Kuantan, Pahang. In: Conference on Malaysia's Rare Earth: From R&D to Production 2015, |
| 2015 | An overview on rare earth management in Malaysia. In: Conference on Malaysia Rare Earth Technology: From R&D to Production (COMRET 2015), |
| 2015 | Smart system for real rime optimization of solid waste management in Malaysia . In: 2015 International Conference of Clean Water, Air & Soil, |
| 2015 | Study on physical properties of Acacia mangium and Acacia auriculiformis of plantation growth and natural regeneration . In: 2015 International Conference of Clean Water, Air & Soil, |
Book
Book Section
| | |
| --- | --- |
| 2022 | General overview on Cellulose and Cellulose Nanocrystals: properties, extraction, application, and sustainable development. In: Springer Nature, ISBN: 978-3-030-93931-1, pp. 93-114 |
| 2022 | General overview on Cellulose and Cellulose Nanocrystals: properties, extraction, application, and sustainable development. In: Springer Nature, ISBN: 978-3-030-93931-1, pp. 93-114 |
| 2022 | General overview on Cellulose and Cellulose Nanocrystals: properties, extraction, application, and sustainable development. In: Springer Nature, ISBN: 978-3-030-93931-1, pp. 93-114 |
| 2021 | Food wastes management: practice of composting process at the IIUM Kuantan Campus. In: Taylor & Francis Group, ISBN: , pp. |
| 2021 | Mama food: produk tradisional citarasa nasional. In: Penerbit UMK, ISBN: 978-967-2912-70-5, pp. 50-55 |
| 2015 | Masyarakat dan alam sekitar. In: Fakulti Perubatan dan Sains Kesihatan, UPM, ISBN: 978-983-2408-29-1, pp. 8-13 |
Monograph