Staff Directory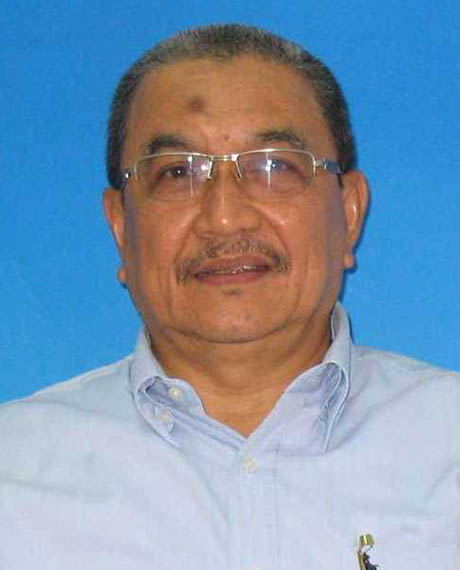 Academic Qualification
PhD - Doctor of Philosophy, University of Manchaster
Engineering (Electrical/Electronic) - Masters Degree, University of Manchaster
Bachelor of Engineering - Bachelor Degree, University of New South Wales
Electrical Engineering - Bachelor Degree, University of New South Wales
Mashkuri bin Yaacob (Prof. Dato' Sri Dr.)
Professor
IIUM Gombak Campus
KULLIYYAH OF ENGINEERING
---
mashkuri@iium.edu.my
4560
Expert Profile
Dato' Seri Dr Mashkuri Yaacob received his MSc and Ph.D degrees respectively in Computer Engineering from the University of Manchester and a Bachelor's degree in Electrical Engineering from the University of New South Wales. He was the third Vice-Chancellor of University Tenaga Nasional (UNITEN) from January 2007 till Dec 2014 and published over 300 technical papers in local and international journals and conferences.
He has served in several positions in University of Malaya (UM), namely Deputy Dean of the Engineering Faculty from April-May 1983, Director of the Computer Centre from June 1983 till April 1990 and April 1992 till Sept 1994, and the Founding Dean of the Computer Science and Information Technology Faculty from Sept 1994 till May 2000. He was promoted to Professor in UM in 1991 and as Deputy Vice-Chancellor (Academic Affairs) from June 2000 to May 2003. He has also served as the Chairman of the Institution of Engineering and Technology (IET), Malaysia Network from 2003 till 2007.
He was also a Council member of the IET in London in 2003-2004, a Fellow of the IET, Fellow of the Academy of Sciences Malaysia, a Fellow of the Institution of Engineers Malaysia (IEM), a Chartered Engineer registered with the Engineering Council of UK and a Professional Engineer registered with the Malaysian Board of Engineers.
In 2005, he was seconded to Mimos Berhad as the Director of Grid Computing and Bioinformatics spearheading R&D activities. In 2003-2004, he was appointed by the Republic of Indonesia's Education Ministry as the International Lead Assessor in auditing and reviewing the quality of programmes in Electrical Engineering and Computer Science in ITB and Universitas Indonesia under the QUE Project aided by the World Bank.
As Vice Chancellor of UNITEN, he has played a major role in the growth of the leading private University in Malaysia particularly in rebranding the university as a quality private university in the country. UNITEN won the coveted Prime Minister's Industry Quality Excellence Award in 2009 and the International Asia Pacific Quality Award 2010 for Education. In 2013-2014, he was voted in as a Governing Council Member of the Association of Commonwealth Universities (ACU) based in London. He was also a Member of the Engineering Accreditation Council (EAC), Board of Engineers Malaysia (BEM) in 2014-2016.
Area of Specialisation
Engineering Tech ~ Engineering And Technology ~ Interdisplinary Engineering ~ Other Interdisplinary Engineering n.e.c. - Engineering
Professional Membership
1978 - 2023: Member of Profesional Body / Association: (Live Senior Member), Institute of Electrical and Electronics Engineers (USA)
1982 - 2023: Member of Profesional Body / Association: (Fellow), Institute of Engineers Malaysia
1983 - 2023: Member of Profesional Body / Association: (Fellow), Institute of Engineering and Technology UK
2002 - 2023: Member of Profesional Body / Association: (Fellow), Akademi Sains Malaysia
2005 - 2023: Member of Profesional Body / Association: (International Professional Registration Advisor for Malaysia), Institute of Engineering and Technology (UK)
Teaching Responsibilities
| | |
| --- | --- |
| ELECTRIC CIRCUITS | 2023/2024 |
Research Projects
Completed
| | |
| --- | --- |
| 2019 - 2023 | The Role of Fintech in attaining Financial Inclusion in selected IDB-Member Countries |
| 2018 - 2022 | A unique modeling of hybrid biomass-solar photovoltaic-wind turbine integrated microgrid |
| 2017 - 2022 | Application of Multi-objective Cuckoo Search in Power Restoration System for Highly Reliable Distribution Network |
| 2016 - 2019 | Modelling and Optimisation of Stepped Waveform Generation for Multilevel Inverters Topology Applications |
| 2016 - 2018 | Investigation on the Behaviour of Weapon Positioning System on Volatile Warship |
| 2015 - 2018 | An Intelligent method to Optimize Web Cache Replacement algorithm using Neuro-Fuzzy Approach |
On-Going
Award & Recognition
| | | |
| --- | --- | --- |
| 21 Jul, 2017 | Tokoh Sains dan Teknologi - Parlimen Ketereh Kelantan | State |
| 15 Aug, 2015 | Emeritus Professor - Universiti Tenaga Nasional (UNITEN) | National |
| 01 Jun, 2011 | Darjah Gemilang Pangkuan Negeri - Negeri Pulau Pinang | State |
| 01 Apr, 2002 | Darjah Paduka Mahkota Perak - Palace of Perak | State |
Publications
Article
| | |
| --- | --- |
| 2023 | Voltage control of hybrid energy sources for microgrid employing biomass-solar-wind. International Journal of Power and Energy Conversion, 13 (3-4) pp. 1-18 |
| 2022 | PI controller for hybrid biomass- solar photovoltaic- wind in microgrid: a case study of Mersing, Malaysia. IEEE Access, 10 () pp. 95151-95160 |
| 2021 | In-depth perception of dynamic inductive wireless power transfer development: a review. International Journal of Power Electronics and Drive System (IJPEDS), 12 (3) pp. 1459-1471 |
| 2020 | An estimation of the coupling coefficient of the series inductive resonant wireless power transfer coils. Journal of Advanced Manufacturing Technology, 14 (1) pp. |
| 2020 | Modelling and simulation of 1.2 MWp tenaga suria brunei photovoltaic power plant. Journal of Advanced Manufacturing Technology, 14 (1) pp. |
| 2020 | Scrutinising internet banking security solutions. International Journal of Information and Computer Security, 12 (2-3) pp. 269-302 |
| 2020 | Technical and economic feasibility study of solar powered air conditioners in Brunei Darussalam. Journal of Advanced Manufacturing Technology, 14 (1) pp. |
| 2020 | The load reliant power transfer of the series-to-series inductive resonant wireless power transfer. Journal of Advanced Manufacturing Technology, 14 (1) pp. |
| 2019 | A Comparative study of total harmonics distortion between Spwm and She-Pwm modulation techniques for inverters.. Journal of Electrical Power and Electronics System, 1 (1) pp. 1-5 |
| 2019 | A novel optimization harmonic elimination technique for cascaded multilevel inverter. Bulletin of Electrical Engineering and Informatics, 8 (2) pp. 405-413 |
| 2019 | Analytical modelling of premises-specific solar energy estimation. International Journal of Recent Technology and Engineering (IJRTE), 8 (5) pp. 10971-10974 |
| 2019 | Design and parametric evaluation of UWB antenna for array arrangement. Bulletin of Electrial Engineering and Informatics, 8 (2) pp. 644-652 |
| 2019 | Modelling and simulation of 1.2 MWpTenaga suria brunei photovoltaic power plant. Test Engineering and Management, 81 (11-12) pp. 5718-5727 |
| 2019 | Technical and economic feasibility of solar powered air conditioners in Brunei Darussalam. Test Engineering and Management, 81 (11-12 (November-December)) pp. 5637-5646 |
| 2019 | The load reliant power transfer of the series-to-series inductive resonant wireless power transfer. Test Engineering and Management, 81 (November-December) pp. 5702-5708 |
| 2018 | A survey on MANETs: architecture, evolution, applications, security issues and solutions. Indonesian Journal of Electrical Engineering and Computer Science, 12 (2) pp. 832-842 |
| 2018 | Comparison of selective harmonic elimination and SPWM techniques for unipolar inverters. International Journal of Engineering & Technology, 7 (4) pp. 6626-6630 |
| 2018 | Design and optimization of ultra-wideband antipodal vivaldi antenna for radar and microwave imaging application. Sindh University Research Journal (Science Series), 50 (3D) pp. 6-9 |
| 2018 | Efficient cache replacement policy for minimising error rate in L2-STT-MRAM caches. International Journal of Grid and Utility Computing, 9 (4) pp. 307-321 |
| 2018 | Efficient cache replacement policy for minimizing error rate in L2-STT-MRAM caches. International Journal of Grid and Utility Computing, 9 (4) pp. 307-321 |
| 2018 | High gain UWB horn antenna for concealed metal detection and microwave imaging application. Sindh University Research Journal (Science Series), 50 (3D) pp. 161-164 |
| 2018 | Recognition of metal objects inside wall using antipodal vivaldi antenna. Indonesian Journal of Electrical Engineering and Computer Science, 11 (1) pp. 27-35 |
| 2018 | Wide range modulation indexes featuring carrier-based PWM stepped waveform for half-bridge modular multilevel converters. IIUM Engineering Journal, 19 (2) pp. 1-231 |
| 2017 | Improvement of temperature dependence of carrier characteristics of quantum dot solar cell using InN quantum dot. International Journal of Renewable Energy Research, 7 (1) pp. 330-335 |
| 2017 | Real time telemedical health care systems with wearable sensors. Asian Journal of Pharmaceutical Research and Health Care, 9 (3) pp. 138-144 |
| 2017 | The combination of Newton-raphson method and curve-fitting method for PWM-based inverter. International Journal of Power Electronics and Drive System, 8 (4) pp. 31-43 |
| 2016 | Intelligent web proxy cache replacement algorithm based on adaptive weight ranking policy via dynamic aging. Indian Journal of Science and Technology, 9 (36) pp. 1-7 |
| 2016 | Sugeno inference system for estimating non-linear characteristics in smart sensor applications. Sindh University Research Journal (Science Series), 48 (4(D)) pp. 157-160 |
Conference or Workshop Item
| | |
| --- | --- |
| 2023 | Development of seven segment display recognition using TensorFlow on Raspberry Pi. In: 2022 IEEE 8th International Conference on Computing, Engineering and Design (ICCED), |
| 2023 | Development of water pollution monitoring and data logging using ARM Mbed platform. In: 2022 IEEE 8th International Conference on Computing, Engineering and Design (ICCED), |
| 2023 | Tributary water depth and velocity remote monitoring system using Arduino and LoRa. In: 2022 IEEE 8th International Conference on Computing, Engineering and Design (ICCED), |
| 2022 | Design of Brent Kung Prefix form Carry Look Ahead adder. In: 2022 8th International Conference on Wireless and Telematics (ICWT), |
| 2021 | Integration of hybrid biomass-solar photovoltaic-wind turbine in microgrid application. In: 2021 8th International Conference on Computer and Communication Engineering (ICCCE), |
| 2020 | Bayesian signaling game based efficient security model for MANETs. In: 2019 Future of Information and Communication Conference (FICC), |
| 2019 | Offline OTP based solution for secure internet banking access. In: 2018 IEEE Conference on e-Learning, e-Management and e-Services (IC3e), |
| 2018 | Beaming of inductive field with an asymmetric four-coil resonator for wireless power transfer. In: 7th International Conference on Computer and Communication Engineering (ICCCE) 2018, |
| 2018 | Comparative analysis of UWB balance Antipodal Vivaldi Antenna for array configuration. In: 2018 7th International Conference on Computer Communication Engineering (ICCCE2018), |
| 2018 | Detection and analysis of metal impairment inside wall using UWB modified antipodal vivaldi antenna. In: 2017 4th IEEE International Conference on Engineering Technologies and Applied Sciences (ICETAS), |
| 2018 | Effect of duty cycle on THD for multilevel inverter based on selective harmonic elimination technique. In: 2018 7th International Conference on Computer Communication Engineering (ICCCE2018), |
| 2018 | Frequency reliant wireless power transfer link for a applications of mWatts devices. In: 2018 7th International Conference on Computer and Communication Engineering (ICCCE), |
| 2018 | Inductive & capacitive wireless power transfer system. In: 7th International Conference on Computer and Communication Engineering (ICCCE) 2018, |
| 2018 | Integrated renewable energy micro-grid for meeting peak hours demand. In: 5th IET International Conference on Clean Energy and Technology, CEAT 2018, |
| 2018 | Modulation indices embedded carrier-based PWM generation for modular multilevel converter. In: 2nd International Conference on Intelligent Systems Engineering (ICISE) 2018, |
| 2018 | On quality energy management in a third world country: the case study of war torn Libya. In: 22nd International Conference on ISO & TQM (22-ICIT), |
| 2017 | A comparative study between SPWM and SHE-PWM modulation techniques for DC-AC inverters. In: IEEE 3rd International Conference on Engineering, Technologies and Social Sciences 2017 (ICETSS-2017), |
| 2017 | A study on performance evaluation of conventional cache replacement algorithms: A review. In: 2016 Fourth International Conference on Parallel, Distributed and Grid Computing (PDGC), |
| 2017 | An efficient cache replacement algorithm for minimizing the error rate in L2-STT-MRAM caches. In: 2016 Fourth International Conference on Parallel, Distributed and Grid Computing(PDGC), |
| 2017 | Harmonics elimination based on curve fitting method for modular multilevel converters. In: IEEE Region Ten Conference (Tencon) 2017, |
| 2017 | High gain UWB horn antenna for concealed metal detection and microwave imaging application. In: 3rd International Conference on Engineering, Technologies and Applied Sciences 2017 (ICETAS-2017), |
| 2017 | The combination of Newton-Raphson method and curve-fitting method for PWM-based inverter. In: International Conference on Electrical and Electronic Engineering 2017 (IC3E2017), |
| 2017 | The landscape of private higher education institutions in Malaysia: the balancing act of quality versus bottom-line. In: IEEE 3rd International Conference on Engineering, Technologies and Social Sciences 2017 (ICETSS-2017), |
| 2017 | Ultra-wideband antipodal vivaldi antenna for radar and microwave imaging application. In: IEEE 3rd International Conference on Engineering, Technologies and Social Sciences 2017 (ICETSS-2017), |
| 2016 | Application of UWB wireless MIMO connectivity inside modern aircraft. In: 2016 International Conference on Intelligent Systems Engineering (ICISE), |
| 2016 | Effect of modulation index of pulse width modulation inverter on total harmonic distortion for sinusoidal. In: International Conference on Intelligent Systems Engineering, |
| 2016 | Effect of modulation index of pulse width modulation inverter on total harmonic distortion for sinusoidal. In: "International Conference on Intelligent Systems Engineering, ICISE 2016", |
| 2016 | Managing tertiary education institutions with excellence: An experience in balancing quality against profits. In: 2016 19th International Multi-Topic Conference (INMIC), |
| 2016 | Stepped waveform generation for multilevel inverter topology applications. In: 6th International Conference on Computer and Communication Engineering (ICCCE 2016), |