Staff Directory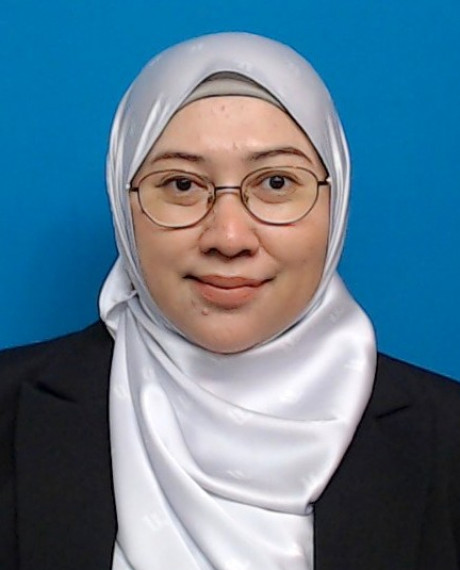 Academic Qualification
Doctor of Philosophy in Pharmacology - Doctor of Philosophy, Universiti Sains Malaysia (USM)
Bachelor of Biotechnology (Honours) - Bachelor Degree, International Islamic University Malaysia
Azlini Binti Ismail (Assoc. Prof. Ts. Dr.)
Associate Professor
IIUM Kuantan Campus
KULLIYYAH OF DENTISTRY

Other's position:
Deputy Dean, Kulliyyah of Dentistry
---
dr_azlini@iium.edu.my
2957
Expert Profile
Azlini Ismail
graduated first class with a Bachelor of Biotechnology (Honors) from IIUM and received The Best Student (Academic) Award during the 25th IIUM Convocation Ceremony. She completed her fast-track Ph.D. at Universiti Sains Malaysia with the conferment of Ph.D. in Pharmacology in 2015. During her postgraduate years, she was awarded with
USM Research University-Postgraduate Grant Scheme, the BPS Bain Memorial Bursary Fund during the British Pharmacological Society Winter Meeting 2012 and received the Best Student and Best Oral presentation awards in few scientific conferences.
She started her career as an Assistant Professor at International Islamic University Malaysia (IIUM) in 2015 in the Department of Fundamental Dental & Medical Sciences, Kulliyyah of Dentistry.  Azlini Ismail is currently holding the position as the Deputy Dean Postgraduate and Responsible Research, Kulliyyah of Dentistry; the Executive Committee (EXCO) of the Malaysian Society of Pharmacology and Physiology (MSPP) since December 2020; the Deputy Editor-in-Chief for IIUM Journal of Orofacial and Health Sciences since July 2020; and the member of IIUM Animal Care and Use Committee (IACUC) since January 2020. Her past experience include holding the role as the Head of Responsible Research & Innovation, Kulliyyah of Dentistry (August 2021-June 2023); and the Program Coordinator for Master of Dental Sciences programme (December 2021-June 2023). She is currently involved in teaching Pharmacology, Physiology, and Biochemistry courses for pre-clinical dental students; and has been supervising various research projects for undergraduate and postgraduate Master and PhD students.
Her keen research interests are in the fields of pharmacology and pharmacognosy (natural product research) and is open to collaboration in this area. She has vast research experience conducting in vitro and in vivo antihypertensive studies, in vitro ELISA test for various biological activities and phytochemical profiling using GCMS and LCMS.
Currently, she has completed the IIUM Research Initiative Grant Scheme (2015-2019) and the MOHE Fundamental Research Grant Scheme (FRGS) (2019-2021) and is currently leading another FRGS 2022 on kelulut honey. She also has experience in collaborating with the industry, and has completed two sponsored projects from the industry.
Area of Specialisation
Medical And Health ~ Medical And Health Sciences ~ Pharmacology ~ Medical Pharmacology
Medical And Health ~ Medical And Health Sciences ~ Complementary/Alternative Medicine ~ Traditional Medicine and Natural Product (Including Development of Traditional and Herbal Medicine)
Professional Membership
2018 - 2018: Member of Profesional Body / Association: (Early Career Member), British Pharmacological Society
2018 - 2021: Member of Profesional Body / Association: (Member), Laboratory Animal Science Association of Malaysia
2019 - 2022: Member of Profesional Body / Association: (Member), Malaysian Natural Products Society
2020 - 2022: Member of Profesional Body / Association: (Honorary Secretary), Malaysian Society of Pharmacology and Physiology
2022 - 2022: Member of Profesional Body / Association: (Full Member), British Pharmacological Society
2022: Member of Profesional Body / Association: (Executive Committee), Malaysian Society of Pharmacology and Physiology
2022: Member of Profesional Body / Association: (Graduate Technologist), Lembaga Teknologis Malaysia
2022 - 2023: Member of Profesional Body / Association: (Professional Technologist), Lembaga Teknologis Malaysia
Teaching Responsibilities
| | |
| --- | --- |
| BIOCHEMISTRY | 2021/2022 2020/2021 2019/2020 2018/2019 2017/2018 |
| DISSERTATION | 2022/2023 |
| PHARMACOLOGY | 2022/2023 2021/2022 2020/2021 2019/2020 2018/2019 2017/2018 2015/2016 |
| PHYSIOLOGY | 2022/2023 2021/2022 2020/2021 2019/2020 2018/2019 |
| RESEARCH METHODOLOGY | 2022/2023 2021/2022 |
| Research Project | 2018/2019 |
| RESEARCH PROPOSAL | 2022/2023 2021/2022 |
| UNIFIED ISLAMIC INPUT | 2022/2023 2021/2022 |
Research Projects
Completed
| | |
| --- | --- |
| 2022 - 2023 | I DO CARE 2.0 |
| 2021 - 2022 | Elucidation of Contents in GOLDEN SPRAY ANTI-V |
| 2021 - 2022 | Evaluation of Antioxidant Activity of GOLDEN SPRAY ANTI-V |
| 2018 - 2022 | Evaluation of antihypertensive mechanisms and pathways modulated by Syzygium polyanthum leaves fraction: In vitro study. |
| 2017 - 2021 | Epithelization, ossification and gene expression of the socket after tooth extraction in diabetic rats treated by flax seed extract |
| 2015 - 2018 | Bio-Assay Guided Fractionation of Hypotensive Compounds from Syzygium Polyanthum Wight (Walp.)var. Polyanthum Leaves |
On-Going
| | |
| --- | --- |
| 2022 - Present | Elucidating the prophylactic potential of Kelulut honey in modulating angiotensin-converting enzyme 2 (ACE2) as COVID-19 target enzyme |
| 2021 - Present | Evaluation of Anti-inflammatory property of Golden Spray Anti-V |
| 2020 - Present | The microbial growth inhibition using lemongrass extract as an endodontic irrigant. |
Award & Recognition
| | | |
| --- | --- | --- |
| 15 Sep, 2022 | Gold Medal Award - Applied Health Sciences Category - IIUM Research & Innovation Day 2022 - International Islamic University Malaysia | University |
| 28 Mar, 2022 | Silver Medal Award (Oral Category)- 11th Dental Students' Scientific Conference 2022 - Kulliyyah of Dentistry, IIUM | KCDIO |
| 28 Mar, 2022 | Gold Medal Award (Oral Category)- 11th Dental Students' Scientific Conference 2022 - Kulliyyah of Dentistry, IIUM | KCDIO |
| 28 Mar, 2022 | Gold Medal Award (Poster Category)- 11th Dental Students' Scientific Conference 2022 - Kulliyyah of Dentistry, IIUM | KCDIO |
| 28 Mar, 2022 | Gold Medal Award (Poster Category)- 11th Dental Students' Scientific Conference 2022 - Kulliyyah of Dentistry, IIUM | KCDIO |
| 24 Nov, 2021 | Gold Medal Award Applied Sciences Category - IIUM Research Day 2021: An International Online Event for Life Sciences - Research Management Centre, International Islamic University Malaysia | International |
| 24 Nov, 2021 | Gold Medal Award Basic Sciences Category - IIUM Research Day 2021: An International Online Event for Life Sciences - Research Management Centre, International Islamic University Malaysia | International |
| 09 Nov, 2012 | BPS Bain Memorial Bursary Fund Award - British Pharmacological Society | International |
Publications
Article
| | |
| --- | --- |
| 2023 | Amlodipine and Xerostomia in elderly patients. Journal of International Dental and Medical Research, 16 (2) pp. 709-713 |
| 2023 | LC-MS/MS-QTOF dataset of compounds detected in kelulut honey of the stingless bees, heterotrigona itama and tetrigona binghami from Kuantan, Pahang, Malaysia. Data in Brief, 49 (August 2023) pp. 1-8 |
| 2023 | Self-medication practice for dental problems: a cross-sectional study among adults in Kuantan, Pahang in Peninsular Malaysia. Journal of International Oral Health, 15 (2) pp. 184-193 |
| 2023 | Solanum torvum for hypertension: a systematic review. Research Journal of Pharmacognosy, 10 (2) pp. 75-84 |
| 2022 | Angiotensin Converting Enzyme (ACE) inhibitionactivity by Syzygium polyanthum Wight (Walp.) leaves: mechanism and specificity. Pharmacognosy Journal, 14 (1) pp. 763-84 |
| 2022 | Impact of COVID‑19 on Malaysian dental students' physical, mental, financial and academic concerns. BMC Oral Health, 22 () pp. 1-9 |
| 2022 | Online learning during the Covid-19 pandemic: dental students' perspective and impact on academic performance, one institution experience. Dentistry Journal, 10 (131) pp. 1-12 |
| 2022 | Remote teaching and learning during COVID-19 "lockdown" period in Malaysia: one institution's experience. IIUM Journal of Orofacial and Health Sciences, 3 (1) pp. 156-158 |
| 2022 | The past and the present use of traditional herbal medicine. Microcredential @ IIUM, () pp. |
| 2022 | Traditional herbal medicine: is it always safer than conventional medicine?. Microcredential @ IIUM, 31 December 2022 () pp. |
| 2021 | COVID-19 buka prospek penyelidikan baharu. Berita Harian Online, 17 August 2021 () pp. |
| 2021 | Knowledge, perceived risk, and preventive behaviors amidst Covid-19 Pandemic among dental students in Malaysia. Dentistry Journal, 9 (12) pp. 1-12 |
| 2021 | Kuasai teknologi AI percepat usaha tangani COVID-19. Berita Harian, 20 September 2021 () pp. 12-12 |
| 2021 | LCMS dataset on compounds in syzygium polyanthum (wight) walp. leaves variant from the East coast of Peninsular Malaysia. Data in Brief, 39 () pp. |
| 2021 | Time-series forecasting analysis on the major treatment need among patients referred for periodontal and conservative treatments in IIUM dental outpatient clinic. Journal of International Oral Health, 13 (5) pp. 485-492 |
| 2020 | Antihypertensive assay-guided fractionation of Syzygium polyanthum leaves and phenolics profile analysis using LCQTOF/MS. Pharmacognosy Journal, 12 (6(S)) pp. 1670-1692 |
| 2020 | Dental treatment needs among patients undergoing screening at a university-based dental institution in Kuantan, Pahang, Malaysia. International Journal of Orofacial and Health Sciences, 1 (1) pp. 18-27 |
| 2020 | Southeast Asian medicinal plants with angiotensin converting enzyme (Ace) inhibition properties. Pharmacognosy Journal, 12 (6) pp. 1429-1439 |
| 2020 | The impact of COVID-19 pandemic on research. IIUM Journal of Orofacial and Health Sciences, 1 (2) pp. 56-58 |
| 2019 | Morphological evaluation of aortic vessel in Spontaneously Hypertensive Rat (SHR) Models. Annals of Microscopy, 18 () pp. 4-10 |
| 2019 | Syzygium polyanthum (Wight) walp: a potential phytomedicine. Pharmacognosy Journal, 11 (2) pp. 429-438 |
| 2018 | Acute and sub-acute antihypertensive effects of syzygium polyanthum leaf extracts with determination of gallic a using HPLC analysis. Pharmacognosy Journal, 10 (4 (July-August)) pp. 663-671 |
| 2018 | Amelioration of aorta morphology in spontaneous hypertensive rat (SHR) by syzygium polyanthum. International Journal of Cardiology, 273 (Supplement) pp. 20 |
| 2018 | Antihypertensive effect of fractions derived from an aqueous extract of Syzygium polyanthum on anaesthetized spontaneously hypertensive rats. Health and the Environment Journal, 9 (Supplement 1) pp. 14 |
| 2018 | GC-MS analysis of phytochemical compounds in syzygium polyanthum leaves extracted using ultrasound-assisted method. Pharmacognosy Journal, 10 (1) pp. 110-119 |
| 2017 | Autonomic receptors and nitric‑oxide involvements in mediating vasorelaxation effect induced by syzygium polyanthum leaves extract. Pharmacognosy Research, 9 (Supp 1) pp. S9-S14 |
| 2013 | Autonomic nervous system mediates the hypotensive effects of aqueous and residual methanolic extracts of Syzygium polyanthum(Wight) Walp.var.polyanthum leaves in anaesthetized rats. Evidence-Based Complementary and Alternative Medicine, 2013 () pp. 1-16 |
| 2011 | Hypotensive effects of aqueous extract of Eugenia polyantha leaves are partly mediated via cholinergic receptor. Conference Proceedings 16th National Conference on Medical and Heath Sciences, () pp. 20-28 |
Conference or Workshop Item
| | |
| --- | --- |
| 2022 | Artificial Intelligence (AI) to predict dental student academic performance based on pre-university results. In: National Oral Health Research Initiative (NOHRI) Conference 2022, |
| 2022 | IIUM dental students' perspective on implementation of online learning and the impact on academic performances during COVID 19 pandemic. In: 11th Dental Students' Scientific Conference, |
| 2022 | Impact of Covid-19 among dental students in Malaysia. In: Malaysia International dental Show, |
| 2022 | Impact of COVID-19 among dental students in Malaysia. In: 11th Dental Students' Scientific Conference, |
| 2022 | Knowledge, perceived risk and the associated preventive behaviours amidst COVID-19 pandemic among undergraduate dental students in Malaysia. In: 11th Dental Students' Scientific Conference, |
| 2022 | Knowledge, perceived risk, and preventive behaviours amidst Covid-19 Pandemic among dental students in Malaysia. In: Malaysia International Dental Show, |
| 2022 | Online learning during the Covid 19 Pandemic: dental students' perspective and impact on academic performance, one institution experience. In: Malaysia International Dental Show, |
| 2022 | Orthodontic patient's perspective, attitude and readiness towards tele-orthodontics. In: 11th Dental Students' Scientific Conference, |
| 2022 | Total flavonoid content, total phenolic content, and the antioxidant activity of Hurrem Titisemas Liquid. In: IIUM Research and Innovation Day 2022, |
| 2021 | Angiotensin-converting enzyme inhibition activity and LCMS analysis of Syzygium polyanthum (Wight) Walp leaves. In: National Symposium on Essential Oils, Plants, Cosmetic and Health, |
| 2021 | Artificial Intelligence (AI) to predict dental student academic performance based on pre university results. In: Practical Machine Learning and Artificial Intelligence from PRAGMA Community, |
| 2021 | Knowledge, perceived risk, and preventive behaviours amidst Covid-19 pandemic among dental students in Malaysia. In: The 32nd Annual Scientific Meeting of The South East Asia Association for Dental Education, |
| 2021 | Mechanism of angiotensin converting enzyme (ACE) inhibition by Syzygium polyanthum wight (WALP.) leaves. In: IIUM Research Day 2021: An International Online Event for Life Sciences, |
| 2021 | Molecular binding interaction of angiotensin converting enzyme and 1-galloyl glucose, the major compound in Syzygium polyanthum leaves. In: 7th International Conference on Advancement in Science and Technology (iCAST2021), |
| 2021 | Pattern of medication use among the elderly at one nursing center for terminally-ill patients in the east coast Malaysia: a cross-sectional study. In: IIUM Research Day 2021: An International Online for Life Sciences, |
| 2020 | Prevalence, pattern and attitude towards self-medication practice for dental problems in Kuantan, Pahang. In: 9th Dental Students' Scientific Conference, |
| 2020 | Solanum torvum for hypertension in 'Kitab al-tibb': A systematic review on the scientific evidence. In: International Conference on Malay Medical Manuscript (ICOMMM) 2020, |
| 2019 | Correlation analysis between antihypertensive effect with total phenolic content and antioxidant activity of syzygium polyanthum (Serai Kayu) leaves fractions. In: Kuantan Research Day 2019, |
| 2018 | Amelioration of aorta morphology in a spontaneous hypertensive rat (shr) by Syzygium polyanthum. In: NHAM-CRM Research Track 2018, |
| 2018 | Antihypertensive effect of fractions derived from aqueous extract of syzygium polyanthum on anaesthetized spontaneously hypertensive rats. In: Health Sciences Symposium (HSS) 2018, |
| 2018 | Time-series forecasting analysis on dental treatment need of first-visit patients at IIUM Dental Outpatient Clinic (Periodontal and Conservative Department) for the year 2017 and 2018. In: 7th Dental Students' Scientific Conference, |
| 2017 | Dental treatment need among first-visit patients of Dental Outpatient Clinic at IIUM Kuantan for the year 2016. In: 1st IIUM International Dental Conference 2017 in Commemoration of the Kulliyyah of Dentistry 10th Anniversary (1st IIDC), |
| 2017 | Effects of different types of Syzygium Polyanthum leaves extracts on blood pressure of anaesthetized Spontaneously Hypertensive rats. In: NHAM-CRM Research Track, |
| 2016 | Vasorelaxation effect of Syzygium polyanthum (wight) walp. Leaves extract on isolated thoracic aorta rings of normal and hypertensive rats. In: Medical Research Symposium & Pacific Partnership in conjunction with Kuantan Research Day 2016, |
| 2012 | Hemodynamic effects of the aqueous extracts of syzygium polyanthum Wight. Walp. Var. Polyanthum leaves on normotensive and hypertensive rats: comparisons of dose response curves and time-course effects. In: British Pharmacological Society Winter Meeting 2012, |
Book
Book Section
Monograph