Staff Directory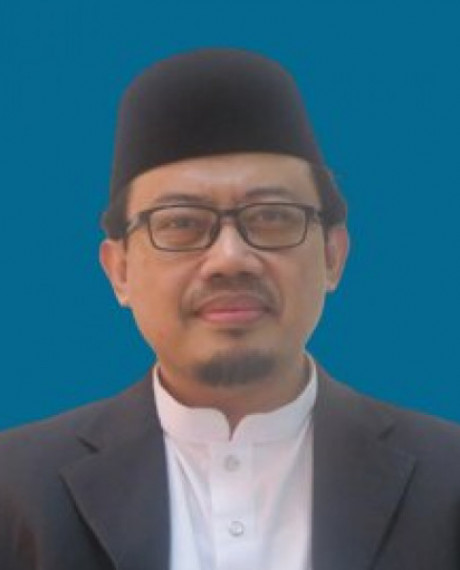 Academic Qualification
PhD in Philosophy in Islamic Revealed Knowledge and Heritage - Doctor of Philosophy, International Islamic University Malaysia
Master of Islamic Revealed Knowledge and Heritage - Masters Degree, International Islamic University Malaysia
Bachelor in Fiqh & Usul al-Fiqh - Bachelor Degree, Islamic University of Medina
Muntaha bin Artalim Zaim (Dr.)
Assistant Professor
IIUM Gombak Campus
ABDULHAMID ABUSULAYMAN KULLIYYAH OF ISLAMIC REVEALED KNOWLEDGE AND HUMAN SCIENCES
---
Expert Profile
His Islamic studies background is from traditional teaching in madrasah in Indonesia, from Pondok Pesantren Al-Amin (graduated in 1986), Pondok Pesantren Tarbiyatut Tholabah in Paciran, Lamongan (graduated in 1992), and Pondok Pesantren Darut Tauhid al-Hasaniyyah Sendang Senori Tuban, East Java, Indonesia (in 1992). After that,he improved his Arabic Language and literature at LIPIA, Jakarta - an institute belong to Imam Mohammad Ibn Saud Islamic University (IMSIU) (graduated in 1996). He has a linear educational background in the field of Islamic law, when he studied at the Faculty of Sharia at the Islamic University of al-Madinah al-Munawwarah, his final year project was entitled: 
"Tahqiq al-Shurut al-Umariyyah min Ahkam Ahl al-Dhimmah li al-Imam Ibn Qayyim al-Jauziyyah" (
graduated in 2000
)
. As for the master's level at the Department of Fiqh and Usul al-Fiqh, Kulliyyah of Islamic Revealed Knowledge & Human Sciences, International Islamic University Malaysia (IIUM), his thesis was entitled 
"Ma'alim al-Taisir fi Fiqh al-Aqalliyyat al-Muslimah ' inda al-Sheikh Yusuf al-Qardhawi" (graduated in 2006).
 The topic of the relation between Muslims and others in the Muslim countries or the Muslim minorities countries is his field, and this study was emphasized again when he finished his PhD dissertation entitled, "
Fiqh al-Ta'ayush bayna al-Muslimin wa Ghayrihim fi Indunisiya: Dirasah Maqasidiyyah" (graduated in 2014).
 After those studies and researches about the relationship between Muslims and non-Muslims in light of Maqasid al-Shari'ah perspective, he focused in research on Maqasid Shariah and its application in Siyasah Shar'iyah and some topics related to Usul al-Fiqh. While studying at the PhD level, he was actively involved in managing 
at-Tajdid
 journal, and from 2017 until now (2022) he is an editor of at-Tajdid journal, a Refereed Arabic Biannual journal of Islamic thoughts and studies at IIUM, a journal that began publishing in 1997 and can be said to be the first regular journal that uses the Arabic Language in Southeast Asia. Since 2012 he taught as part-timer lecture at IIUM, and the end of 2015, he taught at the Department of Fiqh and Usul al-Fiqh at IIUM and taught courses on 
Fiqh and Usul Fiqh, Qawaid and Furuq Fiqhiyyah, Ijtihad and Ifta ', Adillat al-Ahkam, Fiqh Muqaran
. Attended various national and international conferences in several countries, and also published papers relating to Muslim and non-Muslim relations, studies on 
maqasid 
and also various topics on Fiqh and Usul al-Fiqh studies, in particular the relation between Muslim and non-Muslims and Maqasid al-Shari'ah Studies.
Area of Specialisation
Humanities ~ Humanities ~ Religious Studies ~ Islamic Studies - Islamic Jurisprudent and Islamic Principles of Jurisprudence
Teaching Responsibilities
| | |
| --- | --- |
| AL-MADKHAL ILA USUL AL-FIQH (INTRODUCTION TO PRINCIPLES OF ISLAMIC JURISPRUDENCE) | 2023/2024 |
Research Projects
Completed
On-Going
| | |
| --- | --- |
| 2019 - Present | Shariah Screening Methodology for Shariah-Compliant Securities of Shariah Advisory Board of Securities Commission Malaysia and Morgan-Stanley Compliance Islamic Index: A Comparison |
| 2019 - Present | Maqsad Hifz Al-Mal (Protection of Property) in Islamic Finance in Malaysia: An Analytical Study |
| 2019 - Present | Financing the Development of Smart (Assistant) Maid: An Islamic Perspective |
| 2016 - Present | Issues of Co-existence Between Muslims and Others in the Light of Maqasid al-Shari'ah |
Publications