Staff Directory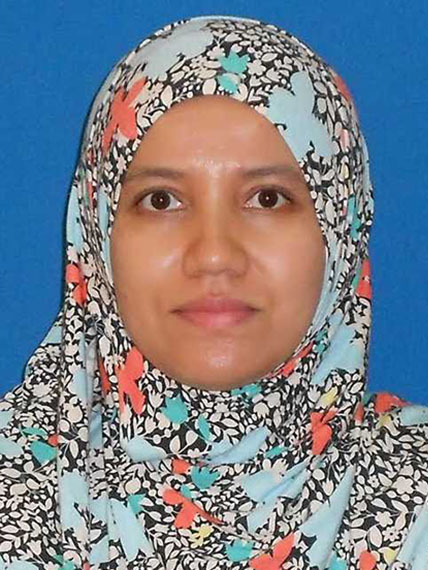 Academic Qualification
MASTER OF PATHOLOGY - Masters Degree (Clinical Specialist), Universiti Sains Malaysia (USM)
Asmah Hanim Binti Hamdan (Dr.)
Assistant Professor
IIUM Kuantan Campus
KULLIYYAH OF MEDICINE
---
drahanim@iium.edu.my
4497
Expert Profile
Asmah Hanim bt Hamdan obtained her MD degree from Universiti Sains Malaysia. Upon completion her undergraduate she started her career as a house officer at Hospital Tengku Ampuan Afzan Kuantan in 2003. She was posted to various clinical diciplines and finally joined Pathology Department at the same hospital as a medical officer.
She persued her training in pathology in 2010 and qualified as an Anatomic Pathologist 4 years later. Then, she worked as a pathologist in Hospital Sultanah Nur Zahirah, Kuala Terengganu for two years before she left for IIUM.
Currently Dr Asmah Hanim is a lecturer and clinical specialist in Anatomic Pathology at Department of Pathology and Laboratory Medicine, IIUM. She involves in a teaching as well as research for undergraduate and postgraduate student in Kulliyyah of Medicine.

Area of Specialisation
Medical And Health ~ Medical And Health Sciences ~ Clinical Medicine ~ Pathology
Professional Membership
2014: Member of Profesional Body / Association: (life member), IAP malaysia division
2016: Member of Profesional Body / Association: (medical member), international academy of cytology
2017: Member of Profesional Body / Association: (life member), malaysia society of malaysia
Teaching Responsibilities
| | |
| --- | --- |
| BASIC GENERAL SURGERY POSTING | 2022/2023 |
| BODY REACTION TO PHYSICAL, CHEMICAL & BIOLOGICAL AGENTS | 2018/2019 2017/2018 |
| BODY REACTIONS TO PHYSICAL, CHEMICAL AND BIOLOGICAL AGENTS | 2022/2023 2021/2022 2020/2021 |
| CARDIOVASCULAR, RESPIRATORY AND HAEMOPOIETIC SYSTEMS | 2022/2023 2021/2022 2020/2021 |
| CARDIOVASCULAR, RESPIRATORY, BLOOD AND BLOOD FORMING ORGANS | 2019/2020 2018/2019 |
| General Pathology | 2021/2022 |
| INTRODUCTION TO PUBLIC HEALTH | 2018/2019 |
| NORMAL RESPONSE & PROCESS TO DISEASED STATE | 2018/2019 2017/2018 |
| NORMAL RESPONSE AND PROCESS TO DISEASED STATE | 2022/2023 2021/2022 2020/2021 2019/2020 |
| NORMAL STRUCTURE & FUNCTION OF THE HUMAN CELL, TISSUE & BODY SYSTEM | 2018/2019 |
| NORMAL STRUCTURE & FUNCTION OF THE HUMAN CELL, TISSUE & BODY SYSTEMS | 2022/2023 2021/2022 2020/2021 2019/2020 |
| STRUCTURE & FUNCTION IN NORMAL & DISEASED STATES & BEHAVIOURAL SCIENCE | 2022/2023 2021/2022 2020/2021 |
| THE ALIMENTARY AND HEPATOBILIARY SYSTEMS | 2022/2023 2021/2022 2020/2021 2018/2019 2017/2018 |
| THE ENDOCRINE, REPRODUCTIVE AND URINARY SYSTEMS | 2022/2023 2021/2022 2020/2021 |
| THE ENDOCRINE, REPRODUCTIVE URINARY SYSTEMS | 2019/2020 2018/2019 |
| THE LOCOMOTOR AND NERVOUS SYSTEMS | 2022/2023 2021/2022 2020/2021 2019/2020 2018/2019 2017/2018 |
Research Projects
Completed
On-Going
| | |
| --- | --- |
| 2021 - Present | Cellular Morphological Changes at The Ocular Surface in Cataract Patients with Dry Eye Disease and its Relationship to Dry Eye Symptoms and Tear Function Tests |
| 2021 - Present | Evaluation of Microsatellite Instability (MSI) for Stage IV Colorectal Cancer |
| 2021 - Present | Assessment of Molecular Stability for Fine Needle Aspiration Cytology and Non Gynaecological Specimen Post Liquid Based Cytology Preparation in SASMEC |
| 2021 - Present | Clitoral Hood Anatomical, Variation and Its Relation to Clitoral Hood Adhesion, Clitoral Discharge, Sexual Satisfan and Female Circumcision |
| 2020 - Present | Understanding the Effect of Vitamin A (Retinoic Acid) on Liver Histopathological and Ultrastructural Changes in High Cholesterol Diet Induced Rat?s Steatosis. |
Publications
Article
| | |
| --- | --- |
| 2022 | Detection of FMS-like Tyrosine Kinase 3 (FLT3) and Nucleophosmin 1 (NPM1) mutations from marrow tissues in patients with Acute Myeloid Leukaemia. IIUM Medical Journal Malaysia, 21 (4) pp. 98-104 |
| 2022 | Juvenile Xanthogranuloma: a case report. Malaysian Journal of Medical Research, 6 (2) pp. |
| 2022 | Madura foot: a rare case of eumycetoma and proposed classification and treatment guidelines. International Medical Journal Malaysia, 21 (1) pp. 137-141 |
| 2021 | Assessment of concordance between immunohistochemistry and MSI analysis and their association with clinicopathological features in Malaysian colorectal cancer patients. International Journal of Allied Health Sciences, 5 (1) pp. 2128 |
| 2021 | FLT3 and NPM1 mutations in patients with Myeloid neoplasms. International Journal of Allied Health Sciences, 5 (1) pp. 2118 |
| 2021 | Histopathological changes in chronic low dose organic arsenic exposure in rats kidney. IIUM Medical Journal Malaysia, 20 (1) pp. 91-98 |
| 2021 | Honey and its role in Medical disorders. Bulletin of Environment, Pharmacology and Life Sciences, 10 (3) pp. 250-256 |
| 2021 | Immunohistochemical analysis of mismatch repair deficiency in colorectal cancer patients in Kuantan, Pahang. IIUM Medical Journal Malaysia, 20 (2) pp. 53-58 |
| 2021 | Incarcerated strangulated anal fibroepithelial polyp: a rare case of anorectal emergency. ANZ Journal of Surgery, 91 (12) pp. 2855-2856 |
| 2021 | Primary B-cell Lymphoma of the Thoracic Spine: a rare cause of Spinal Cord Compression. Cureus Journal of Medical Science, 13 (7) pp. 1-8 |
| 2021 | Progressive hepatic histopathological changes in high cholesterol diet induced non-alcoholic fatty liver disease model. International journal of allied health sciences, 5 (1) pp. 2181 |
| 2021 | Squamous cell carcinoma in burn scars: report of three cases. International Journal of Allied Health Sciences (IJAHS), 5 (1) pp. |
| 2021 | The effect of retinoic acid on non-alcoholic fatty liver disease (NAFLD) model. IIUM Journal of Orofacial and Health Sciences, 3 (Supplement 1) pp. 36 |
| 2020 | Anti-inflammatory effects of trihoney in hypercholesterolemic atherosclerotic rabbits: a comparative study with atorvastatin. Malaysian Journal of Medicine and Health Sciences, 16 (2) pp. 230-236 |
| 2020 | Hepatoprotective effects of a Novel Trihoney against Nonalcoholic Fatty Liver Disease: A comparative study with Atorvastatin. The Scientifiec World Journal, 2020 () pp. 1-14 |
| 2020 | Hepatoprotective effects of a novel trihoney against nonalcoholic fatty liver disease: a comparative study with atorvastatin. The Scientific World Journal, () pp. 1-14 |
| 2020 | Trihoney reduces lipid peroxidation and enhances antioxidant enzyme activities in hypercholesterolaemic atherosclerotic rabbits. International Food Research Journal, 27 (3) pp. 568-575 |
| 2020 | Trihoney suppresses soluble adhesion molecules (ICAM-1 and VCAM-1) in hypercholesterolemic atherosclerotic rabbits: a comparative study with atorvastatin. Sains Malaysiana, 49 (6) pp. 1313-1322 |
| 2019 | Evaluation of acute and sub-acute oral toxicity of the aqueous extract of aquilaria malaccensis leaves in sprague dawley rats. Asia-Pacific Journal of Molecular Biology and Biotechnology, 27 (1) pp. 20-32 |
| 2019 | The relation between retinoids and non-alcoholic fatty liver: a review. International Journal of Allied Health Sciences, 3 (3 Special Issue) pp. 805 |
| 2019 | Trihoney ameliorates oxidative stress in atherosclerotic aorta. International Journal of Allied Health Sciences, 3 (3) pp. 767-767 |
| 2018 | Red cell antibody screening: a single centre experience. International Medical Journal Malaysia, 17 (Supplementary Issue No 1) pp. 33-33 |
| 2018 | Structural changes and the differential expression of osteoprotegerin (OPG) and receptor activator of nuclear factor kB ligand (RANKL) in subchondral bone during the development of osteoarthriti. Malaysian Applied Biology Journal, 47 (6) pp. 87-96 |
| 2018 | Structural changes and the differential expression of osteoprotegerin (OPG) and receptor activator of nuclear factor kB ligand (RANKL) in subchondral bone during the development of osteoarthritis. Malaysian Applied Biology, () pp. |
| 2018 | Topographical changes of rat's colonic mucosal after chronic arsenic exposure - A scanning electron microscopy study. International Medical Journal Malaysia, 17 (Supplementary Issue No 1) pp. 32-32 |
| 2017 | Acute toxicity of Trigonella foenum-graecum (Fenugreek) seeds aqueous extracton liver in male mice, histopathological study. International Research Journal Of Pharmacy, 8 (4) pp. 24-27 |
| 2017 | Assessment of acute liver toxicity of trigonella foenum-graecum (fenugreek) seeds aqueous extract in male mice. Elixir International Journal : Hormones and Signaling, May 2017 () pp. 46697-46703 |
| 2017 | The illustration of a rat large intestine: a model for the effect of carcinogens. The International Medical Journal Malaysia, 16 (Supp. 1) pp. 28 |
Conference or Workshop Item