Staff Directory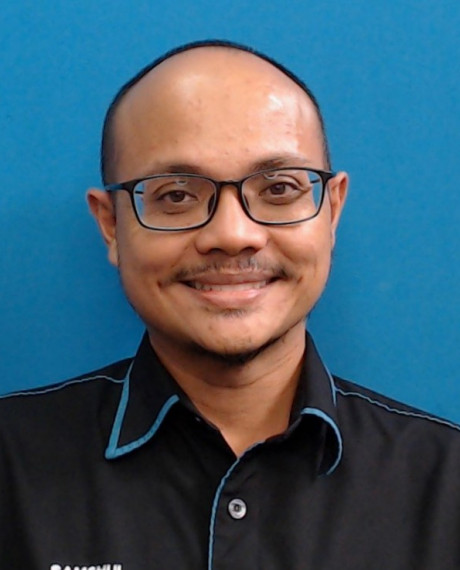 Academic Qualification
Doctor of Philosophy in International Business - Doctor of Philosophy, Universiti Utara Malaysia (UUM)
Master of Science (International Business) - Masters Degree, Universiti Utara Malaysia (UUM)
Bachelor of Commerce - Bachelor Degree, University of Otago
Samshul Amry Bin Abdul Latif (Dr.)
Assistant Professor
IIUM Pagoh Campus
KULLIYYAH OF LANGUAGES AND MANAGEMENT

Other's position:
Deputy Dean, Kulliyyah of Languages and Management
---
iium_samshul@iium.edu.my
2608
Expert Profile
Assistant Professor Dr. Samshul Amry bin Abdul Latif is currently attached with the Department of Tourism, Kulliyyah of Languages and Management, International Islamic University Malaysia (IIUM) in Pagoh campus since 2017. He graduated from the University of Otago, New Zealand in 1999 and started his career by joining a private limited company in Kuala Lumpur right after graduation, involving sales and marketing of consumer goods. He moved on to another private company with similar portfolio but was later absorbed into agriculture and palm oil plantation consultation department. He was then promoted to managerial level after three (3) years. 

After that, he served in a Government-Linked Agency, Perbadanan Nasional Berhad (PERNAS) under the Special Programmes Department which he handled the operations of Women and Graduates Development Franchise Programme. After two (2) years, he was appointed as a vice president of a private limited company handling investments of oil and gas facility (Labuan), silica (Yemen) and coal (Mozambique). After a short stint, he moved on join a family-owned agriculture project in Kuala Nerang, Kedah involving cash crops and fruits. While working, he pursued his Master degree and graduated from Universiti Utara Malaysia (UUM) in 2012.   


He pursued his doctorate in 2012 and was appointed as a research assistant to his Ph.D Supervisor. Prior to his graduation in 2016 from UUM, his articles were accepted in several international conferences including Malaysian Social Science Association Conference and Australia New Zealand International Business Association Conference, among others. His research articles were published in several renowned Scopus-indexed international journals including Journal of Islamic Marketing and Asia Pacific Journal of Marketing and Logistics, and others since 2016. He actively reviews journal articles from Journal of Islamic Marketing, Emerald Emerging Case Studies, Asia Pacific Journal of Marketing and Logistics, The CASE Journal among many others. 


His area of interest include destination marketing, tourists' behavior, tourism marketing, consumer boycott, consumer racism, consumer ethnocentrism, and consumer animosity. He won the '2017 Emerald Literati Award for Highly Commended Article' from the Journal of Islamic Marketing and won 4th place in Emerald-UUM Case Writing Competition in 2015. Together with his Final Year Project student, he won second (2nd) best tourism paper in the ICLET 2021 conference. Among the research grants he secured was the Jamalullail Research Grant Scheme, Research Grant financed by Malaysian Palm Oil Council, and Research Initiative Grant Scheme. He actively participates as a team member for six (6) other research grants and sponsored research at national level. He currently supervises a master research student in the International Institute for Halal Research and Training (INHART) and a PhD. student in his alma mater as an external supervisor. 


Currently, he leads the Malay Food Heritage Branding flagship project under the university and is recently appointed as the Deputy Dean of Postgraduate and Responsible Research in the Kulliyyah of Languages and Management. He is also active in extra curricular activities namely in martial arts and music, where he is appointed as the advisor for IIUM Shitoryu Karate Club (Pagoh) and InPAC Music. Outside the IIUM institution, he is an active member of a local Muay Thai club in Jasin, Melaka. 
Area of Specialisation
Economics, Business And Management ~ Economics, Business And Management ~ Tourism and Hospitality ~ Tourism Marketing - Destination Marketing
Economics, Business And Management ~ Economics, Business And Management ~ Tourism and Hospitality ~ Tourism Marketing - Service Marketing
Economics, Business And Management ~ Economics, Business And Management ~ Tourism and Hospitality ~ Tourism Marketing - Tourism Marketing
Economics, Business And Management ~ Economics, Business And Management ~ Marketing ~ Consumer Behaviour 131 - Consumer Boycott
Economics, Business And Management ~ Economics, Business And Management ~ Marketing ~ Consumer Behaviour 131 - Consumer Ethnocentrism, Consumer Animosity and Consumer Racism
Professional Membership
2021: Member of Profesional Body / Association: (Member), Malaysian Nature Society
Teaching Responsibilities
| | |
| --- | --- |
| FINAL YEAR PROJECT | 2022/2023 2021/2022 2020/2021 2019/2020 2018/2019 2017/2018 2016/2017 |
| HUMAN RESOURCE MANAGEMENT IN SERVICE ORGANISATION | 2023/2024 2022/2023 2021/2022 2020/2021 |
| INTERNATIONAL HOSPITALITY AND TOURISM MANAGEMENT | 2022/2023 |
| INTERNSHIP 1 | 2021/2022 2020/2021 2019/2020 2018/2019 2017/2018 2016/2017 |
| INTERNSHIP 2 | 2022/2023 2021/2022 2020/2021 2019/2020 2018/2019 2017/2018 2016/2017 |
| INTRODUCTION TO ENTREPRENEURSHIP | 2021/2022 |
| INTRODUCTION TO HUMAN RESOURCE MANAGEMENT | 2021/2022 2020/2021 2019/2020 2018/2019 2017/2018 |
| INTRODUCTION TO TOURISM AND HOSPITALITY | 2021/2022 |
| INTRODUCTION TO TOURISM AND HOSPITALITY MARKETING | 2020/2021 2019/2020 2018/2019 2017/2018 |
| LEADERSHIP AND MANAGEMENT | 2022/2023 2017/2018 |
| PENGENALAN KEPADA KEUSAHAWANAN | 2021/2022 |
| PRINCIPLES AND PRACTICE OF MANAGEMENT | 2020/2021 2019/2020 2018/2019 2017/2018 |
| PROFESSIONAL BUSINESS ETIQUETTE AND CUSTOMER SERVICE | 2022/2023 |
| RESEARCH METHOD IN TOURISM AND HOSPITALITY | 2017/2018 |
| SERVICE MARKETING IN TOURISM AND HOSPITALITY | 2023/2024 2022/2023 2021/2022 2020/2021 |
| TOURISM INTERNSHIP | 2022/2023 |
Research Projects
Completed
| | |
| --- | --- |
| 2022 - 2023 | INVESTIGATING COMMUNICATIVE & CREATIVE APPROACHES, CONTENT, STRATEGIES AND RISKS FOR #SAYANGIMALAYSIA TOURISM CAMPAIGN |
| 2021 - 2022 | Assessing Potential Development of Islamic Tourism in Perlis |
| 2020 - 2021 | The Effectiveness of Incentives at Sectoral-Tourism |
| 2019 - 2022 | River-Based Tourism in Muar: The potentials and threats |
| 2017 - 2021 | Financial security of single mothers in Malaysia |
| 2017 - 2021 | Consumer ethnocentrism and consumer animosity: testing of reconceptualized measurement scales in Malaysia |
On-Going
| | |
| --- | --- |
| 2022 - Present | The effect of marketplace animosity and ethnocentrism on local brands' performance indicators in multi-ethnic Malaysian retail landscape |
| 2021 - Present | The examination of perception and association of authentic local food in Perlis among tourists and the people of Perlis for the purpose of food destination marketing |
| 2021 - Present | A STUDY ON THE USABILITY AND USER PREFERENCES OF MOBILE APPS IN PROMOTING AND MARKETING ARTS, CULTURAL AND HERITAGE COMMUNITY-BASED TOURISM PRODUCTS IN PERLIS |
| 2021 - Present | Nutritional Content of Malay Heritage Food |
Award & Recognition
| | | |
| --- | --- | --- |
| 03 Sep, 2022 | Best Presenter Award - International Conference of Responsible Tourism and Hospitality 2022 | International |
| 30 Jun, 2021 | Best Paper Award - INTERNATIONAL CONFERENCE ON LANGUAGES, EDUCATION, AND TOURISM 2021 (ICLET 2021) | International |
| 15 May, 2017 | Emerald Literati Network - Awards for Excellence 2017 - Emerald Publishing | International |
Publications
Article
| | |
| --- | --- |
| 2022 | Applying partial least squares structural equation modelling (PLS-SEM) on factors affecting language students' desire to learn. Arab World English Journal (AWEJ), 13 (3) pp. 254-271 |
| 2022 | Characteristic of tourist movement pattern in Muar royal town, Johor. Ecology, Environment and Conservation Paper, 28 (1) pp. 62-68 |
| 2022 | Kepentingan kebersihan dalam industri pelancongan negara. Majoriti, 21 Mar 2022 () pp. |
| 2021 | Readiness and Participation of Local Community for River Based Tourism Development in Sabak Awor Muar, Johor. Promoting Creative Tourism: Current Issues in Tourism Research:, () pp. 48-55 |
| 2021 | The tourists' spatial behaviour and tourist movement pattern in Muar Johor. PLANNING MALAYSIA: Journal of the Malaysian Institute of Planners, 9 (2) pp. 275-286 |
| 2020 | An examination of ethnic-based consumer ethnocentrism and consumer animosity. Journal of Islamic Marketing, () pp. 1-26 |
| 2019 | Measuring tourist satisfaction and motivation: an investigation on visitors to Kuala Lumpur. Cross Current International Journal of Economics, Management and Media Studies, 1 (3) pp. 72-76 |
| 2017 | Consumer racism: a scale modification. Asia Pacific Journal of Marketing and Logistics, 29 (3) pp. 616-633 |
| 2016 | A study on the boycott motivations of Malaysian non-Muslims. Journal of Islamic Marketing, 7 (3) pp. 264-287 |
| 2015 | Boycott and racism: a loaf of bread is just a loaf of bread. Emerald Emerging Markets Case Studies, 5 (6) pp. 1-3 |
| 2011 | Gloria Jean's coffee in Malaysia. Emerging Markets Case Studies, 1 (1) pp. 1-7 |
Conference or Workshop Item
| | |
| --- | --- |
| 2023 | The Effects of Service Quality on Tourist Loyalty Towards Malaysian Budget Hotels. In: International Scientific and Practical Conference, |
| 2022 | A Study On The Effects Of Food Qualıty, Prıce Faırness And Servıce Qualıty On The Revısıt Intentıon Among Domestıc Tourısts To The State Of Kelantan, Malaysıa. In: 6th International Congress of Eurasian Social Sciences, |
| 2022 | Inbound tourism in Malaysia: unlocking the potential traveling experience of European and Oceanian tourists. In: , |
| 2021 | The effects of information, interaction and design qualities of travel and tour websites on Malaysian tourists' usage satisfaction. In: International Conference of Languages, Education and Tourism (ICLET) 2021, |
| 2020 | Readiness and participation of local community for river-based tourism development in Sabak Awor, Muar, Johor. In: 4th International Seminar On Tourism 2020, |
| 2019 | Motivation of first-time, repeat, and serial backpackers: a Malaysian perspective. In: International Language and Tourism Conference 2019, |
| 2019 | The use of social media for trip planning process: study of domestic tourists to Pahang. In: International Language and Tourism Conference 2019, |
| 2018 | The effects of hotel image, brand image and employee performance on customer satisfaction of Muslim youths towards Muslim-friendly hotels. In: International Conference on Halal Tourism, Products and Services "Supporting the Achievement of Sustainable Development Goals" IHCTPS 2018, |
| 2015 | An examination of the effects of consumer racism and consumer ethnocentrism on willingness to buy products associated with ethnic Chinese. In: Australia New Zealand International Business Academy (ANZIBA) Conference 2015, |
Book
Book Section
| | |
| --- | --- |
| 2022 | Social Media Usage on Tourists' Trip Planning Process Among Youth. In: Kulliyyah of Languages and Management, ISBN: , pp. |
| 2022 | State of research In modest fashion and Its way forward. In: Penerbit KUIS, ISBN: 9789671953945, pp. 215-233 |
| 2022 | Travel motivations and travel careers of Malaysian backpackers. In: IGI Global, ISBN: 9781799890713, pp. 290-307 |
| 2021 | The effects of trust on parasocial interaction of Malaysian facebook (FB) travel community. In: IGI Global, ISBN: , pp. 76-90 |
| 2021 | The effects of trust on parasocial interaction of Malaysian facebook (FB) travel community. In: IGI Global, ISBN: , pp. 76-90 |
| 2020 | Muslim youths' satisfaction toward Muslim-friendly hotels: examining the effects of hotel image, brand image and employee performance. In: Springer Nature, ISBN: 978-981-15-4453-8, pp. 141-158 |
| 2015 | Antecedents to willingness to boycott among Malaysian Muslims. In: IGI Global, ISBN: 9781466662728, pp. 70-106 |