Staff Directory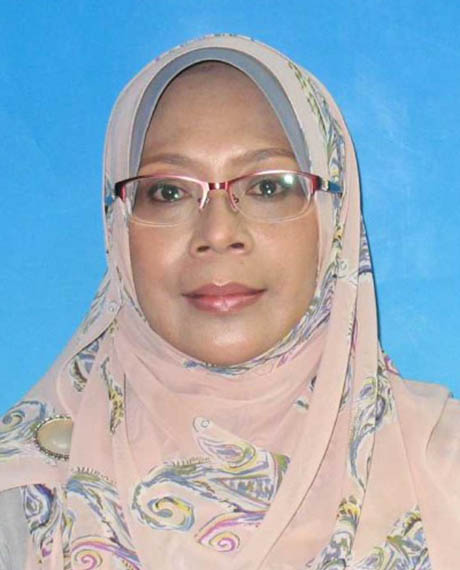 Academic Qualification
Doctor of Philosophy (Philosophy, Ethics and Contemporary Issues) - Doctor of Philosophy, International Islamic University Malaysia
Master of Education (Guidance and Counseling) - Masters Degree, International Islamic University Malaysia
Diploma in Education (English and Mathematics) - Post Graduate Diploma, International Islamic University Malaysia
Bachelor of Science (Honours Science) - Bachelor Degree, University of Waterloo
Nor Jana binti Hassan @ Mohamed (Dr.)
Assistant Professor
IIUM Gombak Campus
ABDULHAMID ABUSULAYMAN KULLIYYAH OF ISLAMIC REVEALED KNOWLEDGE AND HUMAN SCIENCES

Other's position:
Head, Centre for Islamisation
---
njhassan@iium.edu.my
5559
Expert Profile
NOR JANNAH HASSAN

"Ethics and Education for Life"
B. Sc. (Honours Science) (University of Waterloo), Dip. Ed. (English-Mathematics) (IIUM), M. Ed. (Guidance & Counselling), Ph.D. (Philosophy, Ethics & Contemporary Issues) (IIUM)
23, Jalan Nakhoda Kiri 3, Kampung Nakhoda, Batu Caves, Selangor Darul Ehsan, 68100, Malaysia.
6013 345 0077. njhassan@iium.edu.my
   PROFESSIONAL SUMMARY
Assistant Professor, Department of Fundamental and Interdisciplinary Studies,

Kulliyyah

of Revealed Knowledge and Human Sciences, International Islamic University 

Seasoned educator, with years of experience in teaching (especially mathematics and science), and in planning and administrating educational endeavours. 
Teaches worldviews, Islamic worldview, knowledge and civilisation, Islamic ethics, creative thinking and problem solving.
Passionate about teaching, with interpersonal and communication skills as part of strengths as a person, an educator, a mother, an administrator and a leader.  
Self-initiated, motivated and enthusiastic in promoting lifelong education and learning.
Dedicated to help nurture students' sensorial, intellectual, affectual, social, ethical, moral and spiritual disciplines and awareness to the highest level possible, vis-à-vis the Ūlū al-Albāb notion of the Qur'an.
Believes in the potency of true Islamic education and Qur'anic / Prophetic ethics, and of leading through example, and in the impacts that a teacher (as mu'addib and murabbī) has in nurturing and moulding the next generation.
Confidence in the beauty of diversity and the strength of cohesion due to mutual respect and understanding.
Trusts in sincerity, discipline, compassion, patience and perseverance, and accountability to Allāh S.W.T.
   MISSION
To stimulate an awareness and the desire to learn and understand more of the Qur'anic worldview, and of the Islamic intellectual, spiritual, scientific and civilizational legacies.
To promote an understanding of different worldviews, of the history of Western thought, and of the philosophies of Western modern science.
To help develop the teaching, learning and the pursuit of natural sciences from the Worldview of the Qur'ān.
To inspire an Ummatic and civilizational awareness, a Tawḥīdic responsibility, accountability, creativity and excellence, and activism that transcends national, racial and religious boundaries.
Academic: Education, ethics, appreciation and contemplation of the Universe of creation, environmental conservation, holistic health and well-being, mental health and linguistics. 
Community work: Promoting importance of motherhood, breast-feeding, early childhood upbringing, women and young children welfare, gender participation, balance and justice in society, holistic health and well-being, mental health.          

 

Creative arts: Reading and writing, expressing creativity through poetry, calligraphy, architecture, interior and exterior designs, gardening and landscaping, couture, visual and performing arts and healthful gourmet.



Area of Specialisation
Natural Science ~ Mathematical Sciences ~ Applied Mathematics ~ Indigenisation and Islamisation - Islamisation and Integration of Natural Sciences Curricula, Teaching & Learning
Social Science ~ Social Science ~ Education ~ Curriculum Development - Natural Science Curriculum in Islamic secondary schools in MAlaysia and Indonesia
Social Science ~ Social Science ~ Education ~ Education Counselling - Guidance and Counselling
Social Science ~ Social Science ~ Education ~ History and Philosophy of Education - History and Philosophy of Islamic Education in Malaysia and Indonesia
Humanities ~ Humanities ~ Philosophy ~ Islamisation of Knowledge - Islamisation of Human Knowledge
Humanities ~ Humanities ~ Philosophy ~ Comparative Philosophy - Helenistic, Christianised Hellenistic, Pre-Modern, Modern, Post-Modern, Islamic philosophies
Humanities ~ Humanities ~ History and Philosophy of Sciences and Medicine ~ History and Philosophy of Science and Technology - The development, continuity and discontinuity from Greek, Islamic, Pre-Modern, Modern, Post-Modern to contemporary eras
Humanities ~ Humanities ~ Advancement of Humanities Knowledge ~ Other Advancement of Humanities - Psycho-spirituality
Natural Science ~ Chemical Sciences ~ Applied Chemical Sciences ~ Chemical Education - Science Education from the Worldview of the Qur'an
Natural Science ~ Chemical Sciences ~ Applied Chemical Sciences ~ Chemical Education - Teaching Chemistry
Humanities ~ Humanities ~ Religious Studies ~ Religious Education - Science in Islamic education, the Ulu'l-albaab model
Social Science ~ Social Science ~ Education ~ Philosophy of Education - Philosophy of Islamic Education
Professional Membership
2019: Member of Profesional Body / Association: (Consultant / Science Advisor), Legacy International Online High School (www.legacyiohs.org)
2022: Member of Profesional Body / Association: (Member), Global Association of Islamic Schools
Teaching Responsibilities
| | |
| --- | --- |
| BASIC PHILOSOPHY AND ISLAMIC WORLDVIEW | 2023/2024 2022/2023 2021/2022 |
| BASIC PHILOSOPHYAND ISLAMIC WORLDVIEW | 2021/2022 2020/2021 |
| CREATIVE THINKING AND PROBLEM SOLVING | 2019/2020 2018/2019 |
| ETHICS & FIQH FOR EVERYDAY LIFE | 2017/2018 |
| ETHICS AND FIQH OF CONTEMPORARY ISSUES | 2017/2018 |
| ISLAM, KNOWLEDGE & CIVILIZATION | 2017/2018 |
| Islam, Knowledge and Civilization | 2018/2019 |
| THE ISLAMIC WORLDVIEW | 2018/2019 |
| THE ISLAMIC WORLDVIEW, KNOWLEDGE AND CIVILIZATION | 2019/2020 2018/2019 2017/2018 |
Award & Recognition
| | | |
| --- | --- | --- |
| 27 Jul, 2018 | Best Research Exhibitor, Academic Research Exhibition, Knowledge and Virtue Camp 2018 - KUlliyyah of Revealed Knowledge and Human Sciences | KCDIO |
| 15 May, 2018 | Outstanding Performance throughout the year 2017/2018 - Kulliyyah of Islamic Revealed Knowledge and Human Science | KCDIO |
| 25 Mar, 2018 | Best Paper Award - Kuala Lumpur International Islamic Studies and Civilisation Conferencen | International |
| 11 Nov, 2017 | Best Student (Doctor of Philosophy) ISTAC - International Islamic University Malaysia | University |
| 02 Sep, 2012 | MyPhD MyBrain15 - Ministry of Higher Education | National |
Publications
Article
Conference or Workshop Item
| | |
| --- | --- |
| 2022 | Empowering mothers against against a Malaysian Societal Convention: an Islamic perspective. In: International Conference on Women Empowerment: Social Development of Women Refugees Living in Malaysia (2022), |
| 2021 | Integrasi Islam-sains tabii di sekolah-sekolah menegah Islam di Malaysia dan Indonesia. In: Muzakarah Pakar: Analisis Terhadap Pengharmonian Sains dan Islam di Malaysia, |
| 2021 | Psycho-spiritual states of emotions and their interventions within Qur'ānic narratives. In: 3rd World Congress on Integration and Islamicisation, |
| 2020 | IIUM river of life : friends of Sungai Pusu. In: IIUM Sustainability WEBINAR 1.0: Untangling sustainability issues through inter & transdisciplinary approach: the case of Sungai Pusu, Gombak, |
| 2020 | Integration of virtues and morality in education for a sustainable future. In: TLP Wisdom Foundation Educational Webinar Series, |
| 2020 | Spiritual healing: managing invisible illness. In: Symposium On Psycho-Social Disabilities: Addressing Rukhsah and Internalization Of Ibadah, |
| 2020 | Translating the Vision and Mission of the IIUM. In: Insan Sejahtera Training of Trainers 1 & 2 - Insan Sejahtera Workshops, |
| 2020 | Understanding the Sungai Pusu Problem: An Islamic perspective. In: Untangling Sustainability Issues through Inter and Trans-Disciplinary Approach: The Case of Sungai Pusu Gombak, |
| 2019 | Natural science from the worldview of the Qur'an integration model: sharing of experience in the production of textbooks. In: Islamisation Textbook Workshop 2019, |
| 2018 | Distinguished Professor Project: Profesor Ulung Tan Sri Dr. Mohd. Kamal Hassan. In: Kulliyyah Research Exhibition, KIRKHS Knowledge & Virtue Camp 2018, |
| 2018 | Integrasi pandangan semesta al-Qur'an & sains tabi'i: satu model bagi sekolah menengah Islam. In: Pengenalan Model Qur'ani untuk Pengajaran & Pembelajaran Sains Tabi'i di Sekolah Menengah kepada Unit Kurikulum Ikram-Musleh, |
| 2018 | Integrating Qur'anic worldview and natural science: a framework for Islamic secondary schools. In: The 6th Kuala Lumpur International Islamic Studies and Civilisations Conference (KLIISC 2018), |
| 2018 | Natural science and Tawhidic worldview: an integration model. In: IOHK Talk Series On Islam And Other Worldviews No. 1 (I TalkWV 1), |
| 2018 | Qur'anic worldview and natural science at Islamic secondary education: Ulū'l-albāb integration framework. In: R&D in Halal Industry and Qur'anic Approach to Secondary Education, |
| 2018 | Qur'anic worldview and natural science: an Ulul-albāb integration framework for Islamic secondary schools. In: International Congress on Islamic Education 2018, |
| 2018 | Reviving the true meanings & applications of Islam, Iman & Ihsan: contextualising & relevantising al-din in the contemporary world. In: Symposium on Contextualisation & Relevantisation of Religion to the Contemporary World, IIUM 2018, |
| 2018 | Sains tabi'i dari pandangan semesta Al-qur'an: suatu paradigma penting & perlu. In: Majlis Taklimat Tarbiah IKRAM-MUSLEH, |
| 2016 | Integration of the Qur'anic worldview with the natural sciences: the Ulu al-Bab model. In: Seminar in conjunction with the Educational Visit to Tashkent Islamic University, |
| 2015 | Integration of the Qur'ānic worldview with the natural sciences: answering the long call for (Islamic) secondary schools. In: The 2nd International Conference on the Qur'an & Sunnah: Revelation & Reason in the 21st Century, |
| 2014 | Integration of the Qur'anic worldview with the curricula of the natural sciences: answering the long call for (Islamic) secondary schools. In: International Conference on Developing Synergies Between Islam and Science & Technology for Mankind's Benefit, |
Book
| | |
| --- | --- |
| 2021 | Natural science from the worldview of the Qur'an: an introduction - volume 1. Institut Terjemahan & Buku Malaysia (ITBM), ISBN: 978-967-430-459-1 |
| 2021 | Natural science from the worldview of the Qur'an: an introduction - volume 2. Institut Terjemahan & Buku Malaysia (ITBM), ISBN: 978-967-430-460-7 |
| 2021 | Natural science from the worldview of the Qur'an: an introduction - volume 3. Institut Terjemahan & Buku Malaysia (ITBM), ISBN: 978-967-430-461-4 |
| 2021 | The village preacher "Lebai Kampung": Shaykh (Dr.) Muhammad Uthman El-Muhammady. Office for Islamisation, CENTRIS, IIUM, ISBN: 978-967-25777-2-0 |
| 2021 | The village preacher "Lebai Kampung": Shaykh (Dr.) Muhammad Uthman El-Muhammady. Office for Islamisation, CENTRIS, IIUM, ISBN: 978-967-25777-2-0 |
| 2021 | The village preacher "Lebai Kampung": Shaykh (Dr.) Muhammad Uthman El-Muhammady. Office for Islamisation, CENTRIS, IIUM, ISBN: 978-967-25777-2-0 |
| 2021 | The village preacher "Lebai Kampung": Shaykh (Dr.) Muhammad Uthman El-Muhammady. Office for Islamisation, CENTRIS, IIUM, ISBN: 978-967-25777-2-0 |
| 2021 | Visualising the IIUM's Philosophy, Vision, Mission, Islamisation Policy and Sejahtera Objectives. Centre for Islamisation (CENTRIS), ISBN: |
| 2020 | Natural science from the worldview of the Qur'an: an introduction - volume 2. Institut Terjemahan & Buku Malaysia (ITBM), ISBN: 978-967-430-460-7 |
| 2020 | Natural science from the worldview of the Qur'an: an introduction - volume 3. Institut Terjemahan & Buku Malaysia (ITBM), ISBN: 978-967-430-461-4 |
| 2018 | Natural science from the worldview of the Qur'an: an introduction - volume 1. Institut Terjemahan & Buku Malaysia (ITBM), ISBN: 978-967-430-459-1 |
| 2018 | Natural science from the worldview of the Qur'an: an introduction - volume 2. Institut Terjemahan & Buku Malaysia (ITBM), ISBN: 978-967-430-460-7 |
| 2018 | Natural science from the worldview of the Qur'an: an introduction - volume 3. Institut Terjemahan & Buku Malaysia (ITBM), ISBN: 978-967-430-461-4 |
Book Section