Staff Directory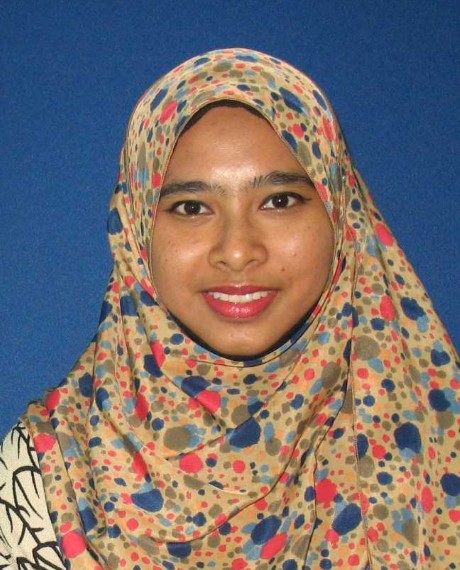 Academic Qualification
Doctor of Philosophy (Political Science) - Doctor of Philosophy, International Islamic University Malaysia
Master of Science in Comparative Politics (Democracy) - Masters Degree, London School of Economics and Political Science
Bachelor of Arts - Bachelor Degree, University of Pittsburgh
Syaza Farhana Binti Mohamad Shukri (Dr.)
Assistant Professor
IIUM Gombak Campus
ABDULHAMID ABUSULAYMAN KULLIYYAH OF ISLAMIC REVEALED KNOWLEDGE AND HUMAN SCIENCES
---
syazashukri@iium.edu.my
6052
Expert Profile
Dr. Syaza Shukri is an upcoming early researcher at IIUM. Her area of specialization is in comparative politics, specifically in political Islam and democratization in the Middle East, Southeast Asia and her home country of Malaysia. She has published numerous articles based on her doctoral research and other interests including in the areas of populism, identity politics, and geopolitics, focusing on Malaysia and the Muslim world in general.
She has also received funding for research projects in inter-ethnic relations in Malaysia (university grant), gender discrimination at the workplace (national grant), and on Maqasid al-Shariah in politics (international grant). 
Dr. Syaza has also been invited to share her views on various matters with Asialink which is part of the University of Melbourne, the Asia Centre in Thailand, Wanita Berdaya Selangor, Institute of Research and Development Policy in Kuala Lumpur, the Malaysian Parliament, and Qatar University's Office for Research and Graduate Studies. She has also been invited by scholars from different parts of the world, including Hong Kong, the Netherlands, New Zealand and Australia, to collaborate on various projects. Her expert opinion has been sought by the likes of South China Morning Post, the Anadolu Agency in Turkey, and Sinar Daily. She is regularly featured on Malaysia's state TV, RTM.
She graduated summa cum laude (with highest honour) for her Bachelor's degree from the University of Pittsburgh, USA, with a double-major in political science and history. She received her Master's degree from the London School of Economics and Political Science, UK, and her PhD from the International Islamic University Malaysia in 2018. 
Area of Specialisation
Social Science ~ Social Science ~ Political Sciences and Public Policy ~ Other Political Sciences and Public Policy n.e.c.
Professional Membership
2015 - 2017: Member of Profesional Body / Association: (Member), Association of Asian Studies
2019 - 2020: Member of Profesional Body / Association: (Member), Asian Political and International Studies Association
2019: Member of Profesional Body / Association: (Lifetime Member), Persatuan Sains Sosial Malaysia
2020: Member of Profesional Body / Association: (Member), American Political Science Association
2022 - 2022: Member of Profesional Body / Association: (Member), Middle East Studies Association
Teaching Responsibilities
| | |
| --- | --- |
| COMPARATIVE POLITICS | 2022/2023 2021/2022 |
| COMPARATIVE POLITICS OF THE MUSLIM WORLD | 2021/2022 |
| FINAL YEAR PROJECT I | 2022/2023 2021/2022 2020/2021 2019/2020 |
| FINAL YEAR PROJECT II | 2021/2022 2020/2021 2019/2020 |
| GOVERNMENTAL AND POLITICAL SYSTEMS IN THE MIDDLE EAST | 2021/2022 2020/2021 2019/2020 2018/2019 |
| INDUSTRIAL TRAINING | 2021/2022 2020/2021 2019/2020 |
| INTERNATIONAL POLITICS & THE MUSLIM WORLD | 2022/2023 2021/2022 2020/2021 2019/2020 |
| INTERNSHIP | 2018/2019 2017/2018 |
| INTRODUCTION TO POLITICAL SCIENCE | 2020/2021 2019/2020 2018/2019 |
| ISLAM IN CONTEMPORARY SOUTHEAST ASIA | 2018/2019 |
| POLITICS OF POPULISM | 2022/2023 |
| RESEARCH METHODOLOGY | 2022/2023 2021/2022 2020/2021 2019/2020 2018/2019 |
| RESEARCH PAPER I | 2020/2021 |
| RESEARCH PAPER II | 2020/2021 |
| THE GEOPOLITICS OF THE MUSLIM WORLD | 2020/2021 |
Research Projects
Completed
| | |
| --- | --- |
| 2021 - 2022 | The Application of Maqasid al-Shariah in Multicultural Malaysia: Developing Strong Institutions for Interethnic Unity |
| 2020 - 2022 | Analysis on interethnic inclusivity to develop peaceful national co-existence: Convergence or Divergence between urban Malay-Bumiputera in Kuala Lumpur and Kuching |
| 2018 - 2019 | Diskriminasi Gender Dalam Amalan Pekerjaan dikalangan golongan Profesional |
On-Going
| | |
| --- | --- |
| 2022 - Present | International Relations Theory and the Muslim World: Toward an Islamic IR Theory |
| 2020 - Present | Islamophobia in Non-Western Context: The Cases of Bangladesh and Indonesia |
| 2018 - Present | New Framework to Enhance Women's Leadership and Political Empowerment in Achieving Inclusive Development |
Award & Recognition
| | | |
| --- | --- | --- |
| 10 Jun, 2022 | Promising Award for Research - Gold - AHAS KIRKHS | KCDIO |
| 21 Jun, 2021 | Promising Award for Research - KIRKHS | KCDIO |
Publications
Article
| | |
| --- | --- |
| 2023 | Convergence or divergence? an exploratory study on urban Malays and indigenous people in Kuala Lumpur and Kuching. Asia Pacific Social Science Review, () pp. |
| 2023 | Democracy finally manifested in Malaysia via the unity government. Sinar Daily, 24 Jan 2023 () pp. |
| 2023 | Digital authoritarianism: protecting Islam in multireligious Malaysia. Religions, 14 (1) pp. 1-14 |
| 2023 | Islamist civilizationism in Malaysia. Religions, 14 (2) pp. 1-15 |
| 2022 | A woman's right to equal opportunity. New Straits Times, 8 September 2022 () pp. |
| 2022 | Anwar's current formidable support unlikely to betray him on Vote of Confidence Day. Sinar Daily, 18 December 2022 () pp. |
| 2022 | Choosing the party or candidate in GE15. Malaysiakini, 15 November 2022 () pp. |
| 2022 | Digital leadership: human leaders in the digital age. eTijari, 2 (7) pp. 1-1 |
| 2022 | Flexible working in Malaysia does not benefit women. 360info, () pp. |
| 2022 | Game theory: a bugbear for PN and PH in the 15th General Election. Stratsea, 12 September 2022 () pp. |
| 2022 | How Pas won the hearts of those who crave stability and moderation. Sinar Daily, 6 December 2022 () pp. |
| 2022 | Muslim minority and jihad: the cases of Rohingyas and Uyghurs. Islam and Civilisational Renewal, () pp. |
| 2022 | Muslim minority and jihad: the cases of Rohingyas and Uyghurs. Islam and Civilisational Renewal, 13 (2) pp. 53-80 |
| 2022 | Our youths know who, what they want. Our youths know who, what they want, 17 November 2022 () pp. |
| 2022 | The influences of social media toward the development of terrorism in Indonesia. Jurnal Studi Komunikasi, 6 (1) pp. 16-31 |
| 2022 | The solution to baby dumping is women in power. 360info, 11 Jul 2022 () pp. |
| 2021 | Business as an Act of Love for the Country. eTIJARI, () pp. |
| 2021 | Dignity and political expectation of the Malay electorate in Malaysia. Intellectual Discourse, 29 (1) pp. 149-174 |
| 2021 | Embracing a Malaysian identity a better concept. Malaysiakini, 26th January 2021 () pp. |
| 2021 | Hijrah or pop Islam? implications for Malaysia. Stratsea, 18 July 2021 () pp. |
| 2021 | How we can avoid confusion over SOPs. Malaysiakini, 9 June 2021 () pp. |
| 2021 | Malay political polarization and Islamic populism in Malaysia. Stratsea, 5 July 2021 () pp. |
| 2021 | PAS and Taliban are not two peas in a pod. Stratsea, 6 December 2021 () pp. |
| 2021 | Putting family first in goal towards gender parity at the workplace. New Straits Times, 06 December 2021 () pp. |
| 2021 | The Different Sides of Malaysia's Response to the Taliban. Stratsea, 5 September 2021 () pp. |
| 2021 | The supports and challenges of political Islam during reformation Indonesia. Communications in Humanities and Social Sciences, 1 (2) pp. 61-67 |
| 2020 | Abuse along the lines of race, gender and class continues. New Straits Times, () pp. |
| 2020 | Ali Salman, Mohammad Hashim Kamali and Mohamed Azam Mohamed Adil (Editors) - Democratic transitions in the Muslim world (2018). IIUM Journal of Religion and Civilisational Studies, 3 (1) pp. 113-117 |
| 2020 | Gender discrimination in employment practices: a case study of the Malaysian civil sevice. International Journal of Social Policy and Society, () pp. |
| 2020 | Kudos to Malaysians. New Straits Times, () pp. |
| 2020 | Middle East link of terrorist threats from the perspective of pesantren in Indonesia: case study in the area of Malang. Humanities & Social Sciences Review, 8 (3) pp. 508-517 |
| 2020 | Need to address digital divide. The Star, () pp. |
| 2020 | Populism and Muslim democracies. Asian Politics & Policy, () pp. 1-17 |
| 2020 | Proposed development models of Islamic movements in post reformation Indonesia. Al-Tahrir: Jurnal Pemikiran Islam, 20 (2) pp. 231-250 |
| 2020 | Public give positive feedback. The Star, () pp. |
| 2020 | Scandal and malay politics: a question of dignity against Anwar Ibrahim and Azmin Ali. Journal of Social Sciences & Humanities, 28 (4) pp. |
| 2020 | The difference between democracy as a system and democracy as a principle. Malaysiakini, () pp. |
| 2020 | The threat of terrorism in the Malang Region, Indonesia. Intellectual Discourse, 28 (2) pp. 779-791 |
| 2019 | Changing strategy by Turkey's AKP: the learning curve theory. Millennial Asia, 10 (2) pp. 148-166 |
| 2019 | Identity: Contemporary Identity Politics and the Struggle for Recognition. By Francis Fukuyama. London, UK: Profile Books, 2019, pp. 218, ISBN: 978-1-78125-981-8.. Intellectual Discourse, 27 (2) pp. 679-682 |
| 2019 | The perception of Indonesian youths toward Islamophobia: an exploratory study. Islamophobia Studies Journal, 5 (1) pp. 61-75 |
| 2019 | Turkey-Malaysia relations in the 21st Century. Bölgesel Araştırmalar Dergisi, 3 (1) pp. 115-148 |
| 2018 | From political Islam to democrat Muslim: A comparison between Rashid Ghannouchi and Anwar Ibrahim. Intellectual Discourse, 26 (1) pp. 161-188 |
| 2018 | Saudi Arabia in transition: insights on social, political, economic and religious change. Edited by Bernard Haykel, Thomas Hegghammer and Stephane Lacroix. New York, USA: Cambridge University Press, 2015, pp. 351. ISBN: 978-0-521-18509-7. Intellectual Discourse, 26 (2) pp. 949-963 |
| 2017 | Political discourse and Islam: Role of rhetoric in Turkey. The Journal of Social, Political, and Economic Studies, 42 (2 (Summer)) pp. 157-179 |
| 2017 | Political discourse and Islam: the role of rhetoric in Turkey. International Journal of Islamic Thoughts, 6 (1) pp. 57-70 |
| 2017 | Strategic shifts in discourse by the AKP in Turkey, 2002 – 2015. Mediterranean Quarterly, 28 (3) pp. 5-26 |
| 2017 | The role of ethnic politics in promoting democratic governance: a case study of Malaysia. Intellectual Discourse, 25 (2) pp. 321-339 |
| 2015 | Jocelyne Cesari, The awakening of Muslim democracy: religion, modernity, and the state. Islam and Civilisational Renewal, 6 (2) pp. |
| 2015 | Will the Middle East implode? By Mohammed Ayoob. Cambridge: Polity Press, 2014, pp. 192, ISBN: 978-0-7456-7924-2. Intellectual Discourse, 23 (1) pp. 155-157 |
Conference or Workshop Item
| | |
| --- | --- |
| 2022 | Evolving visions of paradise: how Mahathir Mohamad used Islam. In: Scholarship Advancement Programme (SAP), |
| 2022 | The application of maqasid al-shariah in multicultural Malaysia: developing strong institutions for interethnic unity. In: IIIT-STRATEGIC RESEARCH PROJECT (SRP) 2020 "APPLIED MAQASID STUDIES", |
| 2022 | The role of Islamic governance in promoting national peace and security: the case of Malaysia (2010-2020). In: International Conference On Peace & Conflict Resolution (ICPCR) 2022, |
| 2021 | In Limbo: Islamist populism and democratic stagnation in Malaysia. In: International Symposium on Democratic Governance and Democratic Recession in the Indo-Pacific Region, |
| 2021 | Muslim minority and transnational jihad: The cases of Xinjiang and Rakhine. In: 4th Politics & International Relations Congress, |
| 2021 | Stuck in limbo: Islamist populism a factor of Malaysia's inability to consolidate democracy. In: SEARI: Democratic Recession in Southeast Asia, |
| 2020 | An analysis of public sentiments towards Malaysian Government's Policies in managing COVID-19 pandemic. In: WAPOR Asia 3rd Annual Conference:, |
| 2020 | Dignity and political expectation of the Malay electorate in Malaysia. In: 1st Virtual International Conference on Equality, Religious Harmony and Peace 2020, |
| 2019 | Populism in Muslim democracies and its absence. In: International Conference on Religion, Governance and Sustainable Development, |
| 2019 | Populism in Muslim democracies and its absence. In: Asia Pacific Social Sciences Conference, |
| 2018 | Islamophobia in the most populous Muslim majority country: a case study of Indonesia. In: International Conference on Religion, Culture and Governance in the Contemporary World (ICRCG 2018), |
| 2018 | Malaysia-Qatar relationship: perspective from Malaysia: an emerging middle power. In: The 3rd Annual International Interdisciplinary Conference 2018, |
| 2017 | Changing strategy by the AKP: the power of populism in the 21st century. In: Rethinking Governance in an Era of Global Insecurities, Regional Tensions and Rising Nationalism 2017, |
| 2015 | The role of ethnic politics in promoting democratic governance: a case study of Malaysia. In: 9th Asian Political and International Studies Association Conference (APISA 9), |
Book Section
Monograph