Staff Directory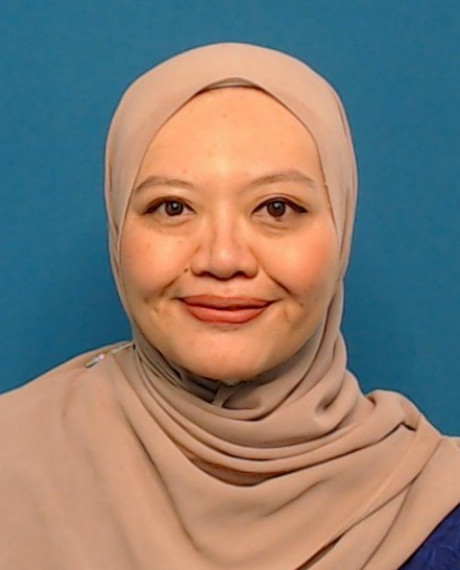 Academic Qualification
Doctor of Philosophy in Organisational Communication - Doctor of Philosophy, Universiti Sains Malaysia (USM)
Nur Shakira binti Mohd Nasir (Dr.)
Assistant Professor
IIUM Gombak Campus
ABDULHAMID ABUSULAYMAN KULLIYYAH OF ISLAMIC REVEALED KNOWLEDGE AND HUMAN SCIENCES
---
Expert Profile
Nur Shakira Mohd Nasir has been an academic staff with International Islamic University Malaysia (IIUM) since 2018. She

obtained her bachelor's degree in Human Sciences, specializing in Organizational Communication from IIUM in 2006, then pursued her M.A. in Organizational Communication at the same university and completed it in 2009. Upon graduation, she joined DRB Hicom, which is one

of the nation's largest and most diverse conglomerates as Human Capital Development Executive. 
Shakira left the corporate world after being awarded a scholarship to pursue her doctorate studies. She then successfully completed her PhD in Organizational Communication from University Science Malaysia (USM) in 2020. Her dissertation focused on the factors that influence change readiness at various stages of change.

 
As an academic, she has presented papers locally and internationally.
Her research interests are communication management, organization behaviour, graduate skills and employability, health communication, digital literacy, and social media. S

he has completed several research projects funded by local and international organizations since her return to IIUM in 2018. She has served as Student Advisor for Communication Students' Association (COSA) for the Department of Communication since 2019.

She is also appointed as Coordinator of Undergraduate Internship (UGIT) for the Department of Communication since 2020 and Kulliyyah Entrepreneurship Committee (KENT) since 2021. Presently, she is an assistant professor in the Department of Communication, Abdulhamid Abusulayman Kulliyyah of Islamic Revealed Knowledge and Human Sciences. 
Area of Specialisation
Social Science ~ Social Science ~ Media and Communications ~ Other Media and Communication n.e.c.
Teaching Responsibilities
| | |
| --- | --- |
| FINAL YEAR PROJECT I | 2022/2023 2021/2022 2020/2021 |
| FINAL YEAR PROJECT II | 2022/2023 2021/2022 2020/2021 |
| FIQH AL-'IBADAT(ARABIC) | 1997/1998 |
| INTERNSHIP (ELECTRONIC MEDIA) | 2020/2021 |
| INTERNSHIP (JOURNALISM) | 2020/2021 |
| INTERNSHIP (ORGANIZATIONAL COMMUNICATION) | 2020/2021 |
| INTERNSHIP (PUBLIC RELATIONS) | 2020/2021 |
| INTERPERSONAL COMMUNICATION | 2023/2024 2022/2023 2021/2022 |
| INTRODUCTION TO COMMUNICATION | 2021/2022 |
| MEDIATED COMMUNICATION | 2020/2021 2019/2020 2018/2019 |
| PRACTICAL TRAINING | 2023/2024 2022/2023 2021/2022 2020/2021 |
| STRATEGIC COMMUNICATION | 2019/2020 2018/2019 |
| STRATEGIC HUMAN RELATIONS | 2020/2021 2019/2020 |
| THINKING TECHNIQUES FOR COMMUNICATORS | 2023/2024 2022/2023 |
Research Projects
Completed
| | |
| --- | --- |
| 2022 - 2023 | Monitoring, Evaluation and Learning (MEL) of the Behavioural Change Communication Strategy ? Salt Reduction |
| 2020 - 2021 | Investigating the Level of Digital Literacy among Children of B40 Income Earners: Focusing on Children Living in Pusat Perumahan Rakyat (PPR) |
| 2019 - 2022 | FORMULATING AN EFFECTIVE GUIDELINE ON ONLINE RESOURCES PERTAINING TO THE MISUNDERSTANDING OF VACCINATION AND ITS IMPORTANCE |
| 2018 - 2020 | DEVELOPING A MODULE FOR PRODUCING MULTIMEDIA CONTENT FOR SCIENTIFIC RESEARCH |
On-Going
| | |
| --- | --- |
| 2023 - Present | Food Operator/Restaurant's Readiness for the Changing of Choice Environment of the Food Delivery Applications |
| 2023 - Present | Promotion of Health Diets in Malaysia |
| 2023 - Present | Public Readiness and Preference Towards Healthy Choices in Food Applications |
| 2021 - Present | Enabling Digital Parenting Modules To Help Malaysian Parents Nurture Digitally Resilient Children |
| 2021 - Present | Developing a Strategic Communication Intervention Manual to Inform and Correct Misinformation and Misconception about Vaccination using Valid Islamic Evidence |
Publications
Article
| | |
| --- | --- |
| 2022 | Factors influencing digital problem-solving skills among B40 children living at the Pusat Perumahan Rakyat (PPR). e-Bangi: Journal of Social Sciences and Humanities, 19 (1) pp. 31-46 |
| 2022 | Factors influencing the digital parenting styles of Malaysian parents. International Journal for Studies on Children, Women, Elderly and Disabled (IJCWED), 17 () pp. 24-31 |
| 2022 | Kanak-kanak, kemiskinan dan literasi digital: ke arah masa depan digital yang positif. International Journal for Studies on Children, Women, Elderly and Disabled, 14 () pp. 15-22 |
| 2022 | Maternal digital competencies as a prerequisite for effective digital parenting among Malaysian mothers. International Journal of Social Policy and Society, 2022 (Special Edition) pp. 115-135 |
| 2021 | A gender analysis of digital literacy among children living at the Pusat Perumahan Rakyat (PPR). eJURNAL IPPTAR, () pp. 1-14 |
| 2021 | B40 income earners' digital literacy: a focus on children at Projek Perumahan Rakyat (PPR). Media Matters, 4 () pp. 53-66 |
| 2021 | Points to ponder: the monkey mind. E-Bulletin (eTijari), 1 (2) pp. |
| 2021 | Poverty and digital literacy: a study on children living at the Pusat Perumahan Rakyat (PPR). International Journal for Studies on Children, Women, Elderly and Disabled, 13 () pp. 28-33 |
| 2021 | Typology of vaccine refusals on Facebook in Malaysia. SEARCH Journal of Media and Communication Research, 13 (3) pp. 55-70 |
| 2020 | The coverage of vaccination in the Malay newspapers: an exploratory study. Asian Journal of Applied Communication (AJAC), 9 (1) pp. 351-366 |
| 2019 | Personalised campaigns in party-centred politics: facebook and instagram as arena for political communication. IIUM Journal of Human Sciences, 1 (2) pp. 52-64 |
Conference or Workshop Item
| | |
| --- | --- |
| 2022 | Factors influencing the digital parenting styles of Malaysian parents. In: 15th Putrajaya International Conference on Children, Women, Elderly and Persons with Disabilities 2022, |
| 2022 | Malaysian parents' perception of their children's digital media usage: a negotiation of risks and benefits. In: Persidangan Kependudukan Kebangsaan 2022 (PERKKS 2022), |
| 2021 | Effects of gender and age on dimensions of media literacy among children. In: Communication Research Webinar (CORENA) 2021, |
| 2021 | Factors influencing adoption of online banking among Malaysian youths. In: International Conference on Media and Communication 2021 (MENTION 2021), |
| 2021 | Kanak-kanak, kemiskinan dan literasi digital: ke arah masa depan digital yang positif. In: Persidangan Kependudukan Kebangsaan 2021 (PERKKS 2021), |
| 2021 | Key graduates' attributes in navigating a remote and hybrid working environment: interns' perspective. In: Asian Congress for Media and Communication, |
| 2021 | Poverty and digital literacy: a study on children living at the Pusat Perumahan Rakyat (PPR). In: Putrajaya International Conference on Children, Women, Elderly and Disabled People 2021, |
| 2021 | Vaccine Refusals among Malaysian Facebook Users: The Self-Presentation. In: 3rd International Conference on Public Health and Well Being 2021, |
| 2020 | COVID-19: students' media use, trust and optimism during the movement control order (MCO). In: Communication Research Webinar (CORENA 2020), |
| 2020 | News coverage of vaccination in Malaysia: comparing between Malay and English newspaper. In: WAPOR Asia 3rd Annual Conference, |
| 2020 | The coverage of vaccination in the english newspapers: an exploratory study. In: Communication Research Seminar (CORENA 2020), |
| 2020 | The framing analysis of vaccination in Malaysia: a comparative study between Berita Harian and Harian Metro. In: International Conference on Communication, Management And Humanities ( ICCOMAH 2020 ), |
| 2020 | The impact of uncertainty and information seeking behaviour on students emotions during the COVID-19 crisis in Malaysia. In: International Conference On Communication, Management And Humanities 2020, |
| 2018 | Communication effect on employee readiness to change among selected private organization in Malaysia. In: International Seminar on Media and Communication (ISMEC) 2018, |
| 2018 | How did the independent news portal (INP) report political news during GE14?. In: GE 14: AN ANALYSIS, |